Trump Travel Ban Backed by Supreme Court, Despite President's Anti-Muslim Remarks, Tweets
The Supreme Court boosted President Donald Trump's constitutional authority Tuesday by claiming the language used in his proclamation that banned travel from several predominantly Muslim countries was "clear" and did not "exceed any textual limit on the President's authority."
The decision, penned by Chief Justice John Roberts, came as Trump squared off with Congress and immigrants over illegal crossings at the southern border.
The court, which voted 5-4 on the ban, addressed Trump's previous statements that critics have labeled as anti-Muslim but stated it was not tasked to "denounce the statements."
"…the issue before us is not whether to denounce the statements. It is instead the significance of those statements in reviewing a Presidential directive, neutral on its face, addressing a matter within the core of executive responsibility," the decision read.
The president has repeatedly justified his authority to impose the travel ban as a means to protect the nation from terrorism while deriding opponents for being "weak" on immigration issues.
Trump's claim was further emboldened by the court, which stated the government had "set forth a sufficient national security justification to survive rational basis review. We express no view on the soundness of the policy. We simply hold today that plaintiffs have not demonstrated a likelihood of success on the merits of their constitutional claim."
The case stemmed from two executive orders and later a proclamation by Trump last year. The president, who campaigned on tougher immigration laws and border and national security, initially banned travel to the United States for anyone from seven Muslim-majority countries for 90 days, and then lowered the number of countries to six after a defeat in federal court.
Then, in September, Trump issued a proclamation that banned travel from eight countries that led to a challenge and strike down by the Ninth Circuit Court of Appeals. That put the case before the Supreme Court.
The state of Hawaii argued the president's September order was too extreme, and that the order violated the Constitution's Establishment Clause.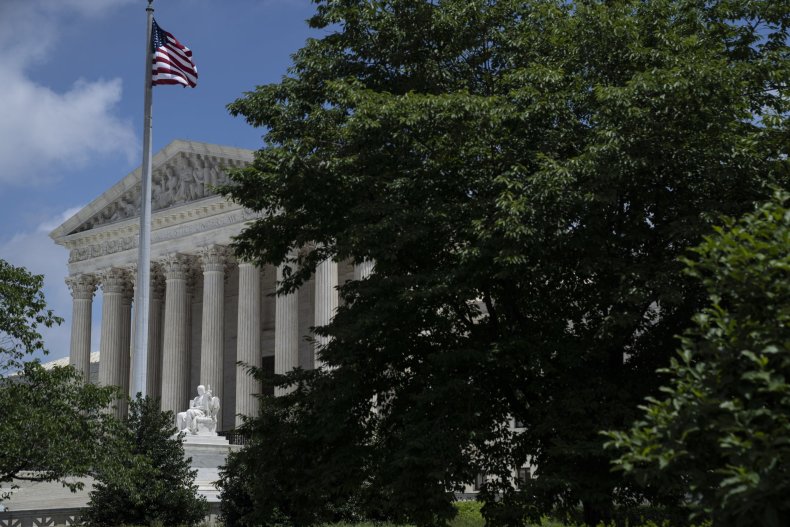 The court was tasked with deciding whether a president had the constitutional authority to ban foreign nationals from entering the U.S., and if Trump had the power to issue such the proclamation.
The court also reviewed whether or not such a proclamation was in violation of the Constitution's Establishment Clause, the section in the First Amendment that prohibits the federal government from naming a national religion or favoring any religion over another.
The eight countries Trump listed in his order were Chad, Iran, Libya, North Korea, Somalia, Syria, Venezuela and Yemen, six of which have predominantly Muslim populations.