Trudeau's Trump Travel Ban Reaction Motivated Quebec City Mosque Shooter
Alexandre Bissonnette, the man who attacked a Quebec City mosque in January 2017, killing six and injuring 19 others, told police that he was reacting in part to news that related to President Donald Trump's travel ban, according to Canadian press reports.
Related: Trump Is Making Muslims More Popular Even as Hate Crimes Against Them Increase
In his confession played to the court during his testimony hearing Friday, Bissonnette told police during his interrogation that news coverage of Trump's travel ban, which initially sought to bar citizens from seven Muslim-majority countries from the United States and stirred widespread protest at that time, played a role in inspiring the attack.
He also referenced a tweet by Canadian Prime Minister Justin Trudeau that appeared to be issued in reaction to Trump, promising to bring more refugees into Canada.
"To those fleeing persecution, terror & war, Canadians will welcome you, regardless of your faith. Diversity is our strength #WelcomeToCanada," Trudeau wrote.
Bissonette described feeling "tortured" by the idea of Muslims coming into his country.
"I was watching TV and I learned that the Canadian government was going to take more refugees, you know, who couldn't go to the United States, and they were coming here," Bissonnette said. "I saw that and I like lost my mind. I don't want us to become like Europe. I don't want them to kill my parents, my family. "
"I had to, I had to do something, I couldn't do nothing. It was something that tortured me."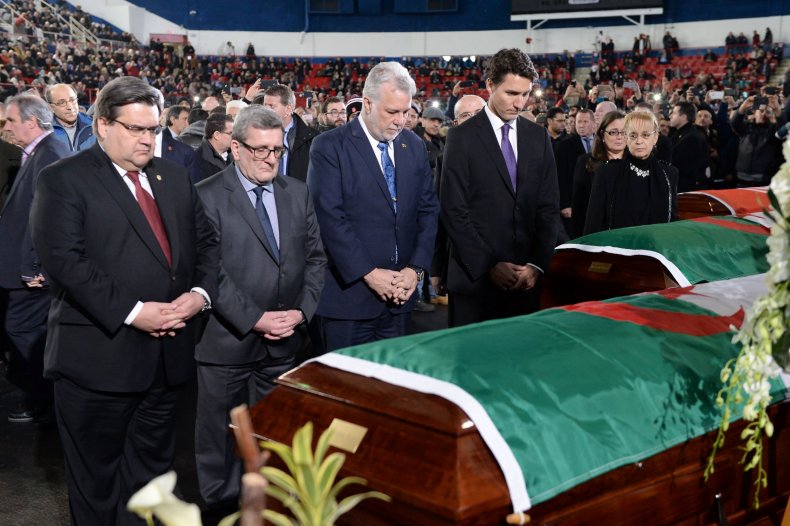 Trump signed the executive order in January 2017, just a week after being sworn in as president, effectively banning Iraqi, Syrian, Iranian, Libyan, Somalian, Sudanese and Yemeni citizens from entering the country for 90 days. It also stopped the acceptance of refugees from Syria indefinitely.
The following day, protests exploded across the United States. That Sunday night, Bissonnette struck, shooting up the Islamic Cultural Centre of Quebec City shortly after the end of evening prayers.
The 28-year-old pleaded guilty to six counts of first-degree murder and six counts of attempted murder last month.