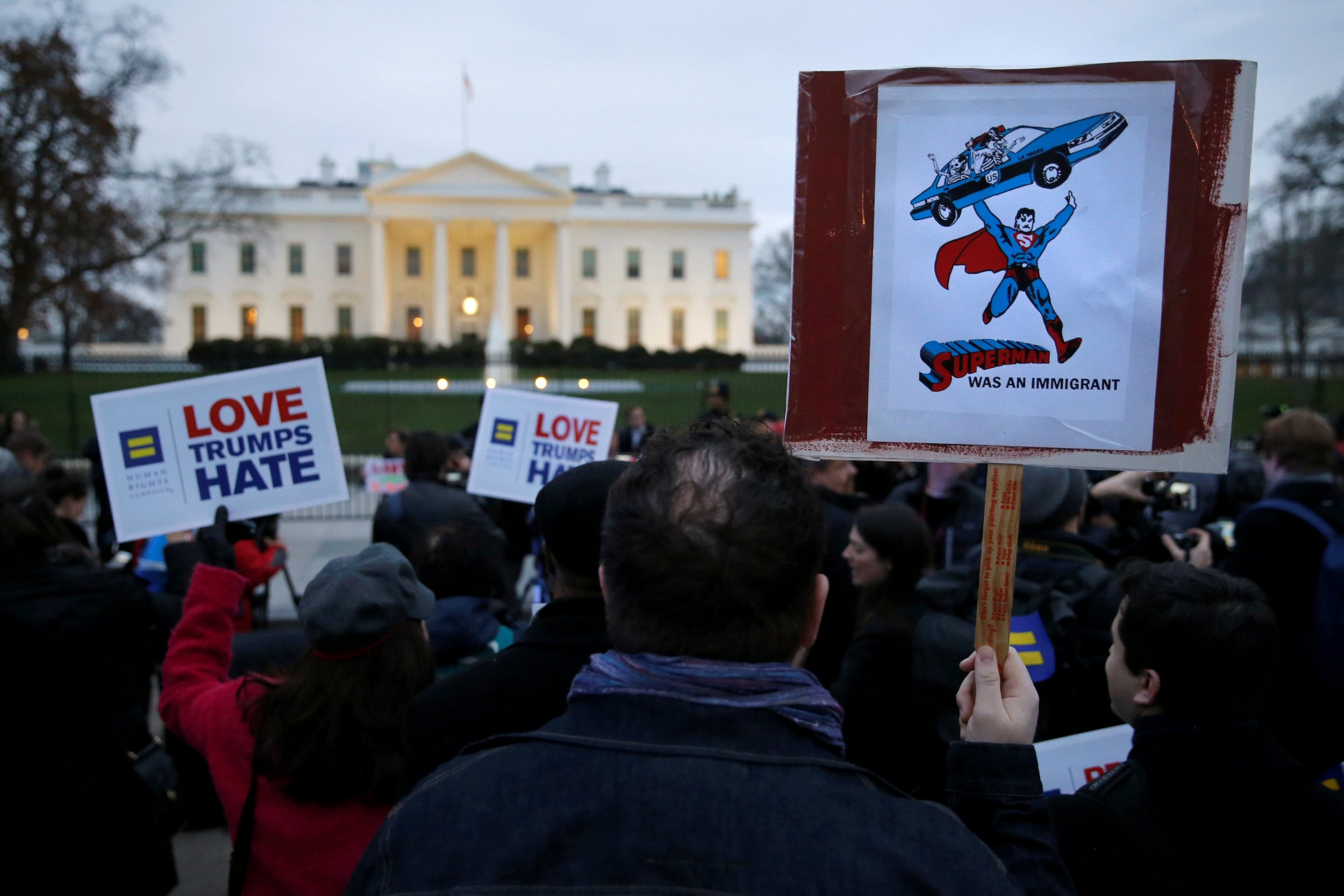 More than 130 former defense and foreign policy officials have criticized President Donald Trump's revised travel ban as contrary to national security and a useful recruiting tool for the Islamic State militant group (ISIS).
"We are deeply concerned that the March 6, 2017, executive order halting refugee resettlement and suspending visa issuance and travel from six Muslim-majority countries will, like the prior version, weaken U.S. national security and undermine U.S. global leadership," reads the letter, dated Friday and delivered to Trump, Secretary of State Rex Tillerson, Secretary of Defense James Mattis, Attorney General Jeff Sessions, Homeland Security Secretary John Kelly and Michael Dempsey, acting director of national intelligence.
RELATED: Six states pursuing suit against Trump's new travel ban
Signatories include veterans of multiple presidential administrations, including Bill Clinton's secretary of state, Madeleine Albright; Barack Obama's secretary of Homeland Security, Janet Napolitano; Obama's secretary of state, John Kerry; George W. Bush and Clinton veteran Richard Clarke; Obama National Security Adviser Susan Rice; and many others.
The foreign policy experts argue that the new executive order, scheduled to go into effect March 16, plays into the hands of ISIS and other extremists by boosting their message to disaffected Muslims worldwide. "It will send a message that reinforces the propaganda of ISIS and other extremist groups, that falsely claim the United States is at war with Islam. Welcoming Muslim refugees and travelers, by contrast, exposes the lies of terrorists and counters their warped vision."
In January, Trump issued an executive order without warning that temporarily barred travel from seven Muslim-majority nations, suspended the Syrian refugee program and temporarily halted refugee admissions from other nations. Chaos ensued, with confusion over the dictates of Trump's order playing out at the nation's airports, which saw repeated protests. It took only days for a federal judge to temporarily suspend the order, a decision affirmed by the Ninth Circuit Court of Appeals.
The Trump administration could have fought the decision in court but essentially let it stand while officials worked on a new travel ban that was designed to avoid the legal pitfalls of the initial order. The March 16 directive suspends travel from six Muslim-majority nations—Syria, Iran, Somalia, Yemen, Sudan and Libya, with Iraq left off the list—for 90 days and suspends the refugee resettlement program for 120 days. It doesn't single out Syrian refugees, and green-card holders will not be affected by the order.
Six states—Washington, New York, Oregon, Minnesota, Massachusetts, Hawaii—already have filed legal challenges against the travel ban, calling it a "Muslim ban by another name," that will negatively impact their residents.
Legal experts say the states will have a tougher time challenging the more narrowly drawn order in court. One strategy seeks to apply the pre-existing restraining order to the latest Trump directive, but the federal judge in Washington state who initially ruled against the first executive order declined Friday to extend his order to the new ban, citing procedural hurdles.
Trump has repeatedly cited national security concerns as his impetus for the executive order, and has insisted that refugees need to be kept out while the U.S. develops more robust vetting procedures. The foreign policy experts reject both arguments, writing that the travel ban actually harms national security while potential refugees are already subjected to rigorous vetting.
"Refugees are vetted more intensively than any other category of traveler," they write. "They are screened by national intelligence agencies and INTERPOL, their fingerprints and other biometric data are checked against terrorist and criminal databases, and they are interviewed several times.
"Bans like those included in this order are harmful to U.S. national security and beneath the dignity of our great nation. Further, the order's drastic reduction in the number of refugees to be resettled in this fiscal year after the 120-day moratorium weakens this country's ability to provide global leadership and jeopardizes our national security interests by failing to support the stability of our allies that are struggling to host large numbers of refugees," the letter reads.
"America's much-admired compassion and openness are sources not of weakness but strength. These qualities accord with the ideals on which our nation was founded, and on which our greatness rests."
Foreign Policy Experts Denounce Travel Ban by Nicholas Loffredo on Scribd