Made in the USA: Trump Traveled All the Way to Japan to Eat an American Hamburger in a Golf Club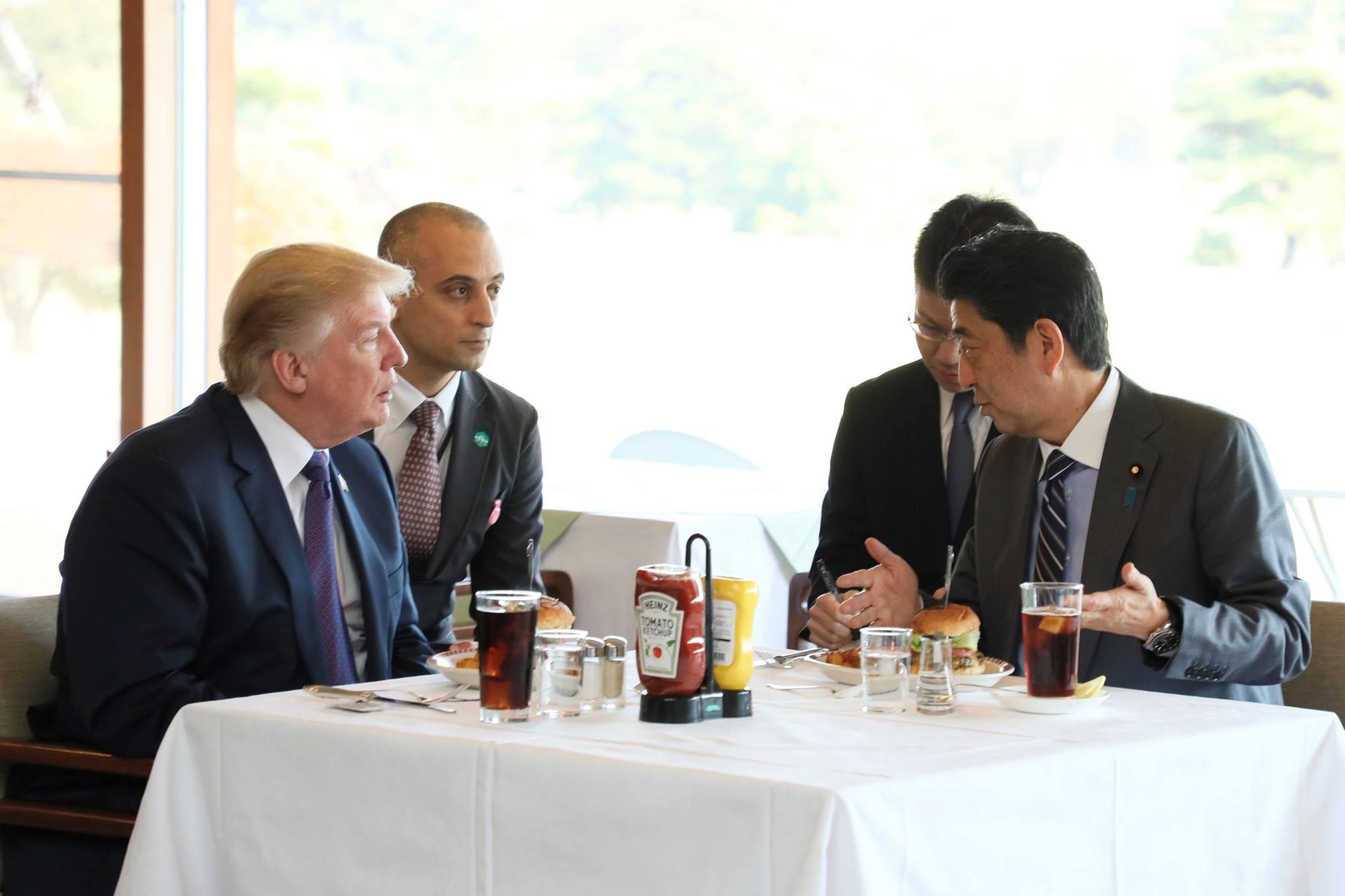 From sushi to ramen, to sashimi and wasabi – Japan is renowned for its rich culinary heritage. But President Donald Trump stuck to a dish whose origins are a little closer to home on his first visit to Japan as president, as he tucked into a hamburger sourced from American beef at a casual lunch with Prime Minister Shinzo Abe on Sunday.
The president played nine holes with Abe at the Kasumigaseki Country Club, joined by professional golfer Hideki Matsuyama, on his first day in the country.
"I welcome President Donald J. Trump most wholeheartedly on his visit to Japan! We're getting down to business right away over hamburgers for our working lunch," said a message on the Facebook page of the Japanese prime minister's office.
The low-key welcome was a prelude to formal diplomatic talks, a press conference and state dinner planned in Tokyo Monday. And with the president's love for fast food and golf well known, it seems Abe was intent at putting Trump at ease.
Trump and Abe played golf during the Japanese premier's February visit to Florida, and as they took to the course Sunday wore matching 'Make Alliance Even Greater' hats - a twist on Trump's 'Make America Great Again' campaign slogan.
Trump, as presidential candidate, was pictured feasting on KFC on his private jet in 2016 on the way to a campaign rally, and has enthused about McDonalds—his taste for well-done steak with ketchup is also notorious.
The president is no fan of one of Japan's most famed dishes, it seems.
During a trip to Japan in 1990, the then real estate tycoon said he would not eat "fucking raw fish" and instead had a hamburger at McDonald's, which cheered him up greatly, according to an excerpt from the book Lost Tycoon: The Many Lives of Donald J. Trump.
Trump has formed a warm relationship with Abe since his election, with the Japanese premier the first foreign leader to visit Trump after his inauguration in January, and the president hosting the Japanese PM at his Mar-a-Lago resort in Florida.
Before dinner with Abe, the low-welcome seemed to have worked a treaty and Trump was glowing in his praise for Japan.
"The relationship is really extraordinary. We like each other and our countries like each other," Trump said Sunday night, where for this meal traditional Japanese cuisine was offered with a teppanyaki dinner on the menu. "And I don't think we've ever been closer to Japan than we are right now."