The hashtag #TrumpSlump was trending on Twitter early Thursday morning as markets plunged over concerns about President Donald Trump's escalating China trade war, a global slowdown, and a sudden change in the bond market.
China is threatening to retaliate further in the trade war as Washington prepares to introduce a new 10 percent tariff on $300 billion of Chinese goods from September. Beijing accused Trump of violating an agreement with President Xi Jinping.
Weak data from major economies including Germany, China, and India, and the threat to Europe posed by a no deal Brexit which looms, are all pointing to a worldwide slowdown that will hurt the U.S. economy.
Moreover, the yield curve on 10-year and two-year U.S. bonds inverted this week for the first time since 2007, when the global economic crash dawned. It suggests investors fear a downturn and want to keep their money tied up in safe, low-returning assets.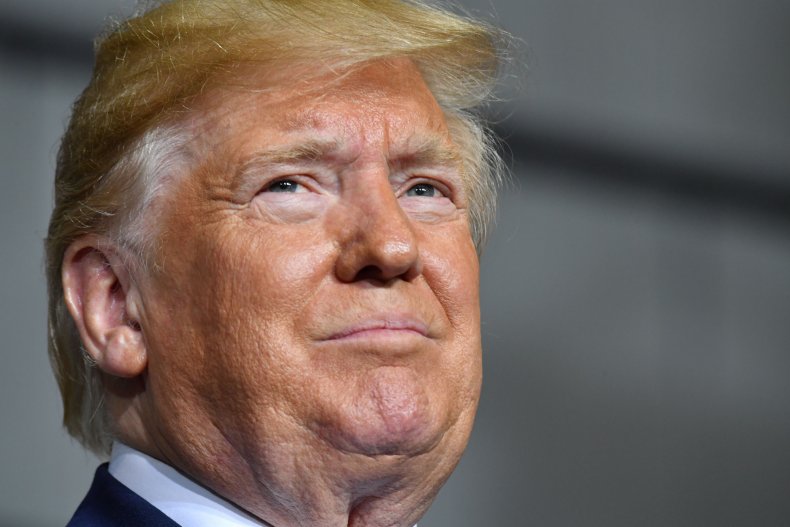 The inversion corresponded with a sell-off in the stock markets as demand shifted to bonds. At the time of writing, the Dow Jones was down by 800 points, or 3 percent; the Nasdaq was down 242 points, or 3 percent; and the S&P 500 was down 85 points, or 2.9 percent.
"The only game in town is the central banks, hence the bond markets are rallying," said Peter Schaffrik, global macro strategist at RBC Capital Markets, told Reuters.
"We have regional bonfires in Hong Kong, Argentina, Japan against South Korea, and none of these are going away easily; each and every one is not necessarily strong enough to cause trouble."
President Donald Trump is heaping pressure on the Federal Reserve to cut rates, a move he hopes will boost stock market numbers, which he keeps a close eye on. But concerns about political intervention in U.S. monetary policy is also causing investor concern.
"The Federal Reserve acted far too quickly, and now is very, very late. Too bad, so much to gain on the upside!" Trump tweeted on Wednesday, referring to the Fed's rates rise in December last year, which he fiercely opposed.
"We are winning, big time, against China. Companies & jobs are fleeing. Prices to us have not gone up, and in some cases, have come down.
"China is not our problem, though Hong Kong is not helping. Our problem is with the Fed. Raised too much & too fast. Now too slow to cut.
"Spread is way too much as other countries say THANK YOU to clueless Jay Powell and the Federal Reserve. Germany, and many others, are playing the game!
"CRAZY INVERTED YIELD CURVE! We should easily be reaping big Rewards & Gains, but the Fed is holding us back. We will Win!"