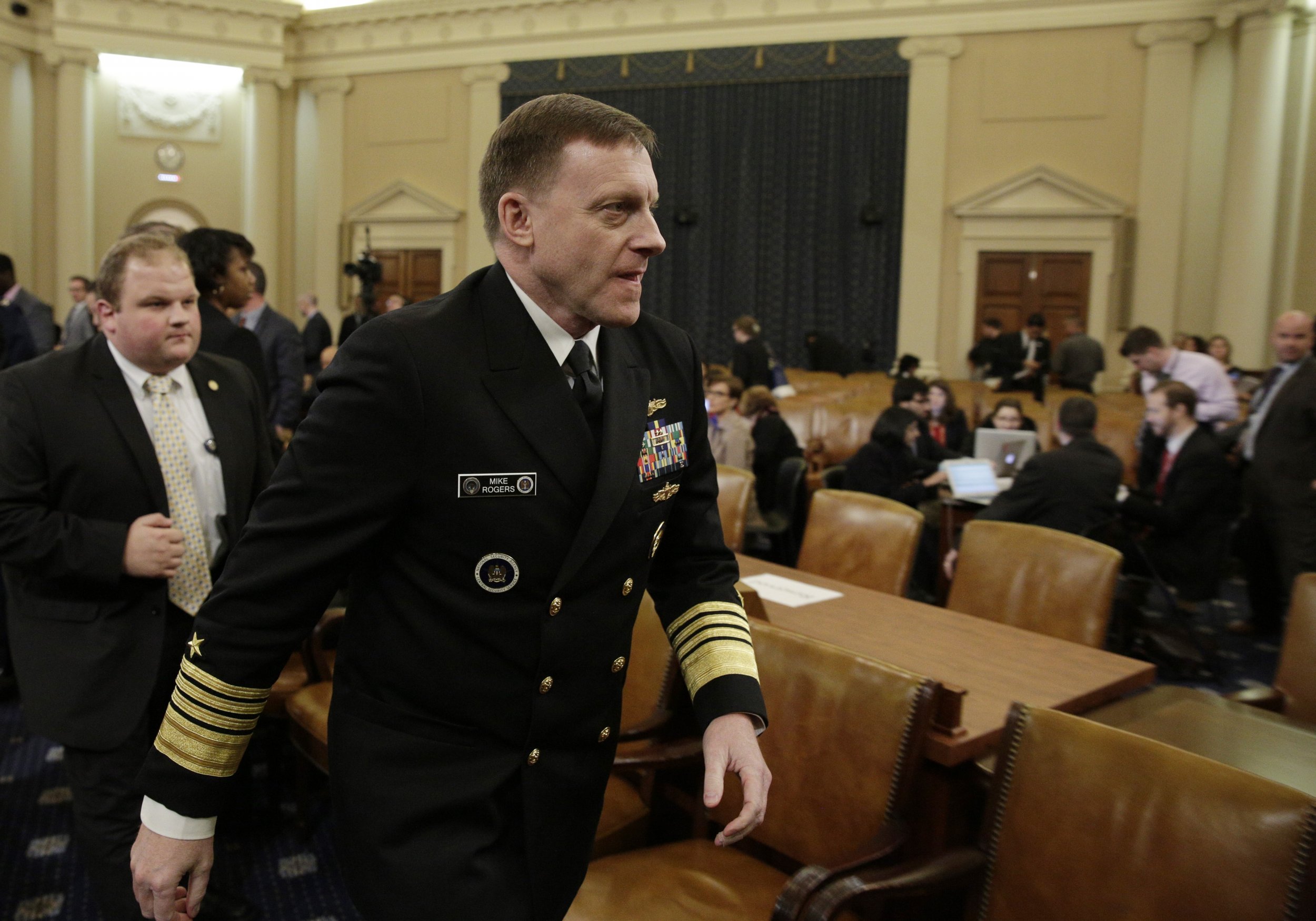 A recent National Security Agency memo documents a phone call in which U.S. President Donald Trump pressures agency chief Admiral Mike Rogers to state publicly that there is no evidence of collusion between his campaign and Russia, say reports.
The memo was written by Rick Ledgett, the former deputy director of the NSA, sources familiar with the memo told The Wall Street Journal. Ledgett stepped down from his job this spring.
The memo said Trump questioned the American intelligence community findings that Russia interfered in the 2016 election. American intelligence agencies issued a report early this year that found Russian intelligence agencies hacked the country's political parties and worked to sway the election to Trump.
The Russia investigation's special counsel Robert Mueller plans to interview Ledgett as part of his investigation into Russia's efforts to manipulate the 2016 vote, a source told WSJ. Mueller is also probing whether Trump himself obstructed justice when he fired former FBI Director James Comey on May 9, according to The Washington Post.
"They made up a phony collusion with the Russians story, found zero proof, so now they go for obstruction of justice on the phony story. Nice," Trump tweeted Thursday. "You are witnessing the single greatest WITCH HUNT in American political history—led by some very bad and conflicted people!" he wrote.
Read more: Trump asked intelligence chiefs to intervene in Comey's Russia investigation: report
Comey testified a week ago that Trump had pressured him to "let go" an investigation into fired National Security Adviser Michael Flynn after Flynn misled Vice President Mike Pence about contact he had had with Russian officials.
Comey also testified that Trump asked him to deny publicly that the president was being investigated by the FBI. Comey said that at the time Trump was not being investigated, but he demurred from Trump's request because he would have to correct his statement publicly if the facts changed.
On March 20, Comey testified that his investigation into Russian interference was looking at whether Trump's campaign colluded with the foreign power. British intelligence agencies first picked up contact between Trump's campaign members and associates in 2015.
Two current and two former officials told The Washington Post that in March Trump asked Rogers and Director of National Intelligence Daniel Coats to publicly deny the existence of any evidence of collusion between his campaign and Russia during the 2016 election.
During testimony to the Senate intelligence committee on June 7, neither Coats nor Rogers would answer many specific questions, but both said they did not feel pressure. Coats testified that he "never felt pressure to intervene" in the Russia investigation.
"In the three-plus years that I have been the director of the National Security Agency, to the best of my recollection, I have never been directed to do anything I believed to be illegal, immoral, unethical or inappropriate," Rogers said. "And to the best of my recollection...I do not recall ever feeling pressured to do so."