Trump Trolled by Vermont's Secretary of State Over Groceries Blunder: 'We're Strongly Opposed to Shopper ID Laws'
Vermont's secretary of state trolled Donald Trump on Twitter yesterday over the president's claim that citizens need photo identification to purchase groceries.
On Wednesday, Vermont sectary of state Jim Condo posted a joke tweet on his official social media account condemning "shopper ID laws."
"We're strongly opposed to Shopper ID laws," the tweet said. "There has been no evidence that grocery fraud occurs on a widespread basis, and restrictive Shopper ID laws only serve to prevent eligible shoppers from buying their groceries on shopping day."
The post was in response to a controversial speech Trump made during a rally in Florida on Tuesday, where he falsely claimed that citizens need to provide photo ID to purchase groceries.
"If you go out and want to buy groceries, you need a picture on a card, you need ID," Trump said during the Tampa, Florida, rally for Republican candidate Ron DeSantis.
Identification is not required in any state to purchase groceries unless the shopper has alcohol or tobacco in their basket.
Immediately after Trump's comment, social media exploded with users ridiculing the president for his claim, with some pointing out that he probably has never purchased his own groceries.
According to the Washington Post, White House cooks provide all of Trump's meals apart from when he is dining out at a restaurant. Former Trump campaign manager Corey Lewandowski also revealed that during his campaign trail, the president relied largely up on fast food for sustenance.
"On Trump Force One there were four major food groups: McDonald's, Kentucky Fried Chicken, pizza and Diet Coke," Lewandowski wrote in his 2017 book Let Trump Be Trump.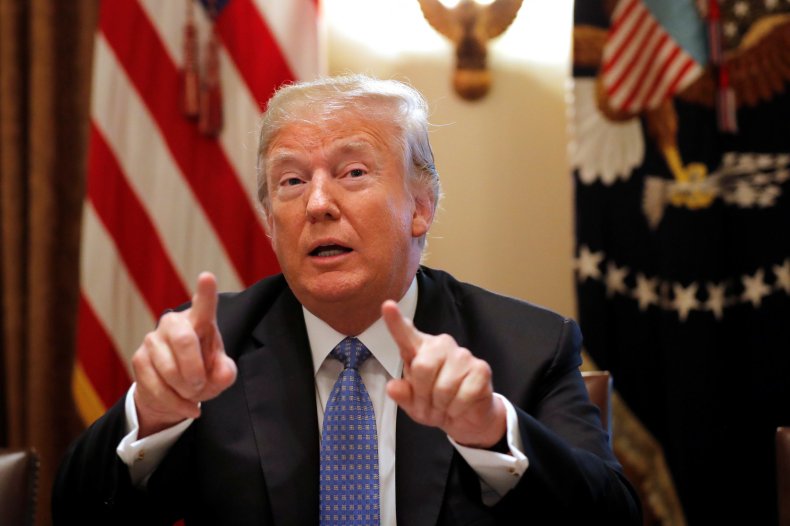 On Wednesday, White House press secretary Sarah Huckabee Sanders defended Trump's statement, saying he was talking about purchasing alcohol from a supermarket and not just usual groceries.
"I'm pretty sure that everybody in here who's been to a grocery store that's purchased beer or wine has probably had to show their ID," Sanders said. "If they didn't then that's probably a problem with the grocery store."
Members of the White House press crops then pointed out that Trump does not drink alcohol. "He's not saying every time he went in, he said when you go to the grocery store," Sanders responded.
The White House did not immediately respond to Newsweek's request for comment.