Even Republicans Want to Know How Much Trump Paid in Taxes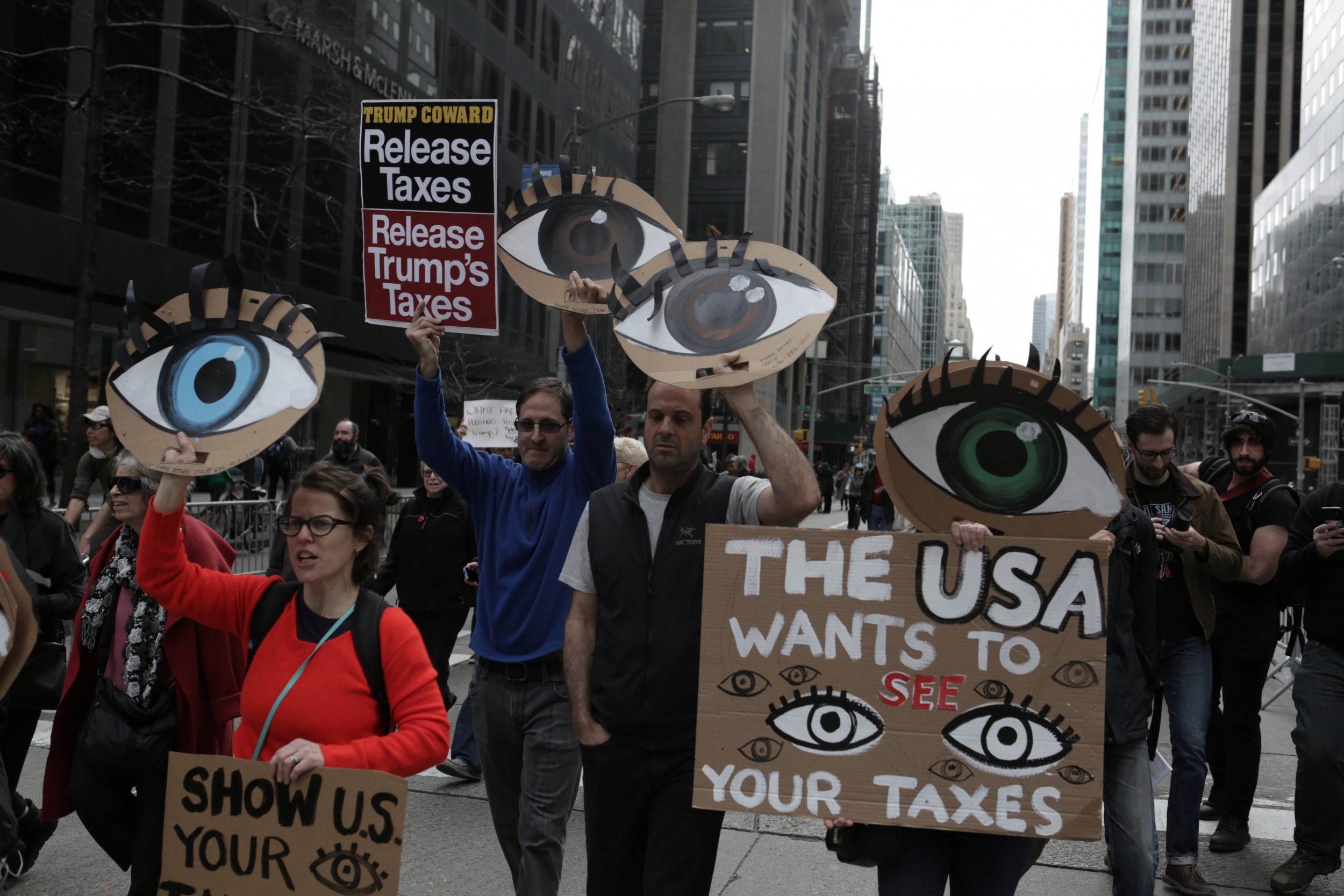 President Donald Trump's refusal to release his tax returns is emerging as a major obstacle in his attempts to overhaul the nation's tax laws. With millions of Americans due to file their tax forms Tuesday, White House spokesman Sean Spicer reaffirmed this week that Trump would not release his tax returns per recent U.S. tradition.
But Democrats have said they will oppose any tax reform bill until they know how the measure will affect the billionaire president and his family. "The American people want to see what this is about," Democrat Senator Ron Wyden told The New York Times. "Are our interests being protected or are these deals that somehow promote his interests?"
Democrats also say they oppose net tax cuts and measures that primarily benefit high-income households. "Tax reform's got to be responsible and it's got to be progressive," Senator Ben Cardin of Maryland told the Wall Street Journal.
Several Republican lawmakers have declared their support for calls for Trump to release his returns. Republicans Mark Sanford, Ted Yoho and Justin Amash of the House Freedom Caucus are all backing a Democratic measure to compel Trump to make the documents public, reported CNN.
Trump made tax reform a key election pledge, and in a speech to Congress in February pledged "massive tax relief for the middle class." He said at one point that his plan would lower tax rates by reducing the number of tax brackets, which independent analyses have concluded would grow the federal budget deficit and largely benefit the nation's wealthiest earners.
On Saturday, protesters took to the streets of cities across the U.S to demand that Trump release his tax documents. And Republican Senator Tom Cotton was booed at a town hall meeting Monday in Arkansas for defending Trump's refusal to release the statements.
The White House is reportedly overhauling its tax reform plans, with a series of unorthodox proposals designed to appeal to Democrats, including a dramatic cut to payroll tax, the Associated Press reported last week. Meanwhile, Treasury Secretary Tim Mnuchin told the Financial Times Monday the White House's plan to pass tax reform legislation by August was "highly aggressive to not realistic at this point" in part because Trump still hasn't won over GOP lawmakers when it comes to healthcare reform.
In fact, tax reform is one of several election pledges Trump has struggled to fulfil since taking office in January. The president's controversial ban on immigration from seven Muslim-majority nations was rejected by the U.S Court of Appeals for the Ninth Circuit in February, while an amended version targeting six countries was blocked by a Hawaii court in March.
Trump's plans to build a 30-foot-high wall along the Mexican border have also hit a snag, with Democrats refusing to sign off on federal funding for it, while Trump's promise to "repeal and replace" Obamacare within weeks of being elected came to nothing after Trump failed to secure the backing of skeptical members of his own party in March.
Trump's refusal to release his tax returns has long been a source of criticism. Trump was the first major presidential candidate in 40 years not to release his tax returns on the campaign trail, and he has refused to release them since taking office. He claims ongoing Internal Revenue Service audits prevent him from releasing them, despite this having no bearing on his capacity to make them public.
Trump derided Saturday's protesters on Twitter, "I did what was an almost an impossible thing to do for a Republican-easily won the Electoral College! Now Tax Returns are brought up again?" he tweeted.