Trump, Trumpism and the Future of the GOP | Opinion
Former President Donald J. Trump's recent speech to the 2021 Conservative Political Action Conference (CPAC) put him back in the spot he most enjoys: front and center of the national conversation. He's been the topic, even as President Joe Biden suffered his first defeat on Capitol Hill and House Democrats passed a bill that suppresses our treasured right to freedom of speech.
Trump, always controversial, continued unhelpfully to assert the election was stolen from him even while effectively attacking the nascent Biden administration for undoing policies that "made America great again."
The speech breathed new life into the discussion of a possible run in 2024 and whether he could win the Republican nomination.
Republicans and Democrats both know he could be a formidable presidential candidate in 2024, should he win the GOP nomination. He won 74 million votes in 2020—11 million more while losing than he did while winning in 2016. The GOP also picked up a governorship and flipped control of two state legislative chambers from Democrat to Republican (Democrats flipped none). Out of 227 defeated state legislators seeking re-election, only 52 belonged to the GOP.
Trump ran ahead of John McCain and Mitt Romney among blacks and Hispanics, and the GOP came within an eyelash of winning back control of the U.S. House of Representatives—when pre-election forecasts predicted they'd lose as many as two dozen seats.
Still, it's not all gravy. The GOP lost control of the U.S. Senate and, as Karl Rove pointed out recently in The Wall Street Journal, almost all the Republicans running for the House ran ahead of Mr. Trump—"including eight in the 14 closest races that gave the GOP its pickups." Down-ballot, the pattern was repeated, as many state legislative candidates ran ahead of the president.
Rove is still the smartest number-cruncher the GOP has. The party would do well to observe his cautions even as many party leaders and wannabes are trying to figure out what to do next.
Some of those broadly referred to as "NeverTrumpers" want the GOP to "Dump Trump." That's perhaps understandable, as his mercurial nature and repeated, unforced errors likely persuaded many suburban Republicans to vote for Biden. Trump may have increased the party's appeal among the working class and minorities but, if he did so at the expense of even more traditional GOP voters, then in the short run it wasn't an even trade.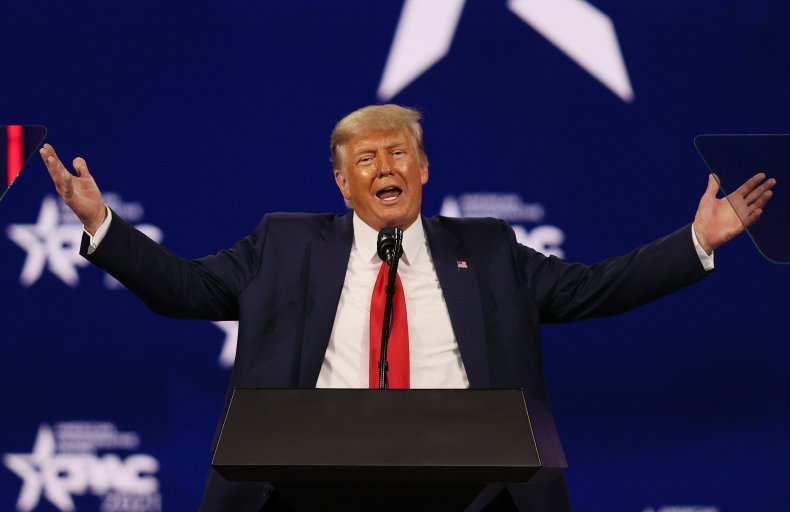 Others have encouraged the party to disavow Trump and what they refer to as "Trumpism"—which, until the former president's speech at CPAC, was a phrase left either ill- or un-defined by those advocating for it.
This is where the danger lies—something that could plunge the GOP into a prolonged civil war that could cost the party greatly, and for a long time. Going forward, the party needs to decide what it's for and what it's against, and give the American people "an agenda worth voting for," as former House Speaker Newt Gingrich used to say.
What that in mind, it's important to first define what "Trumpism" is in order to decide if it should be tossed aside. At CPAC the former president defined it as support for cutting marginal tax rates and deregulation to spur economic growth and job creation, traditional values and a strong military, secure borders and a merit-based immigration system, law enforcement, the rule of law, the Second Amendment, life, liberty and not letting China eat America for lunch (among other things).
Altogether, that sounds like an agenda most conservatives could, and should, support.
There may be other positions out there that people in positions of influence would like to see the GOP adopt. If there are, they should say so now, so that a discussion can be had. Simply throwing the baby out with the bathwater, as some suggest, would erase decades of progress by conservatives in defining the GOP as a coalition standing for free minds, free people and free markets.
That's not to suggest everything about Trump should be swallowed whole. Like many of his predecessors, he refused to tackle entitlements, did nothing to address spending and approached important intergenerational issues and societal changes in a ham-handed, angry fashion. It's one thing to push back against the Left—and it's important he did—but it's equally important to pursue consensus and to remember that compromise does not necessarily equal capitulation.
Right now, the GOP is stuck. To move forward and regain the majority in Congress as well as the presidency, the party must figure out how to take from Trump what was best while casting off things that were political or electoral liabilities. It's not as hard as it sounds—and it's been done before, as in 1994, when Republicans got past President George H.W. Bush's betrayal of his promise to never raise taxes to win back Congress for the first time in 40 years.
The party's mission, as the former president told CPAC, "must be to create a future of good jobs, strong families, safe communities, a vibrant culture and a great nation for all Americans." If the GOP can come up with a plan to do that, its future electoral success is assured.
Newsweek contributing editor Peter Roff has written extensively about politics and the American experience for U.S. News and World Report, United Press International, and other publications. He can be reached by email at RoffColumns@GMAIL.com. Follow him on Twitter @PeterRoff.
The views expressed in this article are the writer's own.