Trump's Truth Social Plans Major Upgrades After Disastrous First Two Months
Donald Trump's Truth Social is set to undergo "major capacity upgrades" to improve the "performance and reliability" of the app, which has been dubbed a disaster by many after its launch in February was marred by numerous technical problems.
In an official message shared by the app's technical support, the upgrades are scheduled for Friday morning from 5:00 a.m. to 7:00 a.m. ET.
"For several minutes during that window, new truths will not be able to be posted, while read access will remain continuously available," the statement reads, before thanking users for their "understanding and patience" as the team continues to "refine" the app.
On the day the app launched, February 21, Truth Social was one of the most downloaded apps on Apple's App Store, as reported by CNBC.
However, the massive demand was met by the inability of the platform to support such an overwhelming interest.
Tens of thousands of people were left stranded on the app's waiting list or faced error messages when allowed to join. A month later, aspiring users were reporting being stuck on the same waiting list for weeks, with no movement in the queue.

Six weeks since the launch of the social media app, BBC journalist James Clayton reported that almost 1.5 million people were still unable to join the platform and remained stuck on the waiting list.
Interest has been fading since the launch of the app, with Truth Social now ranked 51st in the list of most downloaded apps in the social networking category.
The app is still only available for Apple products and not for Android devices, while in many countries outside of the U.S. the social platform does not even pop up on the app store.
According to research firm Apptopia, downloads of the app dropped by 95 percent since the platform's launch, plunging from 170,000 daily downloads in February to 8,000 a day by end of March, as reported by Bloomberg.
In an interview on Fox's Morning with Maria, Truth Social CEO Devin Nunes claimed the social platform is already "beating Twitter" in terms of interactions, and said Twitter was a "ghost town."
Since its launch, Truth Social has gone through several updates, but the results haven't made the platform 100 percent efficient, according to reports and users' feedback.
Users who have managed to get into the platform have reported slow response time with the app, and other issues such as not being able to upload photos or videos on the platform.
Despite the ups and downs, the app has increased Trump's net worth by an estimated $430 million, according to Forbes, bringing the former president's total estimated net worth up to $600 million since he left office.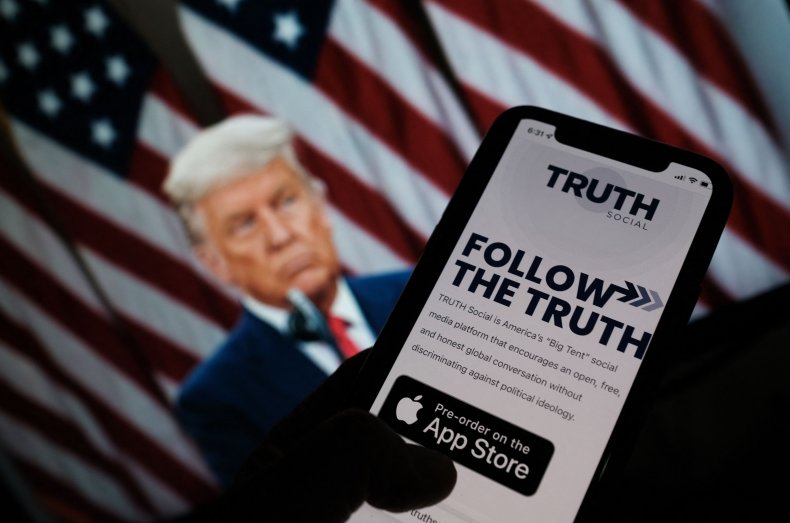 Truth Social was created by the former president as an alternative to what Trump called "the tyranny of big tech," but the app reportedly looks a lot like other existing social media platforms, especially Twitter.
Trump used to be an avid and hugely popular Twitter user since he joined the platform in May 2009, tweeting 8,000 times during his 2016 presidential campaign and 25,000 times over his presidency, CNN reports.
Trump was banned for life from posting on Twitter on January 8, 2021 after his supporters stormed the Capitol on January 6.
According to Forbes, Trump has less than one percent of the follower base he used to enjoy on Twitter, with some 835,000 followers on Truth Social. He only ever posted one "truth" on the platform: "Get Ready. Your favorite President will see you soon!"