Stew Peters, a right-wing commentator, claimed that former President Donald Trump's new social media platform issued a "sensitive content" warning on his comment that government officials should be tried and executed over the COVID-19 vaccine.
Trump created his Truth Social platform after being kicked off Twitter and Facebook and marketed the platform as a mecca for free speech. The application quickly rose to number one on Apple's App Store after its Monday launch, with thousands of people downloading it, but Peters claimed that Trump's social media platform isn't entirely "censorship-free."
Peters posted on Telegram on Tuesday that he was "already being censored on Truth Social." He included a screenshot of his account with a "sensitive content" warning that advised the content may not be suitable for all audiences. To see the post, users had to click "show content."
"Want to know what I said?" Peters wrote on Telegram. "I said, 'The people in our government responsible for allowing our kids to be killed with these dangerous COVID shots, should be put on trial and executed.'"
Peters has called for Dr. Anthony Fauci, director of the National Institute of Allergy and Infectious Diseases (NIAID), to be executed, and he called COVID-19 vaccines a "military bioweapon." His comments got him kicked off Spotify, and Peters said that "free speech isn't free" while posting about Truth Social's alleged censorship.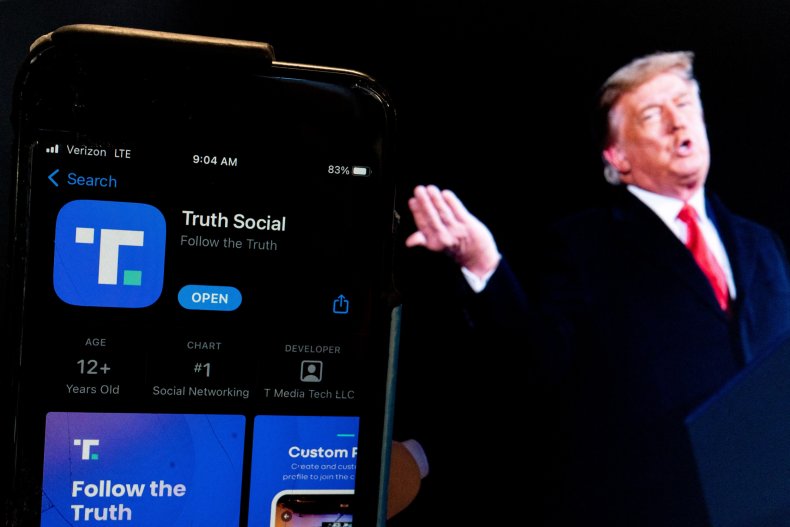 Newsweek reached out to former President Donald Trump for comment but did not receive a response in time for publication.
While Trump's platform promised to be "censorship-free," the application still has to abide by Apple's content policies or risk being kicked off the marketplace. The app store prohibits "objectionable content," including content that "encourages violence."
The Truth Social rollout was marred by users receiving a series of error messages while trying to create an account, a long wait list and Peters isn't the only person to decry the platform for its censorship since the launch.
Matt Ortega, a self-described "serious internet clown," posted on Twitter on Tuesday that he may be the first "canceled" Truth Social user. Ortega posted a screenshot that announced his account was banned permanently because of "community guidelines violations."
He created an account with the username "DevinNunesCow," similar to a popular Twitter account that former Representative Devin Nunes is suing for defamation. Nunes left Congress and is currently Truth Social's CEO.
In January, Nunes told Fox Business that Truth Social was working to make sure the platform is "very family-friendly" and a "safe place" that barred "illegal content" from the site.
Kevin Guo, the CEO of Hive, a content moderation company, told Fox Business that posts that include violence, bullying, hate speech and spam would be blocked on the platform.
Uncommon Knowledge
Newsweek is committed to challenging conventional wisdom and finding connections in the search for common ground.
Newsweek is committed to challenging conventional wisdom and finding connections in the search for common ground.
About the writer
Jenni Fink is a senior editor at Newsweek, based in New York. She leads the National News team, reporting on politics and domestic issues. As a writer, she has covered domestic politics and spearheaded the Campus Culture vertical. Jenni joined Newsweek in 2018 from Independent Journal Review and has worked as a fiction author, publishing her first novel Sentenced to Life in 2015. She is a graduate of the University of Arizona. Language: English. You can get in touch with Jenni by emailing j.fink@newsweek.com.