Donald Trump's Tulsa Rally on Juneteenth Is a 'Calculated' Insult, Oklahoma Democratic Party Chair Says
The Oklahoma Democratic Party chairwoman said President Donald Trump's plans to hold a rally in Tulsa on Juneteenth were a "calculated" insult to the community.
Alicia Andrews also told supporters on Thursday that the commander-in-chief's choice to rally in Tulsa, Oklahoma on June 19, a day when the U.S. celebrates the end of slavery, was "loathsome" and insensitive to the community.
She added that the move was particularly "sad" given that the city was struck by one of worst instances of racial violence in American history in June 1921.
Speaking on Facebook Live yesterday, Andrews said: "The fact that he would choose that day as the day that he would start back with his rallies, chose that day and that location, it's sad, it's despicable, it's loathsome."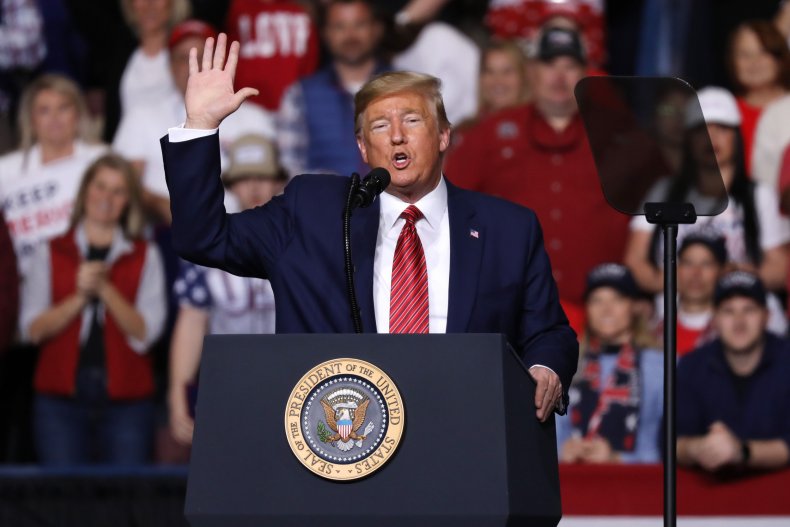 The state party chair added that it was "shameless" and "dog-whistle politics" for Trump's team to have chosen Tulsa as the location for his Juneteenth rally, noting that the city was the site of the Tulsa Race Massacre in 1921.
During the massacre, a white mob attacked black people, their homes, and their businesses in the Greenwood district of Tulsa. Hundreds were killed, and many more were left homeless.
In an interview with The Oklahoman, Andrews said the president's decision to hold his rally so close to Greenwood felt like "a deliberate insult at worst" and a "calculated" move at best.
"The fact that he chose that day, the fact that he will be a mile and a half from Greenwood feels deliberate," she told the newspaper. "The fact that his campaign hasn't reached out to any of our community leaders of color.
"So even if he wanted to pretend that this was in recognition or commemoration of (Juneteenth), how about you reach out to some of our African American leaders in the community? And he has not done that."
Andrews later said that she hoped locals would join Juneteenth without giving attention to the "expansive distraction" of the president's rally in Tulsa.
Newsweek has contacted the Trump campaign for comment. This article will be updated with any response.
Andrews is not the only senior Democratic politician to rebuke the commander-in-chief's decision to stage a rally in Tulsa on Juneteenth.
"Tulsa was the site of the worst racist violence in American history," Florida Rep. Val Demings tweeted on Thursday. "The president's speech there on Juneteenth is a message to every Black American: more of the same."
Congressman Al Green (D-TX) said the move was "overt racism from the highest office in the land" and a "slap in the face" to the African American community.
"This isn't just a wink to white supremacists—he's throwing them a welcome home party," Sen. Kamala Harris (D-Calif.) tweeted yesterday.