Prestwick Airport Sought Commercial Partnership With Trump's Turnberry Resort While Sending U.S. Air Force Crew to Stay There at Taxpayers' Expense
The struggling Scottish airport that arranged for U.S. Air Force personnel to stay at the Trump Turnberry hotel during refueling stops is actively seeking a commercial partnership with the president's resort "to create unique product offerings" as part of its corporate strategy.
It shows that Glasgow Prestwick Airport's relationship with Turnberry is not only based on arrangements that pre-date the Trump presidency, but that it is seeking new and future commercial ties to the resort even as the Department of Defense (DoD) funnels it American taxpayer money.
This adds to ethics and conflict of interest concerns swirling around President Donald Trump, his Turnberry resort, and the DoD in the wake of other reports by Politico and The New York Times about official dealings with the loss-making airport in western Scotland.
"The president said that he had nothing to do with Prestwick, but of course that's not true at all, he and his business have been deeply affiliated with Prestwick and are mutually dependent on each other," Walter Shaub, a former director of the U.S. Office of Government Ethics, told Newsweek.
Glasgow Prestwick Airport's aviation services section organizes local accommodation for air force personnel stopping over there, sometimes opting to send them 20 miles down the coast to Trump's Turnberry resort, which a spokesman said it does "routinely."
In its strategic plan document for 2017 to 2022, dug out by Newsweek, the Scottish government-owned airport states that it is working to build commercial relationships with a number of "high quality hotels," and names Turnberry explicitly as one of those.
Trump took office as president in January 2017, right at the start of Prestwick's five-year strategy, of which his Turnberry resort, which is also losing money, was a part. As Prestwick sought to deepen its relationship with Turnberry, Trump's DoD used it much more often.
"Glasgow Prestwick Airport is looking to develop partnerships with these tourism businesses to create unique product offerings. These offerings could include facilitating private aircraft travel to the area and helicopter transfers directly to the accommodation," the strategy document states.
"The airport is working with a number of these businesses to engage with corporate tourism agents to sell the overall package of Ayrshire as a premium corporate tourism and event destination."
Glasgow Prestwick Airport declined Newsweek's request for further information about its plans to partner with Turnberry, which registered its fourth year of losses in 2018.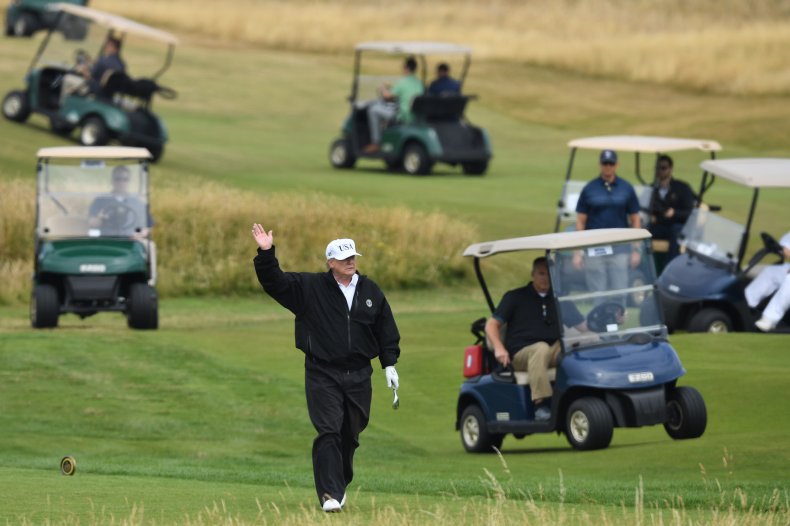 In a letter to the House Oversight Committee, which is investigating the arrangements, a senior Pentagon official said the DoD spent over $124,500 on 659 overnight stays for personnel at Trump Turnberry since the president came to office in 2017. Further expenditures at Turnberry bring the total spend to over $185,000, up by 189 percent on the prior two years.
"Specifically related to the March 2019 Air Force C-17 mission recently covered in the press, Prestwick Aviation Services arranged for the aircrew's overnight stay at the Turnberry property because it was the closest, available lodging within the government hotel rate of $166 per night ($136 room rate, 20 miles from Glasgow Prestwick Airport)," the letter states.
The DoD has in recent years substantially increased its fuel stops at Prestwick for operational reasons. It receives low-cost fuel at Prestwick and the route offers favorable flying conditions for crews. Since Trump took office, its Prestwick stopovers spiked.
Shaub, who is now a senior advisor to the Washington ethics watchdog CREW, said the increasing use of Prestwick by the DoD to refuel aircraft and allowing the airport to arrange accommodation at Turnberry "is especially troubling given the military is at least now on notice that there is a close affiliation between the Trump Organization and Prestwick airport."
"For that reason alone, whether there's a contract term or not, they should stop using the airport's services because that puts the decision-making of government officials in the hands of Trump business associates. I think all of that's very troubling," Shaub told Newsweek.
"The pattern of increasing stops at Prestwick connected as well to the increasing stays at Trump Turnberry really shows that there could be something else going on here. This harkens back to the original sin of this administration which is the president retaining his conflicting financial interests.
"The burden of proof is on him. If he's going to break with tradition and keep his conflicting assets, the burden is on the person we've entrusted with great power to show us he's using that power only for our benefit. That would include not sending a message to the government that those who frequent his businesses are going to get better treatment than others."
According to the Prestwick Aviation Services website it has "preferential crew rates with local and city center hotels," though it does not specify which, and did not reply when Newsweek asked which hotels it disregarded in favor of Turnberry when sending crew there.
"With regard to lodging, Glasgow Prestwick Airport offers multiple options, to include the Trump Turnberry, which meet DoD cost and suitability criteria," the Pentagon's letter to the oversight committee states.
It noted that its average nightly spend at Trump Turnberry of $189 came in below the overseas average of $282.92.
At standard rates, Turnberry, which advertises itself as a luxury resort, is at the expensive end of the local hotel market. Cheaper and closer alternatives are available, though it is not clear which meet the DoD's unspecified criteria referenced in the letter.
According to the DoD's Joint Travel Regulations for uniformed service members and civilian employees, a travel management company "will book a traveler only for economy travel and economy accommodations."
The traveler "may upgrade travel or accommodations at personal expense. Under certain circumstances described in the JTR, other accommodations may be authorized or approved," including if the authorizing official determines that it is in the government's interest to do so.
Emails between the Prestwick airport and Turnberry executives, released previously under freedom of information law, appear to show a deal being made to lower prices for aircrews staying over at the golf resort.
After concerns about the Turnberry-Prestwick-DoD relationship were first reported by Politico, The New York Times highlighted documents showing that back in 2014 the president was involved in making the arrangements to allow defense personnel to stay at the resort.
Despite this, the president had denied any knowledge of the stopovers, tweeting: "I know nothing about an Air Force plane landing at an airport (which I do not own and have nothing to do with) near Turnberry Resort (which I do own) in Scotland, and filling up with fuel, with the crew staying overnight at Turnberry (they have good taste!). NOTHING TO DO WITH ME."
Newsweek asked Prestwick to clarify if it has preferential rates with Turnberry, when those rates were arranged and what the discount is, and if the DoD provided any criteria for it to follow when seeking hotel accommodation for aircrew. The airport declined to answer those questions.
"Like all airports, we provide a full handling service for customers and routinely arrange overnight accommodation for visiting aircrew when requested," a spokesman for Glasgow Prestwick Airport told Newsweek in a statement on which it said it would not expand any further.
"We use over a dozen local hotels, including Trump Turnberry, which accounts for a small percentage of the total hotel bookings we make."
Prestwick declined to clarify if Turnberry bookings were a small percentage of the total for all its clients or specifically the DoD, and declined to provide detail on exactly what proportion of its DoD bookings were to Turnberry.
"It's important to note that we do not pay for aircrew accommodation and take no commission from Trump Turnberry for any bookings made on behalf of our customers," the Prestwick spokesman said.
"All aircrew landing at Glasgow Prestwick settle their bills directly with the hotels involved and, contrary to some claims we have seen, we do not offer free rounds of golf at Trump Turnberry for any aircrew."
The Department of Defense and Turnberry did not respond to Newsweek's requests for comment.
This article was updated to say Prestwick declined to answer Newsweek's questions.