Priests Hope Donald Trump Tie Will Make U.S.-Australia Links Great Again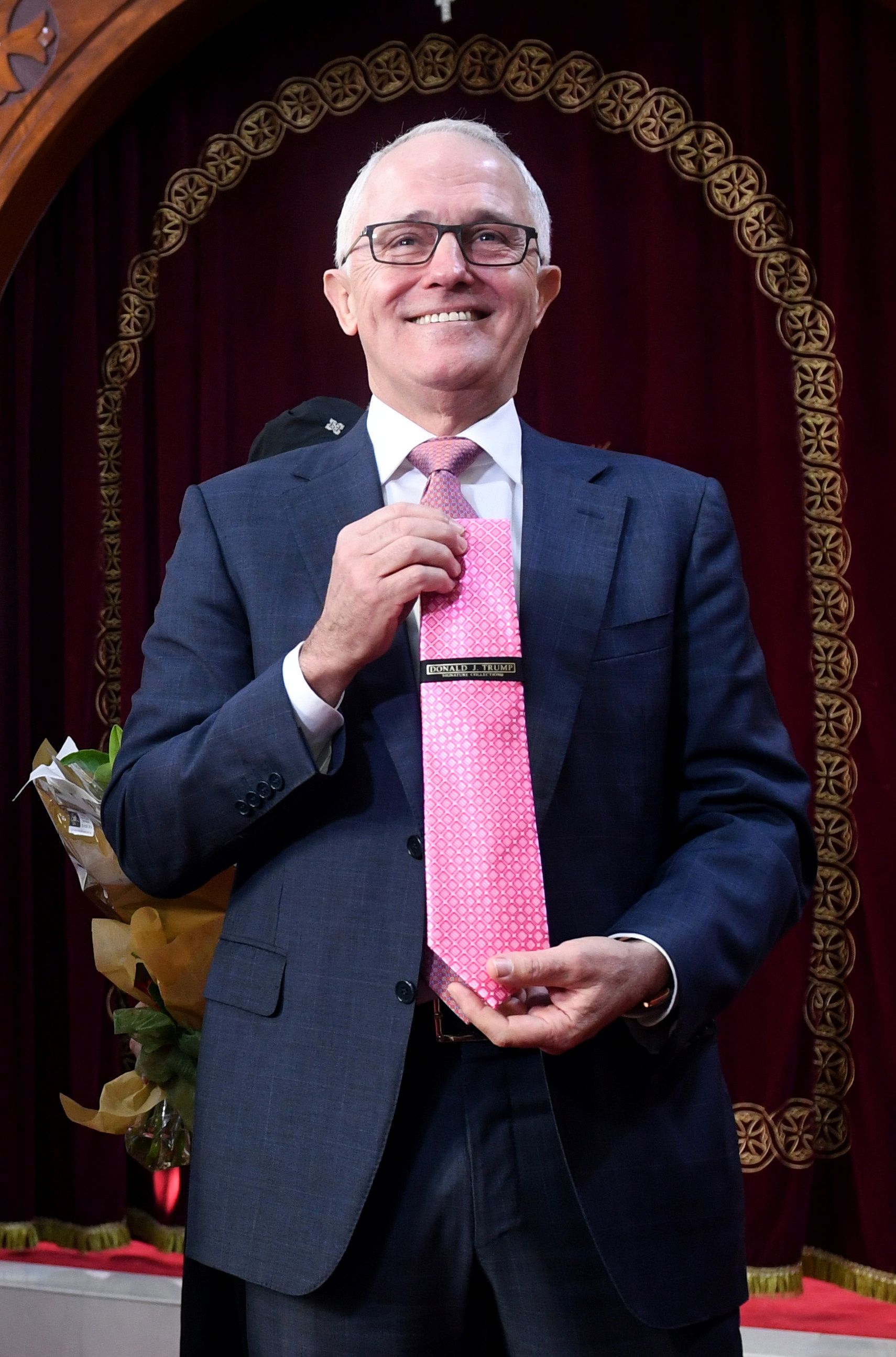 Australian Prime Minister Malcolm Turnball was gifted a pink tie emblazoned with the name of Donald Trump on Sunday by a church poking fun at his difficult relations with the U.S. president.
The item from an official Trump-branded clothing line was handed to Turnbull when he visited Sydney's Coptic Orthodox, according to local media reports.
Turnbull smiled and posed with the silk tie, which he was gifted by Pope Tawadros II of Alexandria and Coptic Orthodox Bishop Daniel.
Pope Tawadros II joked that he wanted to use his position as a man of God to end the feud between the leaders, reported Australia's Ten Eyewitness News.
Get your unlimited Newsweek trial >
Turnbull's relationship with the U.S. president has been strained, with Trump reportedly hanging up on the prime minister when the two spoke over the telephone soon after Trump's inauguration.
The two had disagreed over a refugee resettlement deal reached between Australia and the Obama administration before Trump took office. In a subsequent tweet Trump called the deal "dumb."
In May, the two met at a dinner on the USS Intrepid aircraft carrier in New York to mark the 75th anniversary of the Battle of the Coral Sea, and shrugged off the dispute.
However at a recent charitable ball in Sydney, Turnbull poked fun at Trump in leaked footage, parodying the president's rhetorical style and mocking his obsession with poll ratings and fake news.
Get your unlimited Newsweek trial >
"The Donald and I ... we are winning in the polls. We are! Not the fake polls. We are winning in the real polls. You know, the online polls. They are so easy to win," Turnbull said in the leaked recording, he adding: "I have this Russian guy…"
Turnbull and the White House played down the comments.
"I don't think anybody cares about that," a senior White House official said of Turnbull's quips.
Priests Hope Donald Trump Tie Will Make U.S.-Australia Links Great Again | World