Trump Turns Attention on China for Fentanyl Coming Into U.S. During Visit to Texas Border
Former President Donald Trump made a point of highlighting China's role in fentanyl reaching American teenagers during a recent visit to Texas to discuss border security.
Border security helped propel Trump to the White House in 2016 and remained a staple of his presidential platform over the next four years. President Joe Biden kicked off his presidency by reversing course on many of Trump's immigration policies, a move that Trump criticized Wednesday, saying that it was contributing to the influx of migrants and drugs crossing America's border.
Trump joined Texas Governor Greg Abbott at a briefing on border security during a trip to Texas, which he has credited with prompting Vice President Kamala Harris' recent visit. While hearing from a sheriff about the danger fentanyl crossing the border posed to young people in the state, Trump asked if it was coming from China.
Tarrant County Sheriff Bill Waybourn clarified that it was the Mexican cartel who was bringing the drugs into America, but Trump pushed back, asking, "Are they getting it from China?"
"They are getting it from China but they find it's easier to come in through the United States," Waybourn said.
China's extensive organized crime network has been able to skirt a crackdown on fentanyl by entering the United States by way of Mexico. A State Department spokesperson previously told Newsweek that a "significant amount" of chemicals ad non-fentanyl opioids that originate in China are used to manufacture fentanyl in Mexico.
Waybourn told Trump his county has seen a 50 percent increase in deadly overdoses from fentanyl, compared to a year ago when it was "barely on our radar." Over the last three years, fentanyl seizures at the border increased by 4,000 percent, according to NBC News.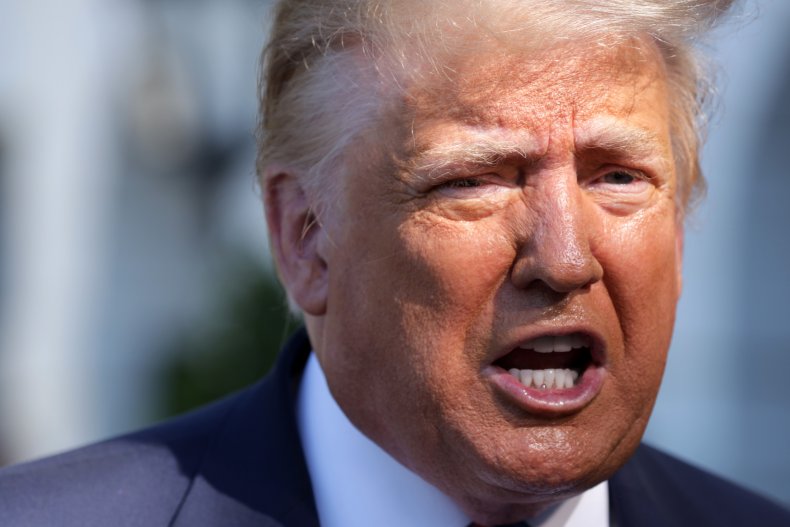 Trump spokesperson Liz Harrington said in a statement to Newsweek: "President Trump is adamant about holding China accountable, not only for the virus but for the unprecedented amounts of deadly fentanyl now being allowed to pour into the United States by Joe Biden."
Encounters at the border are also higher than they've been since 2018, and with months left of the 2021 fiscal year, Axios reported they're the highest they've been since 2006. The bulk of this year's encounters involve single adults, according to the U.S. Customs and Border Patrol, followed by individuals in a family unit.
Biden rejected Trump's governing style on numerous fronts and kicked off his presidency with the termination of construction of the wall along the southern border. A key campaign promise of Trump's, about 500 miles of the wall was built before he left office and the former president criticized the decision to halt construction because it created gaps.
During the briefing, Trump championed his decision to move forward with the wall in conjunction with Border Patrol and other agencies. He is expected to visit a part of the unfinished wall on Wednesday as part of his trip to Texas.
He's also gone after Biden for not continuing his border security policies, attributing the change to the influx in border crossings. Trump added that his negotiation skills were how he was able to enact certain policies and said returning to them won't be "easy."
Republicans have been quick to hit Biden for not doing enough to stop migrants from coming to America and argue he actually contributed to their decisions to come during the presidential campaign. In 2019, Biden said America is a nation that says, "You want to flee, and you're fleeing oppression, you should come."
He's since told immigrants not to make the dangerous journey to the U.S. and on a trip to Guatemala, Harris attempted to set the record straight on the administration's position.
"Do not come. Do not come. The United States will continue to enforce our laws and secure our borders," Harris said. "If you come to our border, you will be turned back."
The comment prompted condemnation from progressives in the Democratic caucus, who argued that it ran contrary to America being a land of immigrants. With a slim majority in the Senate, the Biden administration has had to walk a fine line so as not to lose the support of progressives or moderates.
While he still holds a majority approval rating overall, voters aren't sold on Biden's approach to immigration. In Texas, Abbott has the upper hand. Forty-six percent of Texans approve of Abbott's handling of the border crisis, according to a University of Texas/Texas Tribune poll, and only 27 percent approve of Biden's.
Republicans are more likely to disapprove of Biden's response, at 89 percent, than Democrats oppose Abbott's, at 73 percent.
Republicans have rallied around the situation at the border and governors are sending their National Guard members to Texas to help. South Dakota Governor Kristi Noem, who's received praise from Trump, was the latest to deploy troops. She announced on Tuesday the initial deployment was being funded by private donations and would last between 30 and 60 days.
Abbott championed the Texas National Guard's response to the influx of border crossings during Wednesday's press conference. He said people will spend time in jail if they cross illegally and not be privy to the "red carpet treatment" he accused Biden of rolling out.