Trump Turns on Fox News Over Wall Negotiation Coverage—'Less Understanding…Than the Folks at Fake News CNN & NBC'
President Donald Trump has taken aim at the network that has traditionally been his biggest cheerleader.
Taking exception to some of its coverage of the border wall negotiations, the president compared Fox News to other networks that are more critical of him.
He tweeted on Sunday: "Never thought I'd say this but I think (John Roberts) and (Gillian Turner) have even less understanding of the Wall negotiations than the folks at FAKE NEWS CNN & NBC!"
"Look to final results! Don't know how my poll numbers are so good, especially up 19% with Hispanics?" he added, apparently referring to a Marist poll earlier in January showing that 50 percent of Latino adults approved of the president's performance, up from 31 percent in December.
Trump did not specify which part of Fox News he was unhappy with, but Roberts was hosting Fox News Sunday, filling in for Chris Wallace.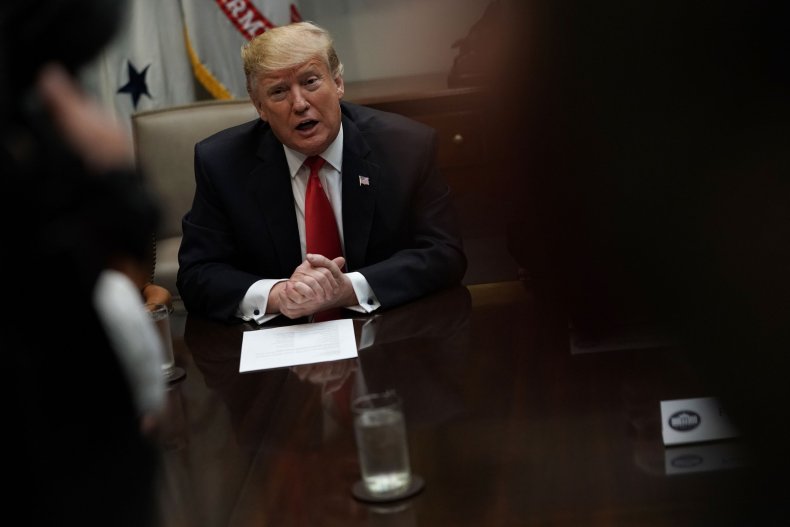 The panelists, which included Fox News correspondent Gillian Turner, were discussing the political winners and losers of the government shutdown which temporarily ended after Trump backed the three-week continuing resolution to reopen the government departments affected.
Jason Riley from the Wall Street Journal said that House Speaker Nancy Pelosi was "the big winner," adding that the "onus is now on Pelosi and the Democrats to negotiate like they said they would."
Meanwhile, Turner said that Trump's action could have implications for how other world leaders, like Russia President Vladimir Putin and China's Xi Jinping now viewed the U.S. president.
She said foreign leaders "are looking at this and saying 'it turns out that the Democrats winning the House in the midterms actually did matter for the president's foreign policy agenda'."
Separately, Roberts asked acting White House Chief of Staff Mick Mulvaney if Trump had "caved" in to the Democrats. Mulvaney said that Trump had been told by "many Democrats" that they "are actually starting to agree with him on the necessity for a barrier on the southern border."
Mulvaney added that Trump was "winning the battle on the importance of a barrier on the southern border", but Democrats could not work with him while the government was closed.
Earlier, Fox personality, Lou Dobbs, said that Democratic House Speaker Nancy Pelosi had "whipped" Trump in the government shutdown saga.
Trump told the Wall Street Journal that he doubted Congress would agree to a deal on border wall funding and that another shutdown was "certainly an option," expressing skepticism 17 lawmakers could agree on a deal that could achieve a bipartisan resolution.
"I personally think it's less than 50-50, but you have a lot of very good people on that board," Trump told the Journal.
He later tweeted that he remained committed to the wall, writing: "After all that I have done for the Military, our great Veterans, Judges (99), Justices (2), Tax & Regulation Cuts, the Economy, Energy, Trade & MUCH MORE, does anybody really think I won't build the WALL?
"Done more in first two years than any President! MAKE AMERICA GREAT AGAIN!" he added.