Trump Tweet Blaming Crime on Blacks, Hispanics Resurfaces After 'Least Racist Person' Claim
A tweet from President Donald Trump blaming violent crime on Black and Hispanic Americans resurfaced on social media on Thursday night after the commander-in-chief claimed to be "the least racist person" at the final presidential debate.
Reacting to the president's claim to be the "least racist person" in the room, a slew of social media users reposted his old post on violent crime with the #RacistInChief hashtag.
"Sadly, the overwhelming amount of violent crime in our major cities is committed by blacks and hispanics-a tough subject-must be discussed," Trump tweeted in June, 2013—three-and-a-half years before he took office.
At the time of writing, the president's post has been shared more than 9,000 times and liked by 10,400 Twitter users. Many sharing the post were critical of his remarks.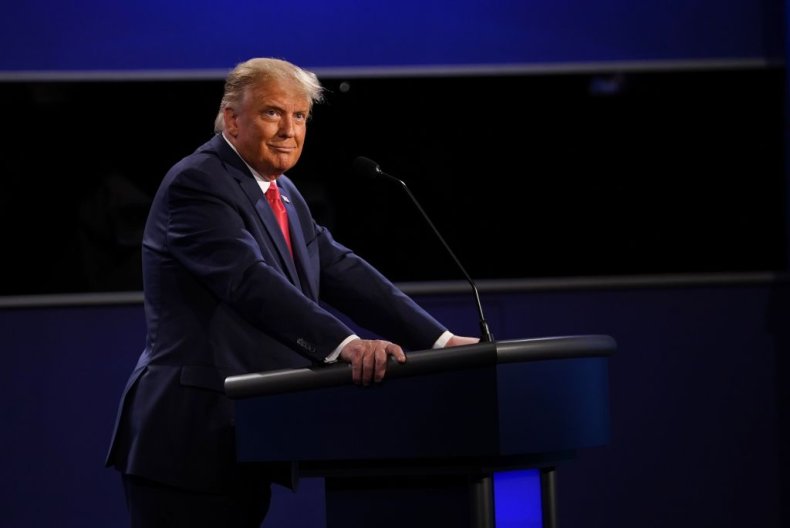 Newsweek has contacted the White House for comment.
The post resurfaced last night after Trump sought to defend his record on race relations and racial inequality at his head-to-head with Joe Biden in Nashville, Tennessee. Trump was asked to respond to Americans who believed his remarks on Black Lives Matter had contributed to "racial strife" in the country.
"The first time I heard of Black Lives Matter, they were chanting pigs in a blanket—pigs, talking about our police—pigs in a blanket, fry them like bacon," Trump replied. "I said that's a horrible thing... and that was my first glimpse of Black Lives Matter, I thought it was a terrible thing.
"As far as my relationships with all people, I think I have great relationships with all people. I am the least racist person in this room."
The president added that over his first four years in office he had passed criminal justice reforms, created opportunity zones and "took care" of Black colleges and universities.
"It makes me sad because I am the least racist person," Trump said. "I can't even see the audience because it's so dark, but I don't care who's in the audience. I'm the least racist person in this room."
Former Vice President Joe Biden took a different view. The Democratic nominee and author of the 1994 Crime Bill—a controversial piece of legislation linked with increased racial inequality—sarcastically referred to Trump as Abraham Lincoln and said he was "one of the most racist presidents" in modern history.
"He pours fuel on every single racist fire, every single one," Biden said. "He started off his campaign coming down the escalators saying he's going to get rid of those Mexican rapists."