Trump Tweet Criticizing Americans for Not Paying Taxes, Despite 'Crippling' Government Debt, Resurfaces
An old Donald Trump tweet criticizing Americans who "don't pay income tax" resurfaced late on Sunday after The New York Times published a report that revealed he did not pay federal income taxes in about half of the 18 years the newspaper looked at.
"HALF of Americans don't pay income tax despite crippling govt debt," Trump wrote on Twitter in February 2012, four years before he was elected president. His tweet's caption mirrors the headline of a Daily Mail article published one day before, which appears as a link in the social media post. The U.K.-based newspaper's report relies on a graphic originally created by the Heritage Foundation, a conservative think tank based in Washington, D.C.
The graphic suggested that 49.5 percent of the U.S. population was not represented on federal tax returns in 2009. Analysis of IRS data by the Tax Foundation, an independent nonprofit that focuses on tax policy, showed a record number of people had no income tax liability in 2009, during the Great Recession.
Trump's 2012 tweet began to circulate late Sunday night following the Times' publication of a detailed report that provided some answers to long-standing questions about the president's income taxes. The Times examined Trump tax documents dating back 18 years and found he paid no federal income taxes for 11 of them, "largely because he reported losing much more money than he made."
Sunday's report also noted his collective tax returns in 2016 and 2017—the final year of his first presidential campaign and his initial year in office, respectively—amounted to $1,500 in payments, with Trump paying $750 both years. His tax information also indicated the president deducted about $70,000 worth of personal expenditures, including home goods items, hair stylists and travel, claiming they were business expenses.
Trump denied the report's legitimacy during a news conference at the White House later on Sunday. "It's totally fake news," he said. "Made up. Fake."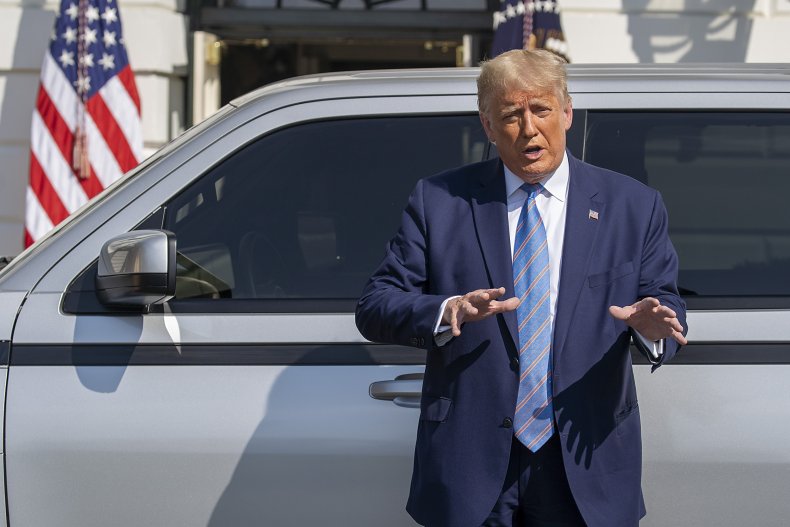 Numerous public figures have reacted to the Times' report, which comes after journalists and judges alike have tried to look into Trump's tax history for more than a year.
"The New York Times reporting provides a window into the extraordinary measures that President Trump has used to game the tax code and avoid paying his fair share of taxes, while hardworking Americans are," House Speaker Nancy Pelosi said in a statement released on Sunday.
"It is a sign of President Trump's disdain for America's working families that he has spent years abusing the tax code while passing a GOP tax scam for the rich that gives 83 percent of the benefits to the wealthiest 1 percent," she added.
Representative Alexandria Ocasio-Cortez of New York responded to the news on Twitter Sunday, calling out Trump for "a scam" and pointing out that she had "paid thousands of dollars a year in taxes" while working as a bartender in 2016 and 2017.
Newsweek reached out to the White House and the Trump campaign for comment but did not receive replies in time for publication.