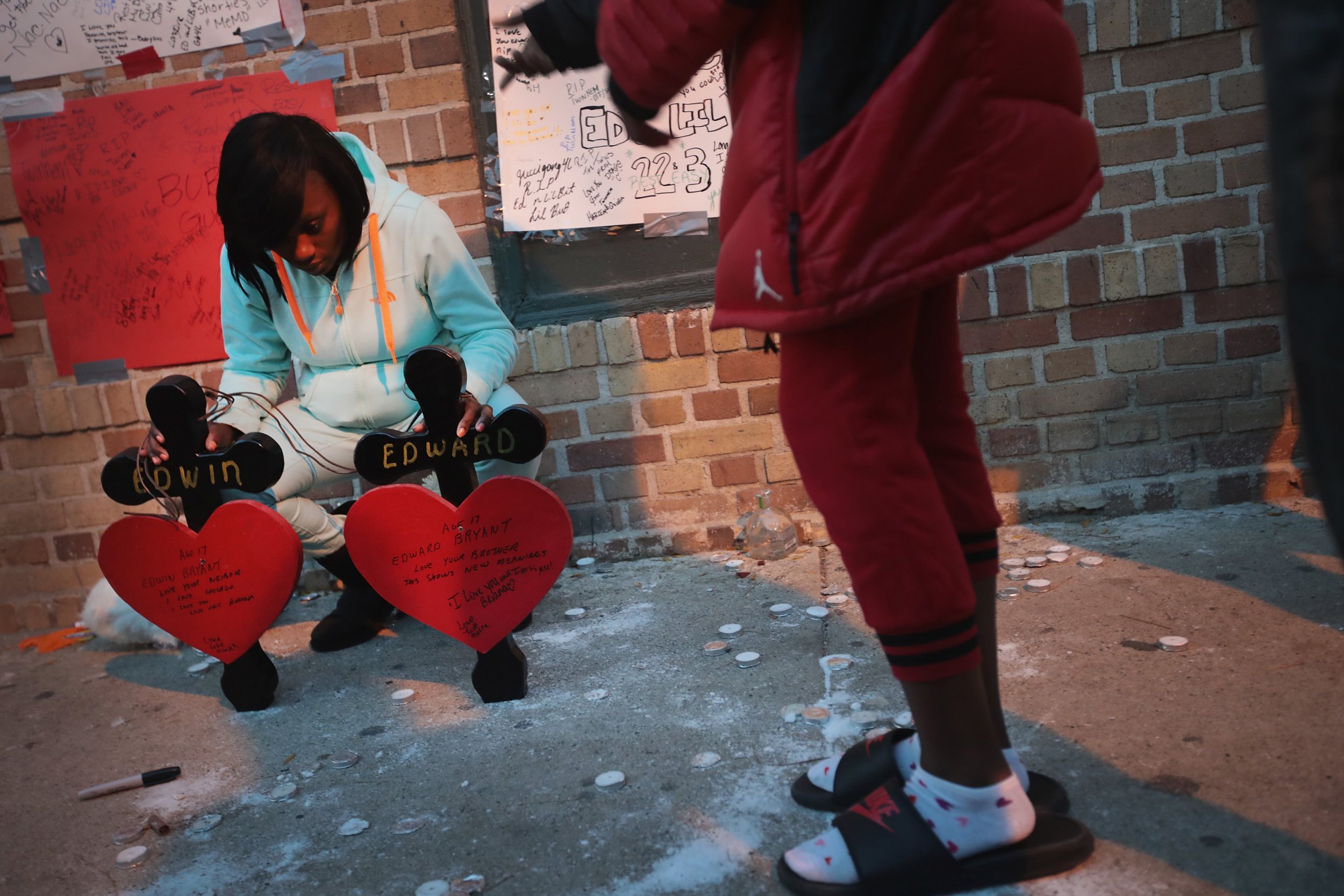 On Tuesday evening, President Trump sent a tweet declaring that if Chicago doesn't "fix the horrible carnage going on" there he will "send in the feds"—sparking confusion and criticism Wednesday from city cops, academics and gang members. The president's tweet cited a report of a 24 percent spike in homicides this year and was posted just after Fox News ran a segment about the level of violence in Chicago.
One ex-gang member took the tweet as a declaration of war. "It sounds to me like he's trying to gang-bang with us!" Alonzo Lee, a former member of the Gangster Disciple gang in Chicago, tells Newsweek. Lee, who sold marijuana until police raided his house in late 2015, said he thinks Trump's tweet means he'll send in undercover agents in unmarked cars. "He's giving the feds permission to low-key kill us if they see somebody doing something wrong. That's how I look at it."
People on the other side of the law also panned Trump's tweet. "The statement is so broad. I have no idea what he's talking about," Chicago Police Superintendent Eddie Johnson told the Chicago Tribune on Wednesday morning. He added that he hadn't been contacted by the White House and he would oppose bringing in the National Guard.
"I think it's kind of silly and that he doesn't understand," a veteran Chicago cop who voted for Trump tells Newsweek. Federal agents are already "sent in," he says, and with little effect. Twice in the past five years, federal agents from across the country were dispatched to Chicago to work with local police in "surges" attempting to stem the violence, but those efforts are hampered by the short assignments and because FBI, Drug Enforcement Administration and Bureau of Alcohol, Tobacco, Firearms and Explosives agents don't know the city. "They bring in outside agents for 90 days to do buys and meet with [Chicago Police Department], and it's always bullshit. The violence never stops," says the cop, who asked not to be named because he's not authorized to speak with the press.
And in addition to those "surges," Chicago cops already work regularly with federal prosecutors and investigators. In a Monday press release that announced a 22-year sentence for a West Side gang leader, federal prosecutors noted the investigation was initiated by the Chicago Police Department and conducted under the umbrella of the federal U.S. Organized Crime Drug Enforcement Task Force.
Academics bashed the idea that more law enforcement was a solution for the homicide epidemic in Chicago, which saw more killings last year than two larger cities, New York City and Los Angeles, combined. "If the idea is send in the feds with guns and batons, he's likely to make the problem worse," University of Chicago assistant professor Forrest Stuart tells Newsweek, citing research that the erosion of trust between citizens and police sparks more violence. Stuart also argued for federal intervention that would improve schools or improve jobs. "Even something as straightforward as a public jobs program would remove a lot of the young men who are currently in the informal economy [and] engage in violence."
Gary Slutkin, the founder of Cure Violence, a nonprofit with success in decreasing street violence by sending outreach workers into rough neighborhoods, says federal intervention could help Chicago if it came in the form of outreach workers trained to calm conflicts. "If they were to look at this the way they look at Ebola, with an emergency health response and outreach workers, that would be urgently helpful because it's been shown over and over that these guys can stop violence," Slutkin, a University of Illinois at Chicago professor, tells Newsweek. "It could make the difference in a rapid and sustained way. We'd be willing to show President Trump how effective that could be."
Others welcomed the signal from Trump that he might intervene in Chicago. "Help is on the way Chicago. President Trump is the only person not willing to stand by and watch this carnage occur," tweeted Milwaukee County Sheriff David Clarke.
Trump brought up Chicago and its murders multiple times during his presidential campaign, once telling Fox News that police could solve the problem "by being very much tougher than they are right now," and he also compared the city to a "war-torn country" in an October debate with Hillary Clinton. Chicago reportedly had 4,331 shooting victims and 762 homicides in 2016, the most killings in 20 years.
But on the streets of Chiraq, the city's grim nickname, the people who would be most directly affected by a federal intervention acknowledged the uptick in violence while also questioning what Trump meant by his tweet. "It seems like it's sparking up a little bit," says Tray, a dreadlocked 19-year-old who sometimes stands watch outside a Gangster Disciple drug house in South Chicago. "It's already some feds out here, so I don't really know what he's going to do."
Late Wednesday afternoon, the White House said Trump's tweet is a pledge to provide law enforcement or other federal assistance. "We'll hopefully get a dialogue started with Mayor [Rahm] Emanuel to try to figure out what a path forward can be so that we come up with a plan that can keep the people of Chicago safe," said White House spokesman Sean Spicer, according to Reuters.