Trump Says He Supports Alleged Sexual Abuser Roy Moore Over Democrat 'Puppet' in Alabama Senate Race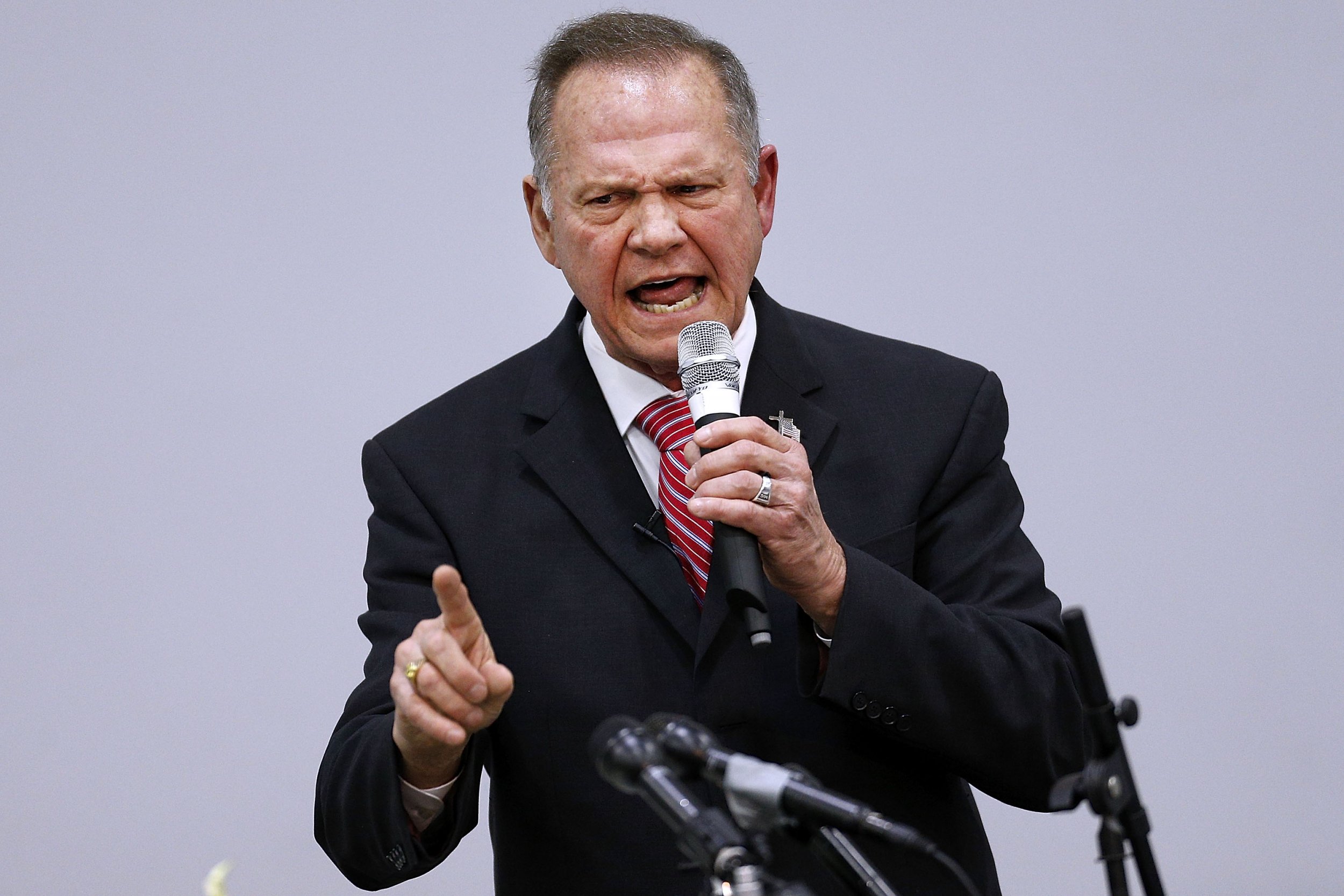 President Donald Trump suggested Sunday that he'd rather see an alleged child sex abuser in Congress than a Democratic "puppet" who will not support the Second Amendment and border enforcement.
Trump fired off two morning tweets indirectly supporting Roy Moore, the Republican Senate candidate in Alabama who has been accused of sexual assault or misconduct by nine women, some of whom said they were teenagers at the time.
Trump has stopped short of outrighting endorsing Moore, but he once again assured that he wants to see the Democratic candidate, Doug Jones, defeated in the December special vote.
"The last thing we need in Alabama and the U.S. Senate is a Schumer/Pelosi puppet who is WEAK on Crime, WEAK on the Border, Bad for our Military and our great Vets, Bad for our 2nd Amendment, AND WANTS TO RAISES TAXES TO THE SKY. Jones would be a disaster!" Trump wrote in one tweet.
In another tweet, he lamented the defeat of Senator Luther Strange, who Trump endorsed in the September primary vote against Moore.
"I endorsed Luther Strange in the Alabama Primary. He shot way up in the polls but it wasn't enough. Can't let Schumer/Pelosi win this race. Liberal Jones would be BAD!" he wrote.
Even as GOP leaders and Congress members have fled from Moore and called for his defeat in the Alabama race, Trump has seemed to stand by the candidate while arguing that anything would be better than seeing a Democrat win.
After keeping quiet about Moore's scandals for weeks, Trump told reporters last week that his top priority was making sure his party kept its Senate seat.
"I can tell you one thing for sure, we don't need a liberal person in there," Trump said.
He also pointed out that Moore "totally denies" the accusations against him and that the media "has to listen to him also."
Trump has still not said if he believes Moore's accusers are lying and he has not formally endorsed the former judge's campaign. He said he would decide this week whether he's going to campaign for Moore ahead of the Dec. 12 vote.
Before Trump's first comments about Moore, the White House suggested that Trump sided with Moore's accusers because he wasn't going out to campaign for the candidate.
Trump's daughter Ivanka is among the prominent voices speaking out against Moore, and she said she there is "a special place in hell for people who prey on children." Trump was annoyed by his daughter's comments and said to Oval Office aides, "Can you believe this?" according to The New York Times.
Jones has started using Ivanka's remarks as part of his campaign.