What Could Trump Tweet During His Super Bowl Watch Party?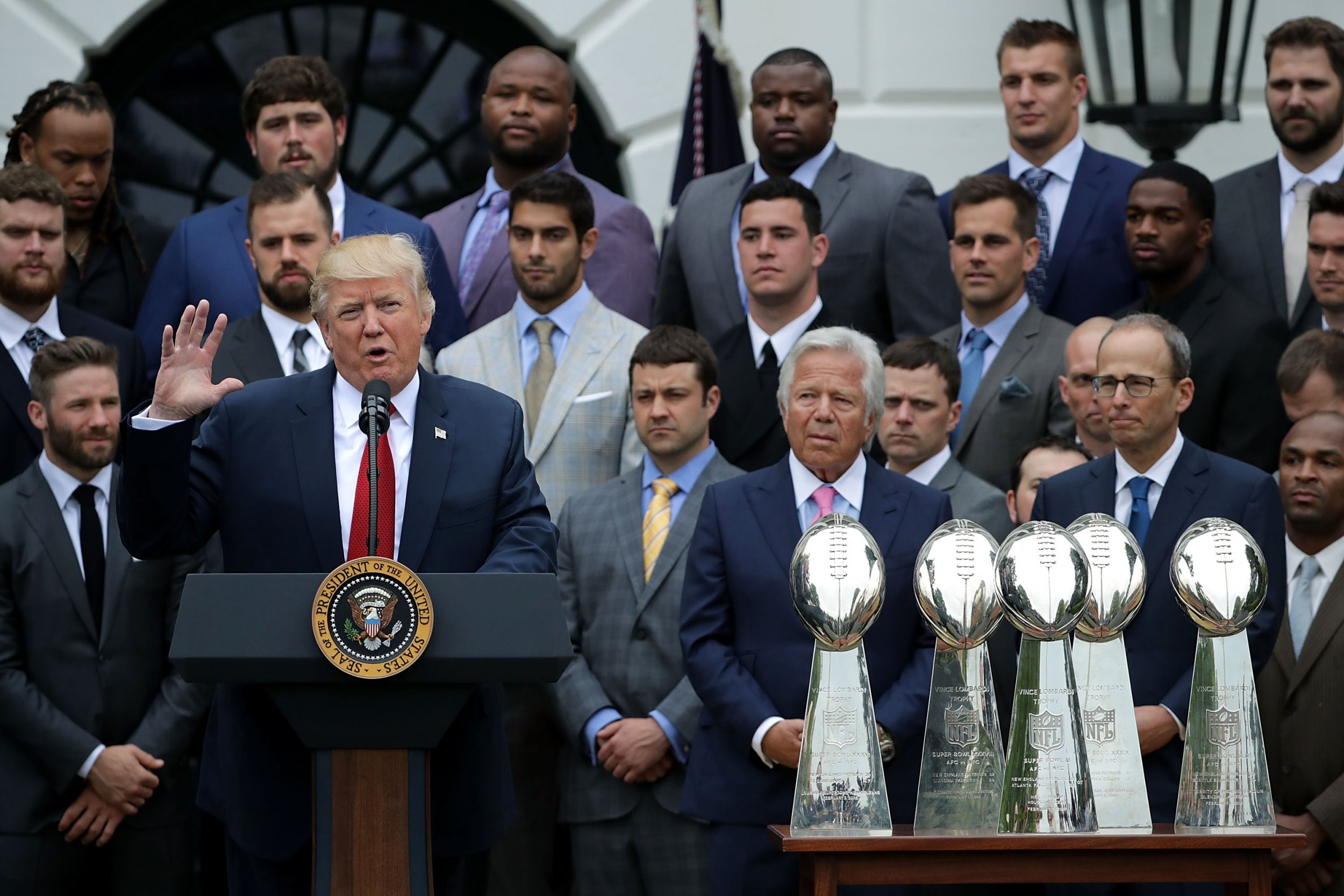 President Donald Trump has a long history of tweeting during the Super Bowl, and he is likely to uphold that tradition Sunday during his Super Bowl watch party at the Trump International Golf Club in West Palm Beach. First Lady Melania Trump is set to be hosting the watch party with the president when the New England Patriots play the Philadelphia Eagles, according to The Hill.
"What an amazing comeback and win by the Patriots. Tom Brady, Bob Kraft and Coach B are total winners. Wow!" Trump tweeted during the Super Bowl last year when the Patriots played the Atlanta Falcons. However, it is uncertain what the president will tweet Sunday given his turbulent year with the NFL, lashing out against players who kneeled at games during the national anthem out of protest against police brutality.
During the State of the Union address on Tuesday, Trump alluded to the kneeling conflict when he honored 12-year-old Preston Sharp, saying that Sharp's dedication to putting American flags on the graves of soldiers on Veteran's Day "reminds us why we salute our flag, why we put our hands on our hearts for the Pledge of Allegiance and why we proudly stand for the national anthem."
In 2013, Trump tweeted that his pick for the Super Bowl win would be the San Francisco 49ers. Later, 49ers quarterback Colin Kaepernick began kneeling out of protest last season. Trump told Fox News host Sean Hannity in October 2017 that the NFL should have suspended Kaepernick, and previously said that the NFL should fire players who kneeled during "The Star-Spangled Banner."
"Wouldn't you love to see one of these NFL owners, when somebody disrespects our flag, to say, 'Get that son of a bitch off the field right now. Out. He's fired. He's fired!'" Trump said to a crowd in Huntsville, Alabama in September 2017. None of the players who kneeled in protest during the 2017 season will be attending Super Bowl LII, but the NFL told CNNMoney that there is no rule barring players from protesting on Sunday.
The Patriots seem to be a clear favorite of the president.
During previous Super Bowls, Trump has tweeted support for longtime friend and general manager of the New England Patriots, Bill Belichick, and for golf buddy and Patriots quarterback Tom Brady. During a campaign rally in New Hampshire just days before the 2016 presidential election, Trump read aloud a portion of a letter he received from Belichick.
"'Congratulations on a tremendous campaign. You have dealt with an unbelievable slanted and negative media, and have come out beautifully. You have proved to be the ultimate competitor and fighter. Your leadership is amazing,'" Trump said in November 2016, reciting Belichick's letter.
Trump hosted the Patriots at the White House to honor their Super Bowl win last year.
In 2016, when Trump was trying to win the Republican nomination for president, his Super Bowl tweet was less about football and more about his campaign run. "So far the Super Bowl is very boring - not nearly as exciting as politics - MAKE AMERICA GREAT AGAIN!" Trump tweeted when the Denver Broncos played the Carolina Panthers.
The New England Patriots gear up to play the Philadelphia Eagles Sunday night at 6:30 p.m. EST.