Trump Tweeted Nearly 50 Times During Impeachment Hearing, Despite Aides Insisting He Was Too Busy Working to Watch
White House Press Secretary Stephanie Grisham informed the press that the president would not be paying attention to the impeachment hearing then-ongoing in the House.
"The president will be working all day," she said. "He will be briefed by staff throughout the day, and could catch some of the proceedings between meetings."
Eight minutes later, the president tweeted: "SUCH ATROCIOUS LIES BY THE RADICAL LEFT, DO NOTHING DEMOCRATS. THIS IS AN ASSAULT ON AMERICA, AND AN ASSAULT ON THE REPUBLICAN PARTY!!!!"
Nancy Cook of Politico crunched the numbers, and Trump tweeted "roughly 47 times" during the hearings:
Politico reported that the president remained "fixated" on televised proceedings of the impeachment throughout the afternoon before leaving for a rally in Battle Creek, Michigan.
"It doesn't really feel like we are being impeached," Trump said during the rally. "We did nothing wrong. We have tremendous support in the Republican Party, like we've never had before."
"The Republican party has never been so affronted but they have never been so united as they are right now," he added.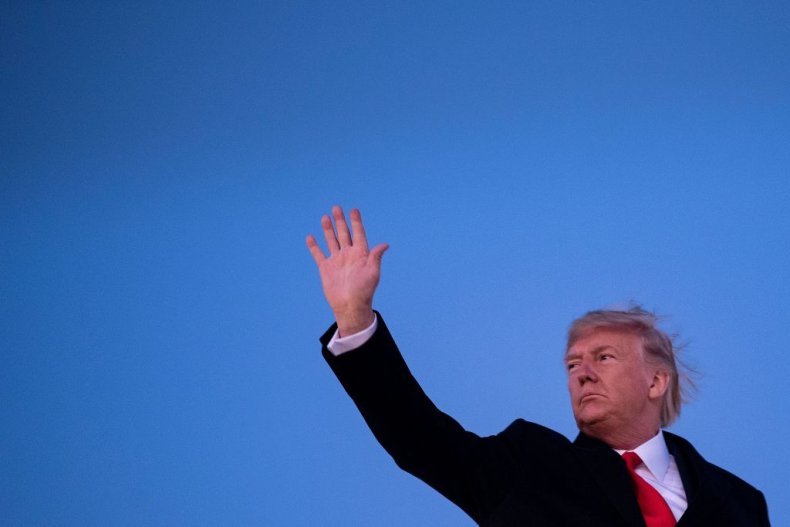 Close friends described the president's current state to Politico.
"He doesn't like the word 'impeachment' or the process, but strategically, this has worked out to his advantage," said former Speaker of the House Newt Gingrich. "I think he is quite happy to have the Democrats stay mired in this universe they have created for themselves."
"I talked to him last night. He's upset. But this is the hand he's been dealt. The last week he's probably done more in a week than most presidents do in a year," Republican Senator Lindsey Graham told Politico.
"He feels like he's been treated unfairly," Graham said. "It's been a never-ending effort to undermine his presidency and that it's a partisan exercise without having merit. Now, having said that, he's capable of doing two things at once. We've done a lot of things the past week, from budget deals to deals with China."
A White House staffer speaking anonymously to Politico said, "Generally speaking, it's fine," when asked to describe the mood within the White House. "We've known this was coming for a long time."
"President Trump's use of technology to communicate directly with the American people should be praised, not criticized. Instead of obsessing over how many times the President has tweeted, the media could cover his unprecedented accomplishments," said Deputy Press Secretary Judd Deere exclusively to Newsweek when reached for comment.
President Trump remains under fire for allegedly asking Ukrainian President Volodymyr Zelenskiy to commit to a "quid pro quo" trade with America during a July telephone call. Trump is said to have threatened to withhold military aid that had already been approved unless Zelenskiy provided the president with information on the dealings of former Vice President Joe Biden and his son Hunter involving the Ukrainian gas company Burisma.
On Wednesday, President Trump became the third American president to face impeachment in the country's history.
President Trump continues to deny any wrongdoing.
Update: (12/19/2019: 3:46 p.m.): With a comment from Deputy Press Secretary Judd Deere.