Trump Tweets for First Time Since Being Locked Out of Account: His Only Goal Was to Ensure 'Integrity' of Votes
President Donald Trump addressed the public via Twitter for the first time on Thursday since the social media platform locked the president out of his account for 12 hours.
In a video posted at 7:10 p.m. on Twitter, Trump addressed the riots on Wednesday.
"I'd like to begin by addressing the heinous attack on the United States Capitol. Like all Americans, I am outraged by the violence, lawlessness and mayhem. I immediately deployed the National Guard and federal law enforcement to secure the building and expel intruders," Trump said.
"America is, and must always be, a nation of law and order. The demonstrators who infiltrated the Capitol have defiled the seat of American democracy. To those who engage in the acts of violence and destruction, you do not represent our country. And to those who broke the law, you will pay. We have just been through an intense election and emotions are high, but now tempers must be cooled and calm restored. We must get on with the business of America," he continued.
"My campaign vigorously pursued every legal avenue to contest the election results. My only goal was to ensure the integrity of the vote. In so doing, I was fighting to defend American democracy. I continue to strongly believe that we must reform our election laws to verify the identity and eligibility of all voters and to ensure faith and confidence in all future elections," he added. "Now, Congress has certified the results and new administration will be inaugurated on January 20. My focus now turns to ensuring a smooth orderly and seamless transition of power."
"This moment calls for healing and reconciliation. 2020 has been a challenging time for our people, a menacing pandemic has upended the lives of our citizens, isolated millions in their homes, damaged our economy and claimed countless lives. Defeating this pandemic and rebuilding the greatest economy on Earth will require all of us working together. It will require a renewed emphasis on the civic values of patriotism, faith, charity, community and family," Trump said.
"We must revitalize the sacred bonds of love and loyalty that bind us together as one national family. To the citizens of our country, serving as your president has been the honor of my lifetime. And to all of my wonderful supporters. I know you are disappointed, but I also want you to know that our incredible journey is only just beginning," he added. "Thank you, God bless you, and God bless America."
The president was locked out of his account Wednesday afternoon after Twitter required Trump to remove three tweets he had posted during the attack on Capitol Hill.
Of the posts taken down for violating Twitter Rules, one included a video in which Trump addressed his supporters, calling them "very special" and saying that he loved them— "but go home and go home in peace."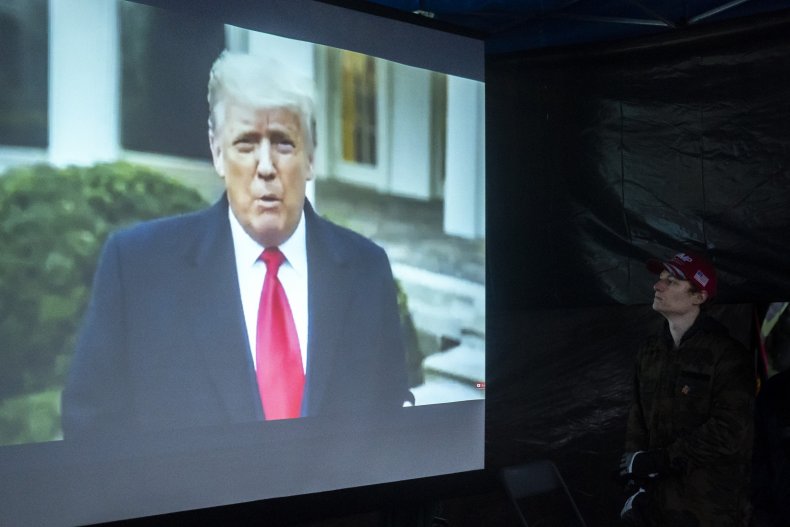 Twitter had initially flagged the post for making a disputed claim about election fraud. Users were also blocked from liking, retweeting and replying to the tweet "due to a risk of violence." The tweet was later removed for violating the platform's rules.
Although Twitter restored Trump's account, the social media giant said that any future violations of Twitter Rules will result in a permanent suspension of the account.
While he was locked out of his account, the president made a statement early Thursday through White House Deputy Chief of Staff Dan Scavino.
Speaking through the aide, Trump responded to Congress' electoral certification of President-elect Joe Biden's win, marking the first time he publicly acknowledged his Democratic rival's achievement since the November 3 election.
"Even though I totally disagree with the outcome of the election, and the facts bear me out, nevertheless there will be an orderly transition on January 20th," he said.
"I have always said we would continue our fight to ensure that only legal votes were counted. While this represents the end of the greatest first term in presidential history, it's only the beginning of our fight to Make America Great Again!" Trump continued.
On Wednesday, hundreds of Trump supporters stormed the U.S. Capitol building, breaching it for the first time since the War of 1812 during Congress' joint session to formalize the results of the election.
The large crowds marched to the building and shoved past barricades and officers after attending a "Save America Rally" outside the White House, where Trump addressed the crowd, continued to push his unsubstantiated claims of election fraud and concluded with: "Let's walk down Pennsylvania Avenue."
Congress was forced to break for recess as Capitol police attempted to secure the building that was being mobbed by many of the president's supporters. Lawmakers returned to session later in the evening.
Biden was confirmed as the winner of the 2020 presidential election by Vice President Mike Pence, who declared the final vote totals in the early hours of Thursday morning.