President Donald Trump called mail-in elections a "sick joke" on Sunday, as some conservative groups begin to encourage mail-in ballots as an early voting tool in Georgia's Senate runoff races.
"All of the mechanical 'glitches' that took place on election night were really THEM getting caught trying to steal votes," Trump tweeted. "They succeeded plenty, however, without getting caught."
"Mail-in elections are a sick joke!" the president continued in the tweet, which was later flagged.
Trump has repeatedly claimed that mail-in voting is a cause for fraud. However, a number of conservative groups have encouraged mail-in voting in Georgia's runoff election.
"Early voting and absentee ballots are going to happen. We can't and shouldn't stop people from doing it," said Jessica Anderson, executive director of Heritage Action for America, an arm of the conservative Heritage Foundation, told RealClearPolitics. "What we can do is talk to Republicans [in Georgia] about having a plan to vote."
Anderson continued to note that if GOP campaigns and conservative activists can reach out to Republicans early, they can encourage them to make voting plans that work best. Heritage Action has already sent activists to knock on doors, call and text likely voters.
"The first wave of priority will be the [hundreds of thousands] of Georgia voters signed up to receive a mail-in ballot," said Anderson. "We will be making the first rounds of door knocks for them and follow it up with text messages."
The Save America Coalition, a group formed by super PAC Club for Growth Action alongside Heritage Action, have also expressed the need for early votes in the state.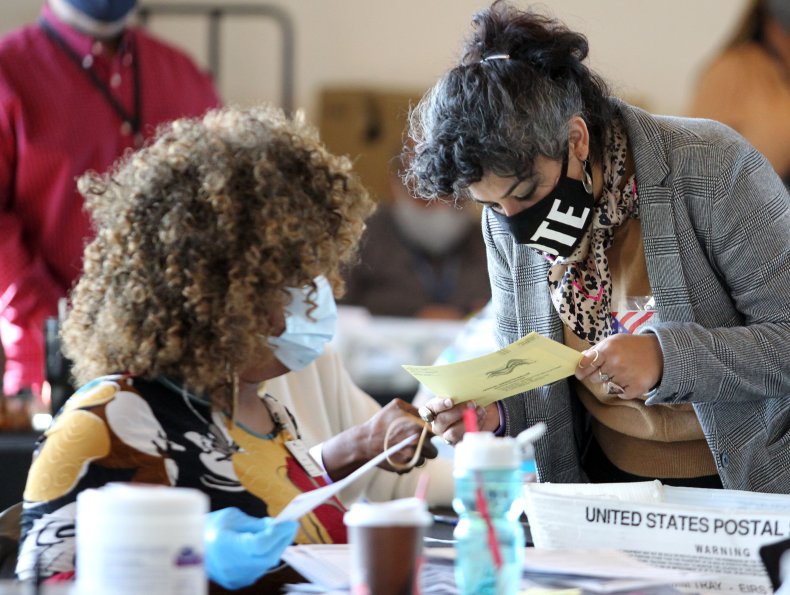 "The timing is tight. November is going to be over and December is going to come sooner than you know it," Joe Kildea, a Club for Growth spokesperson, also told RealClearPolitics. "Everyone is moving very quickly."
Kildea continued stating that early Republican vote turnout will be key for the runoff election. "Especially in these close elections, you should never leave votes on the table, and that included an early voting strategy."
Several GOP senators—including Marco Rubio, Marsha Blackburn, Ted Cruz, Steve Daines, Josh Hawley, Ron Johnson, Mike Lee and Pat Toomey—reportedly support the coalition.
In Georgia, a candidate must secure a minimum of 50 percent of votes to win a race. If no candidate reaches that requirement, the top two candidates face off in a separate run-off election.
Republican incumbent Senator David Perdue currently holds 49.8 percent of the votes against Democratic candidate Jon Ossoff—with a difference of just over 95,500 votes between them.
The second Senate race is a special election between Republican incumbent Senator Kelly Loeffler—who was appointed by Governor Brian Kemp to replace Johnny Isakson, who resigned from office in 2019—and Democratic candidate Raphael Warnock.
The race was declared as a runoff after Warnock received 32.9 percent of the votes, about 330,000 more than Loeffler.
The Republican National Committee didn't respond to Newsweek's request for comment in time for publication.