Joe Biden Tells Trump to 'Give It a Rest' on Day President Tweets 123 Times—Including 58 in One Hour
Even by his own prolific social media standards, President Donald Trump is setting a new benchmark for Twitter use.
On Sunday, the president tweeted 105 times sharing his views—and mostly retweets—with his 67 million followers on a diverse number of subjects ranging from the impeachment inquiry to the fortunes of MMA fighter Tito Ortiz.
But he topped this number on Thursday with a staggering 123 tweets, according to the Trump Twitter Archive, a searchable database of every one of the president's tweets.
The Washington Post said that this was the most tweets and retweets that Trump had ever sent since he announced his candidacy for president in 2015.
The Post also noted that on Thursday, Trump had sent more tweets and retweets than former President Obama sent on the @POTUS account between May 2016 through January 2017.
The chart below, provided by Statista, shows the number of tweets the president has made per month over the last three years.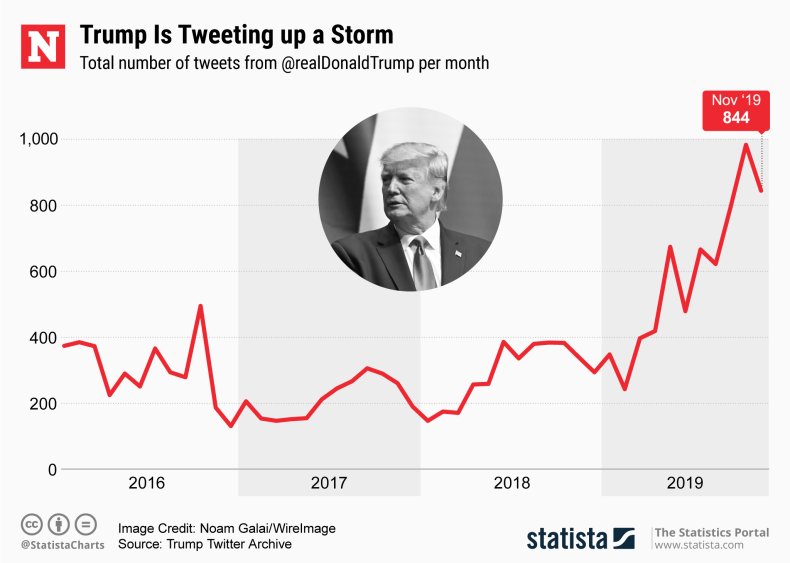 It all started at 6.51 a.m. [ET] with his message that new polls "say most Americans oppose impeachment." he added, "I did nothing wrong. This will be the first Impeachment ever where there was no crime. They don't even allege a crime. Crazy!"
His next tweet nine minutes later took aim at the media, saying that "fake News like CNN & MSNBC are dying."
But this relative tweet trickle turned into a deluge between 7 a.m. and 8.a.m. during which time he tweeted 58 times.
These were almost all retweets on a smorgasbord of issues ranging from praising his rally in Pennsylvania this week, to taking aim at the FBI and his general animus at the impeachment process enveloping him.
The tweet that got the most traction that day was sent at 7.22 a.m, when the president described teenage environmental activist Greta Thunberg's nomination by Time magazine as their person of the year as "ridiculous."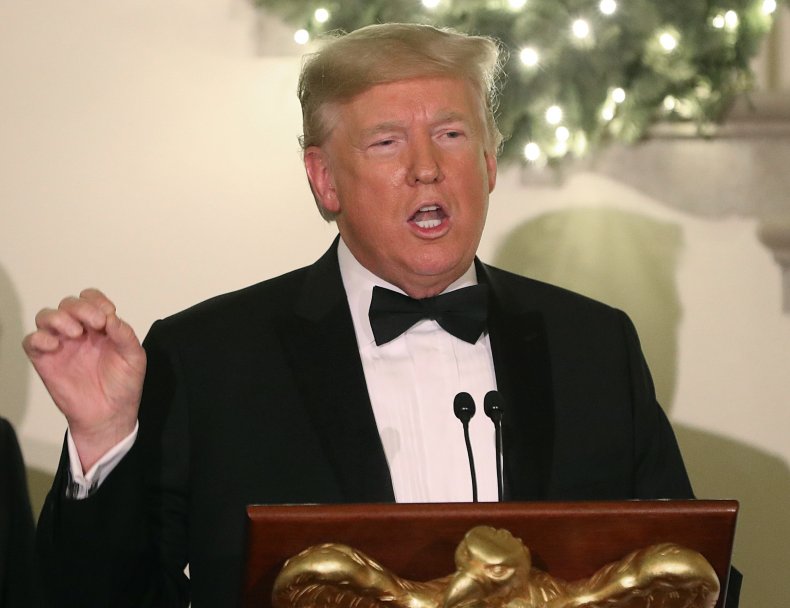 He wrote that she "must work on her anger management problem, then go to a good old fashioned movie with a friend! Chill Greta, Chill!"
The 16-year-old made light of the criticism and updated her Twitter biography to match the president's tweet.
There was a hiatus of about 45 minutes, before Trump tweeted again, sending 14 in quick succession before 9 a.m. He tweeted 15 times between 9 a.m. and 10 a.m. but only two between 10 a.m. and midday.
The flurry started again between 12 p.m. and 1 p.m. with one tweet and 15 retweets that mostly consisted of praise for him by fellow GOP members.
However after 1.19 p.m. Trump's twitter feed went silent for seven hours and 33 minutes, before resuming again at 8.52 p.m.
According to Factbase, Trump's schedule on Thursday included a speech at a White House summit backing paid family leave and childcare reform, talks with trade advisers and the Congressional Ball with GOP lawmakers in the evening.
At 11.06 p.m. he weighed in on the British election, tweeting: "Looking like a big win for Boris in the U.K.!"
He ended his tweeting day at 11.18 p.m. with the message: "Last night House Judiciary Chairman Jerry Nadler admitted that Democrats are pursuing Impeachment because it's too dangerous to simply let the American people pick the next president in 2020."
When people on social media had noticed that Trump had hit triple figures, Democrat presidential contender Joe Biden, tweeted: "Give it a rest man."
Newsweek has contacted the White House for comment. White House spokesman Judd Deere told the Associated Press that Trump's "use of technology to communicate directly with the American people should be praised, not criticized."
He added that the media should focus on Trump's accomplishments "instead of obsessing over how many times the president has tweeted."