Donald Trump Retweets Hillary Clinton Jibe After Meeting Hurricane Harvey Victims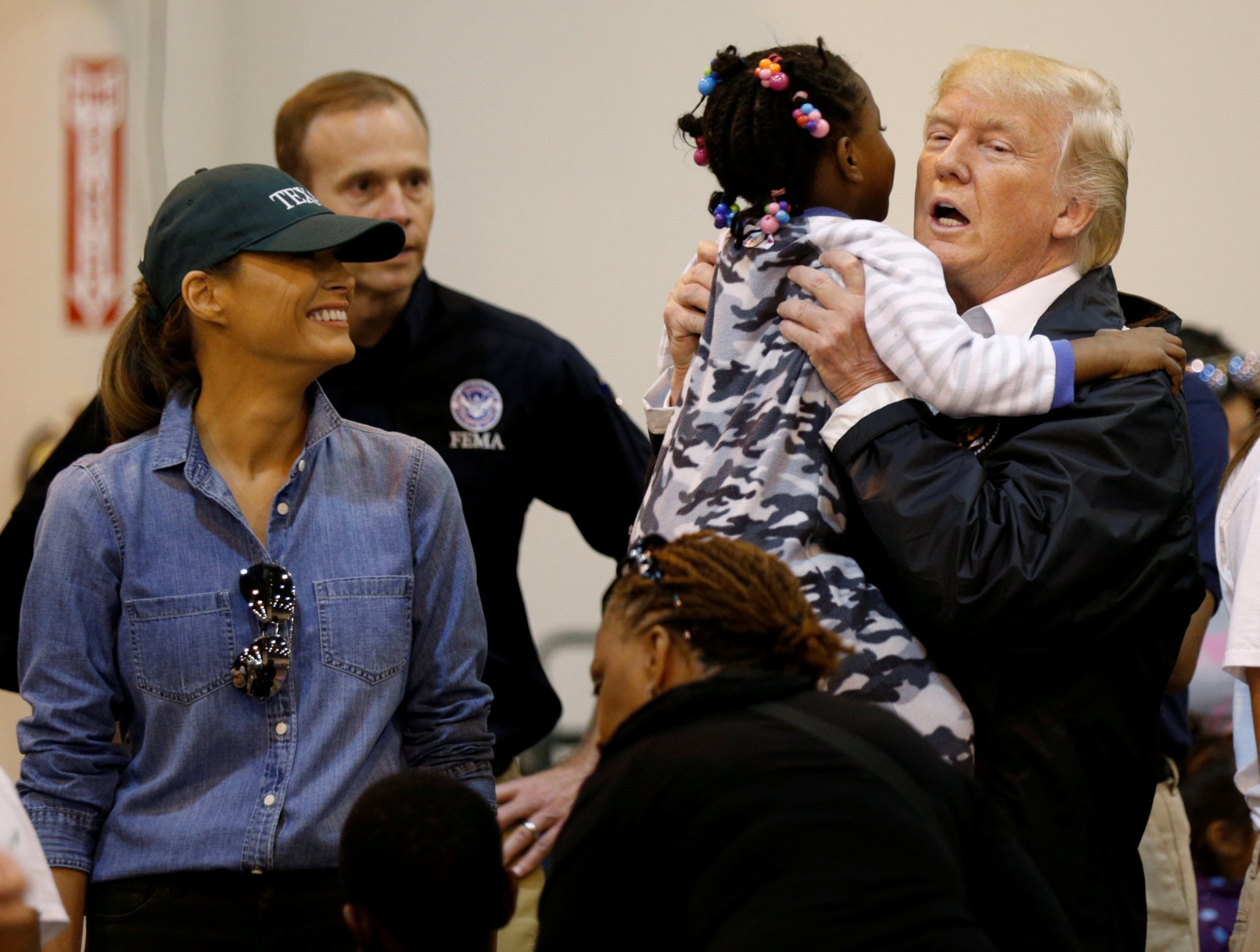 President Donald Trump was busy being hands-on in Texas on Saturday, posing for photographs and meeting with victims of Hurricane Harvey in his second visit to the state since the storm made landfall last week.
But as well as performing these more serious duties, the president made time for one of his favorite pastimes: Poking fun at Hillary Clinton.
Late Saturday Trump retweeted an image posted by a supporter mocking Clinton's forthcoming memoir, titled What Happened. A photo of Clinton's book appears next to a similar mockup version of the cover that has a picture of a smiling Trump and the title "I happened."
The image was posted by @Team_Trump45, a supporter of the president who regularly posts in favor of Trump and against Clinton and 154,000 followers.
Trump, who has 37.4 million followers on Twitter, has made a habit of retweeting messages of support. The practice has sometimes caused controversy: Trump was branded insensitive after retweeting an image that showed a train running over a figure with the CNN logo superimposed on its head, particularly given the timing. The president retweeted the image—before quickly deleting the post—just three days after the violence in Charlottesville, during which a man drove a car into a crowd of counter-protesters opposing a rally of white supremacists, killing a woman, Heather Heyer.
The president has also reportedly retweeted at least one bot, which make up a significant proportion of his social media fanbase. A Newsweek investigation in May found that just 51 percent of the 31 million accounts following Trump at the time were likely to be authentic.
Clinton's book will provide an inside account of the 2016 presidential race, in which the Democratic nominee lost and Trump gained a shock victory. Clinton says that she had "let her guard down" in the book and discusses her regrets, including how she dealt with Trump during the televised debates. The title drew sarcastic criticism from Trump supporters when it was confirmed in July.
Trump met with flood survivors and volunteers in Houston on Saturday. An estimated 20 trillion gallons of rain has fallen on the city and Hurrican Harvey has left tens of thousands of people homeless. The storm has been blamed for at least 47 deaths, the BBC reported.
The president has asked Congress for $7.8 billion in initial funds to help the recovery effort in Texas and neighboring Louisiana, where Trump also paid a visit on Saturday. Trump also declared Sunday to be a national day of prayer for victims of the storm.