Trump's Latest Twitter Target—The Cast of 'Hamilton'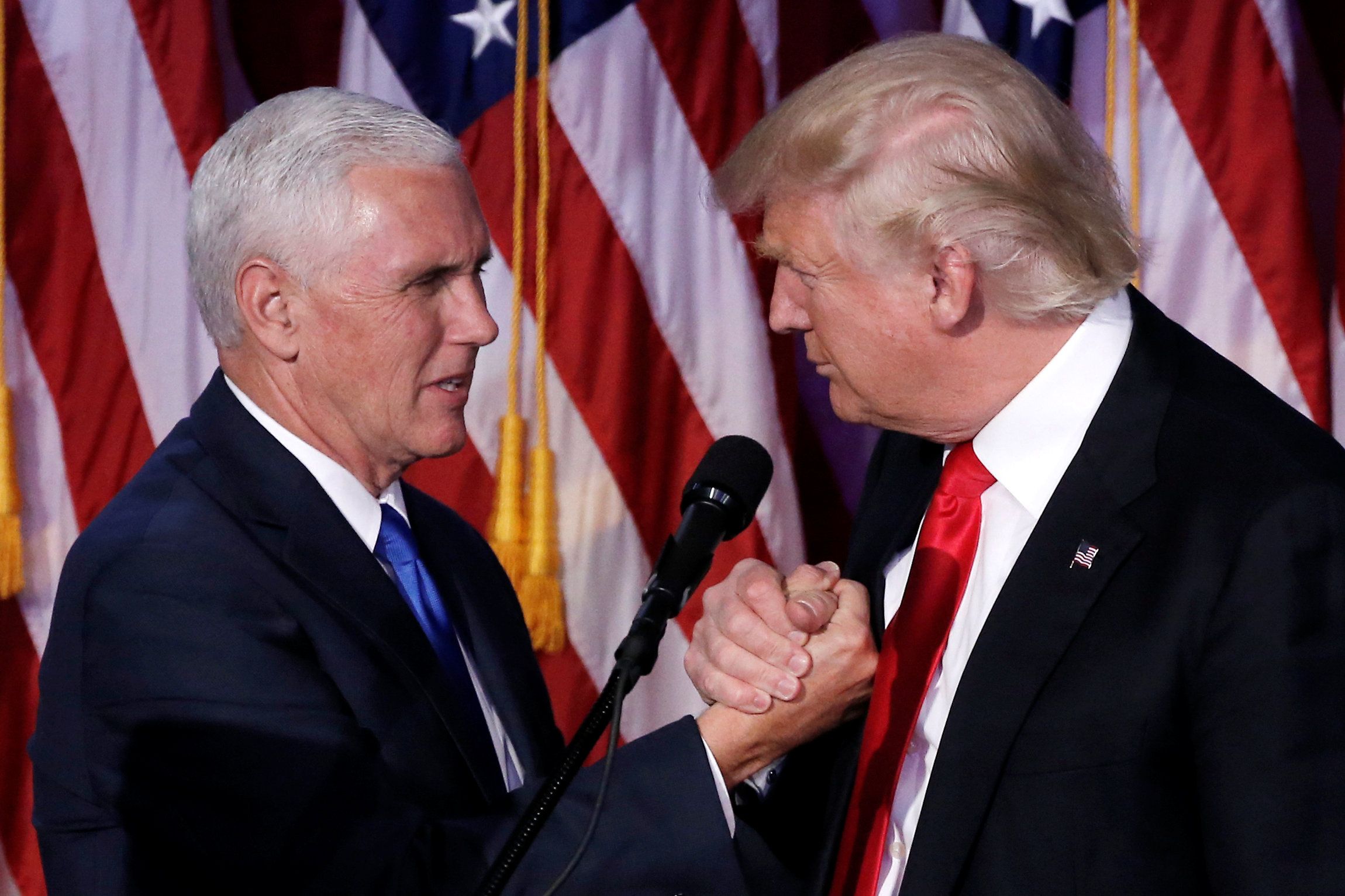 Hillary Clinton, the press, refugees, fellow Republicans—the list of Donald Trump's Twitter targets is long, with no signs of letup now that he's less than two months away from inauguration day. We can now add a cultural phenomenon to the extensive list of perceived enemies: the cast of the Broadway smash Hamilton.
The president-elect demanded an apology Saturday from the cast of the Tony Award-winning play for their treatment of Vice President-elect Mike Pence, who cast members directly addressed Friday evening. Although readying for a day of meetings concerning administration appointments, Trump found time to defend "our wonderful future V.P. Mike Pence" from alleged harassment with tweets barely distinguishable from a parody Twitter account.
"The Theater must always be a safe and special place. The cast of Hamilton was very rude last night to a very good man, Mike Pence. Apologize!," Trump demanded.
Pence was walking out of the show at the Richard Rodgers Theater in New York Friday night when Brandon Victor Dixon, who plays Aaron Burr in the highly acclaimed musical from Lin-Manuel Miranda, read a statement with the cast on stage. "We, sir—we—are the diverse America who are alarmed and anxious that your new administration will not protect us, our planet, our children, our parents, or defend us and uphold our inalienable rights," Dixon said. Pence is a Christian conservative who many perceive to be hostile to LGBT rights—as governor of Indiana Pence signed the Religious Freedom Restoration Act, allowing businesses to opt out of same-sex weddings by citing their religious beliefs, although he later amended it to say the law cannot be used to discriminate against LBGT citizens.
"We truly hope that this show has inspired you to uphold our American values and to work on behalf of all of us," Dixon said as audience members cheered and clapped. Hamilton is a musical that uses a racially diverse cast to tell the story of Alexander Hamilton and America's founding fathers.
Dixon responded to the president-elect on Twitter, writing that "conversation is not harassment sir. And I appreciate @mike_pence for stopping to listen." He also told Broadway.com that he believes the cast's message made an impact on Pence. "I saw him enjoying it with whoever he was with, and I hope he remembers us. I truly believe we had an effect," Dixon said. "It was a message from the producers, the creative and the cast. If you have differences, say something! What better place than on this stage telling this story with these people? I hope he thinks of us every time he has to deal with an issue or talk about a bill or present anything."
The amusing imbroglio is roiling Twitter, with calls to #BoycottHamilton accompanied by widespread mockery.
"If we wanna discuss what is rude Mr. President, I'm pretty sure grabbing a woman by her genitalia ranks higher than booing," one user wrote. "In the wake of the #BoycottHamilton movement, I'm showing my support by buying a ticket to the show when one becomes available in 27 years," another said. "So the racist Trump supporters created the #BoycottHamilton hashtag because the cast don't want their lawmakers to be white nationalists?," a Twitter user asked.
But Trump and Pence did have their defenders. "I love that #BoycottHamilton is trending but I've always boycotted it bc it erases white history & culture & propagandizes via ghetto lies," one user wrote about the play that dares to use people of color in a Colonial context. Another user wrote that the Pence statement was part of a liberal pattern: "Liberals behaving badly. You see it everywhere. Intolerance, lack of ethics, violence, hate speech, property damage... #BoycottHamilton."
Not to be outdone, the hashtag #NameaPenceMusical is trending alongside calls to #BoycottHamilton, with predictable results playing off the names of Broadway hits of yesteryear. A sampling from Twitter users:
Book of Moron;
Lyin King;
Anything Goes (If You're a Rich Straight White Man);
Thoroughly Modern Misogyny;
Fiddler With the Truth.
Reuters contributed to this article.