Donald Trump Blocked Veterans on Twitter After They Criticized His Muslim Ban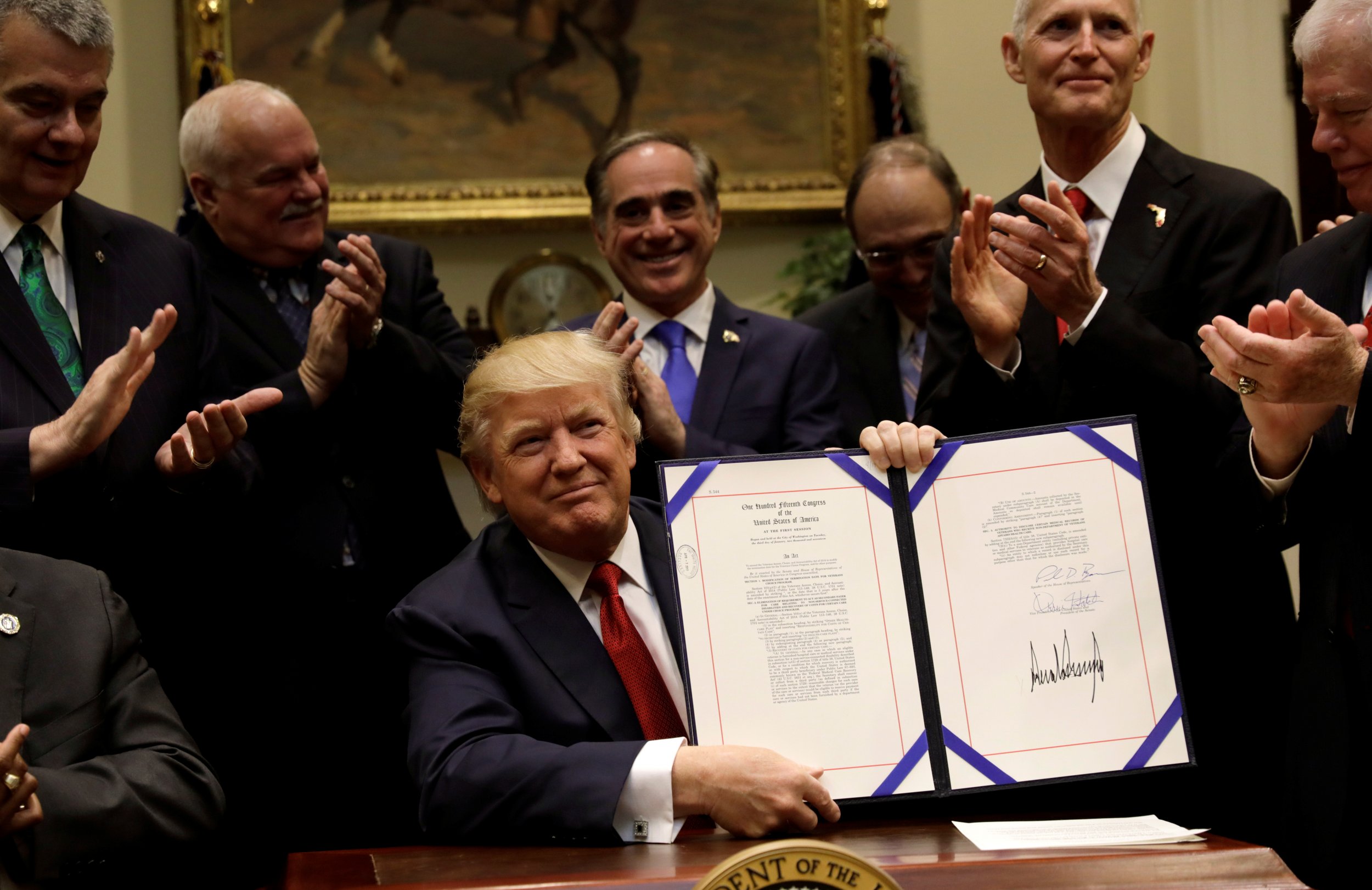 Last October, as he was campaigning for president, Donald Trump praised veterans as "amazing," "distinguished" and "tremendous." This week, he blocked them on Twitter.
VoteVets tweeted Tuesday a screenshot—presumably taken while logged in to its own account—appearing to show Trump had blocked the nonprofit progressive veteran advocacy group on Twitter. "The Commander in Chief can block @VoteVets, the voice of 500k military veterans and families, but we will NOT be silenced," it wrote.
The tweet went viral, racking up more than 12,000 likes and 7,500 retweets in two hours from users including former Saturday Night Live cast member Ana Gasteyer and cyclist Joe Papp.
Related: Where is Donald Trump's promised 24-hour hotline for veterans?
VoteVets, which on its website claims to have backers in all 50 states and more than 5 million voters contacted since 2006, has made no secret of its dislike for Trump. Earlier this week, the account retweeted Democratic Senators Tammy Duckworth of Illinois and Chuck Schumer of New York.
Just before sharing the news of its block Tuesday, the group had been lambasting the president for his executive order restricting travel from several Muslim-majority countries.
VoteVets wrote that Trump's Muslim ban was "unconstitutional, immoral and a threat to our national security." The nonprofit also criticized Trump for complimenting Philippines President Rodrigo Duterte and Russian President Vladimir Putin and for allegedly violating the Constitution's Emoluments Clause, which prohibits presidents from accepting payments and titles from foreign countries.
Trump has a rocky history with veterans and the military. In February, Trump vowed to support them, saying "we owe them so much" and "our veterans are going to be taken care of for once and for all." But last October, he seemed to suggest that former soldiers with post-traumatic stress disorder aren't strong or "can't handle" combat "horror stories." And last summer, after Gold Star father Khizr Khan condemned Trump in a Democratic National Convention speech about his son killed in Iraq, Trump alleged Khan's wife hadn't been "allowed" to talk.
Even back in 2015, Trump landed in hot water with veterans after saying Senator John McCain, R-Ariz., was "not a war hero" despite having been a prisoner of war in Vietnam. Trump infamously said he preferred "people who weren't captured."
In any case, VoteVets isn't the first to be blocked by the president on his favorite social media site. Other users forbidden from seeing Trump's tweets include a number of civilians, including Holly O'Reilly, who sent the president a GIF of Pope Francis, and Rob Szczerba, who teased Trump about his covfefe typo, CNN reported.