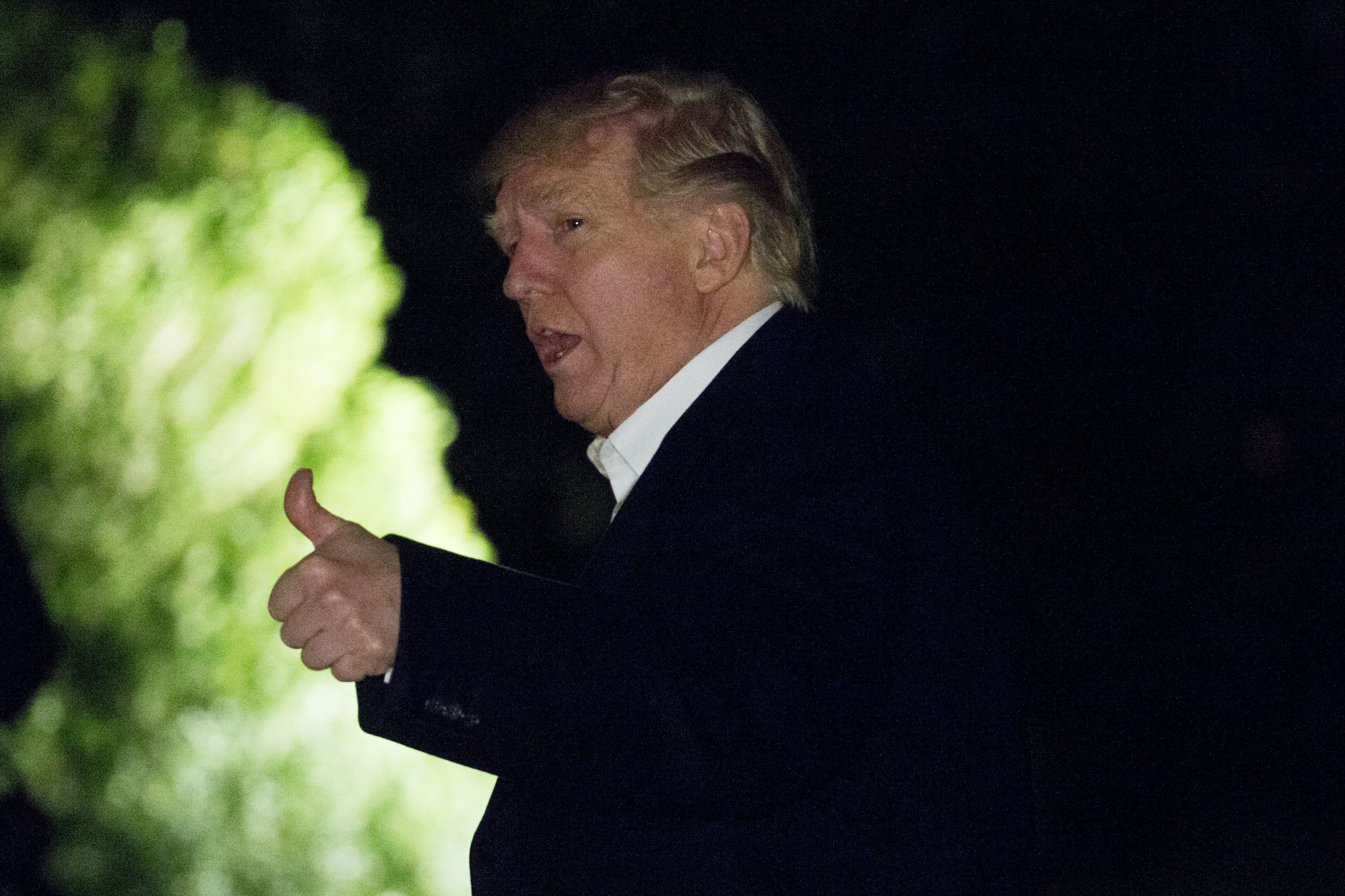 President Donald Trump took to Twitter on Wednesday to speculate on whether three UCLA men's basketball players would thank him for what he said was his help in keeping them out of prison in China for shoplifting.
"Do you think the three UCLA Basketball Players will say thank you President Trump? They were headed for 10 years in jail!" Trump tweeted.
The president's claim about such long possible sentences do jibe with Chinese law. The Louis Vuitton sunglasses the players allegedly stole were priced at 4,900 yuan, or $750, which could have resulted in prison terms of one to two years, but they could be lessened with confessions or by paying back the store, according to The Washington Post.
The three Bruins freshmen, LiAngelo Ball, Jalen Hill and Cody Riley, returned to the U.S. late Tuesday after they were detained in Hangzhou on November 2 while the college team was in China for a tournament. The players were later released but had to remain at the team's hotel until they headed stateside.
When the players arrived at Los Angeles International Airport, they did not answer reporters' questions, but a news conference is scheduled for Wednesday at UCLA's Pauley Pavilion, NBC News reported.
Ball's involvement only increased attention on the story. His brother, Lonzo Ball, is a rookie with the Los Angeles Lakers and his father, LaVar, has become something of a celebrity as a vocal sports parent.
It's unclear if Trump is aware the players will be speaking with reporters, or if he was signaling he expected praise and thanks from them after he claimed to intervene in the matter.
"I had a great conversation with President Xi," Trump told reporters aboard Air Force One Tuesday. "He was terrific, and they're working on it right now. And hopefully everything is going to work out."
During his two-day stay in Beijing, Trump reportedly brought the international incident to Xi's attention and Xi "promised" he would work on the issue and make sure the players were "treated fairly and expeditiously," a U.S. official told the Post.
Of late, Trump in general has been taking aim at sports figures. Most notably, he reignited a national debate over NFL players sitting or kneeling during the national anthem, saying he wished team owners would tell "those sons of bitches" to stand or fire them for disrespecting the flag.
NBA players including the Cleveland Cavaliers' LeBron James and the Golden State Warriors' Stephen Curry have spoken out against the president. James went so far as to call Trump a "bum" in a tweet in September, when Trump disinvited the Warriors from coming to the White House to celebrate their championship.