As It Happened: Trump Baby Balloon Takes to Skies as President Meets Prime Minister May
Newsweek's live coverage of the second day of Donald Trump's visit to the U.K. has concluded with the president embarking on a trip to Scotland before heading to Helsinki for his summit with Russian President Vladimir Putin. Check newsweek.com for latest news updates.
Original story:
A full itinerary is on tap for Donald Trump as tens of thousands of people protest against the president's visit throughout the day. All times EDT.
Trump and the first lady arrived for their first official visit to the U.K. on Thursday afternoon (July 12) following the NATO summit in Brussels.
He is meeting British Prime Minister Theresa May and will later have tea with the queen.
Mass protests to take place all across the country during Trump's visit, most notably in central London and Scotland.
12:05 p.m. As expected, Trump has now arrived at Windsor Castle for his meeting with the Queen, albeit making her wait for a few minutes.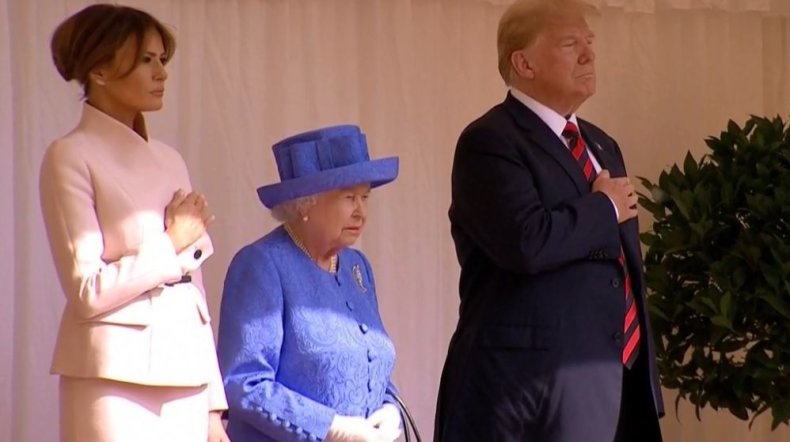 11:36 a.m. More from Newsweek's David Brennan who is at the protests in the English capital.
"Central London has been brought to a standstill as tens of thousands of protestors took the streets for demonstrations against US President Donald Trump.
"The placards and banners on show demonstrate the wide range of grievances Londoners have with the President, be it women's rights, immigration policy, his treatment of the Palestinians or his support of Brexit.
"'Dump Trump' is the most popular sign, as the crowd take turns chanting: 'Say it loud, say it clear, Donald Trump's not welcome here.'"
10:37 a.m. Our reporter David Brennan down at the protests still taking place central London right now.
Here are some of his images from the scene: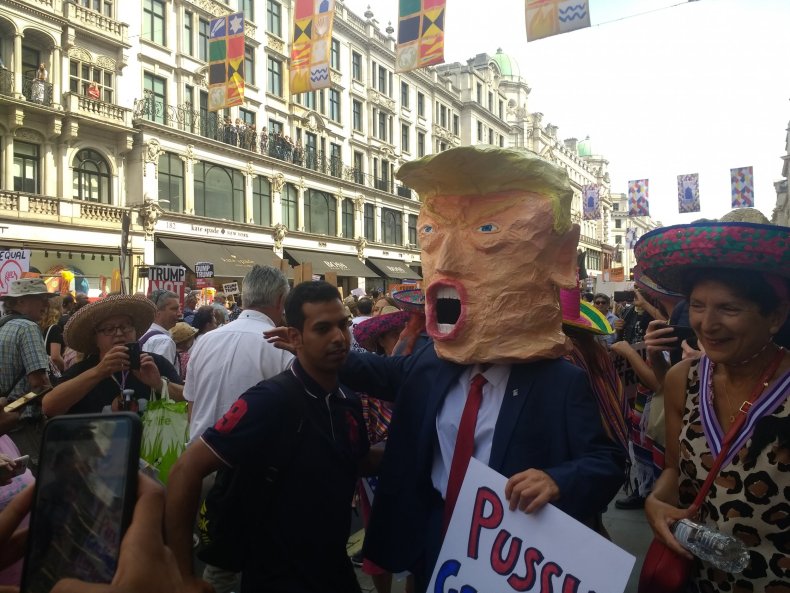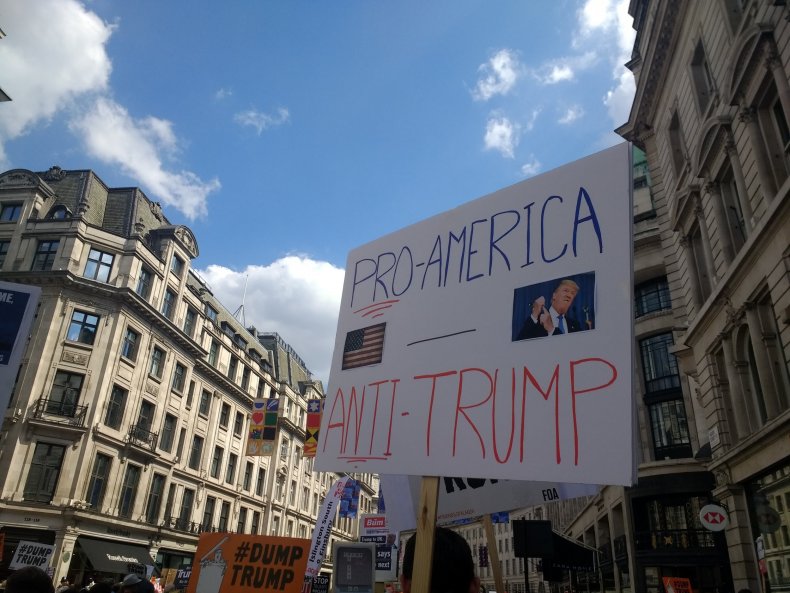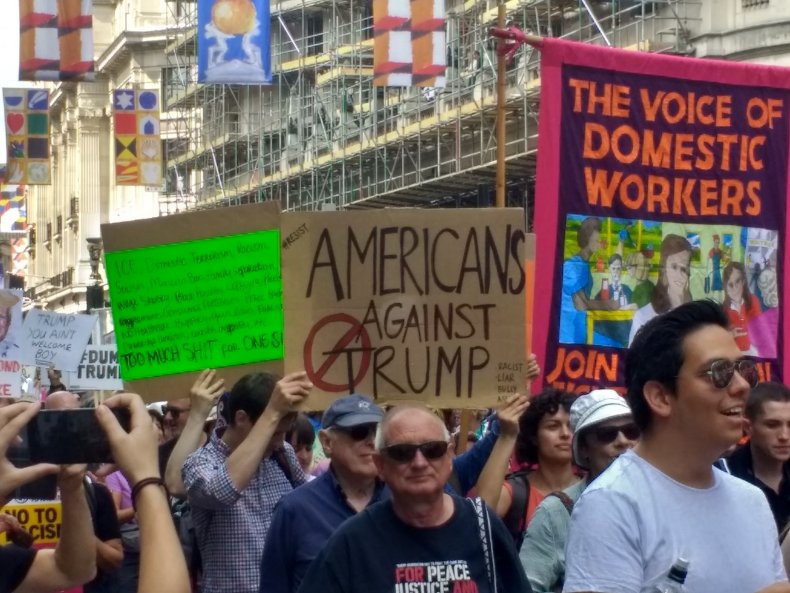 09:45 a.m. And that's the end of the conference. Next up for Trump is a trip to Windsor Castle for a meeting with the queen.
09:31 a.m. Trump said he believes Putin would not have "essentially taken over" Crimea if he had been president at the time, describing the ongoing situation as "another bad hand" he has been dealt after he took over from Barack Obama.
09:26 a.m. May said "lots of people," including Trump, have given her advice on negotiating with the EU with regards to Brexit without revealing what Trump's advice she was alleged to have ignored was.
Trump said it was merely a "suggestion" that she may have found "too brutal."
09:23 a.m. May insists, following Trump's comments, that her Brexit policy is a deal that the British people voted for.
Trump repeats his belief that Boris Johnson would make a great PM during his Sun interview but adds that he also said "this incredible woman right here" is doing a great job.
09:17 a.m. When asked if he could elaborate on his comments about immigration damaging Europe, Trump said it is a "very negative thing" that is changing the culture of Europe.
Admits that is not politically correct to say so, but will continue to "say it out loud."
09:09 a.m. Following the much talked about interview with the Sun newspaper regarding her Brexit policy, Trump tells May, "I don't know what you are going to do but whatever you do is OK with us."
"As long as you can trade with us," he adds.
When asked about his criticism of May by the BBC, Trump described the Sun story as "generally fine" but that it left out complementary things he said about the PM, describing it as "fake news."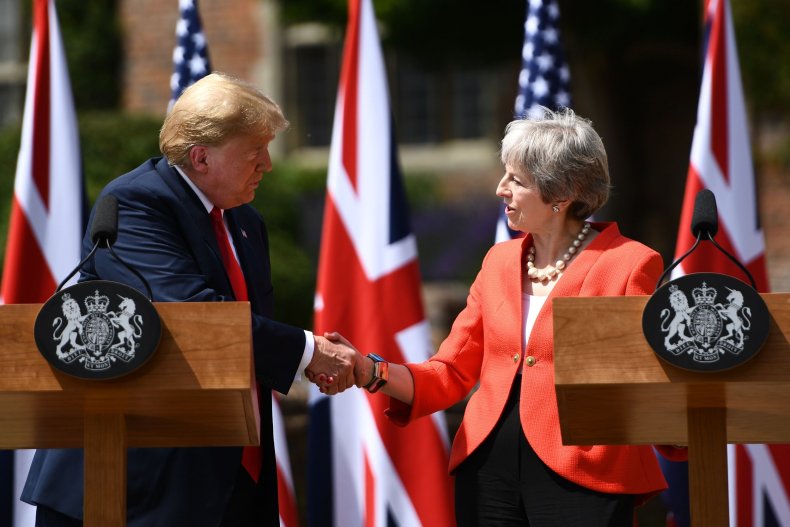 09:01 a.m. Trump said that the relationship with May and the U.K. is "a bond like no other" and "indispensable" and both countries are bound together by a "commitment to freedom."
Trump said he has convinced other NATO members to increase their spending and he and May both agree that Iran should never obtain a nuclear weapon.
08:58 a.m. May opens the conference saying how "no two countries do more together than ours to keep the world safe." May also thanked the president for his support after a British civilian died after being exposed to novichok poisoning .
May adds it is "all of our responsibility" that ensures the transatlantic relationship endures.
08:45 a.m. Trump and May are due to appear in the gardens of Chequers for a press conference, expected to last around 30 minutes.
08:20 a.m. Reuters photograph gives a glimpse of the scale of the protest currently taking place against Trump in central London, with thousands more expected later in the capital.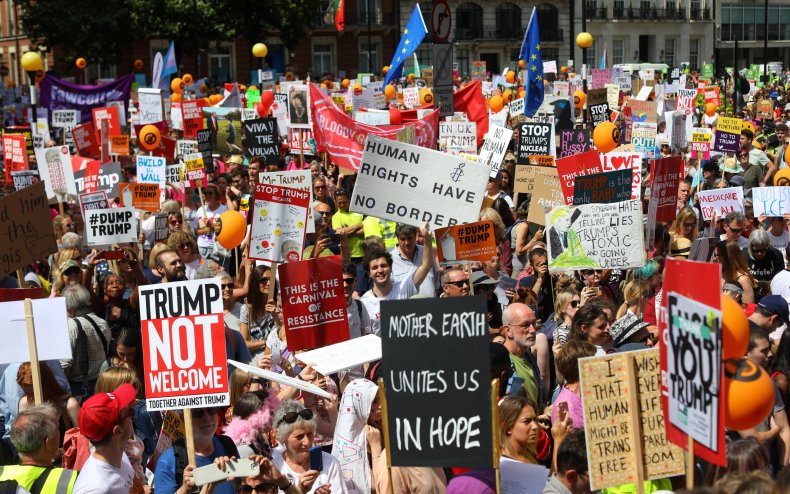 07:45 a.m. We have another report from the first public appearance of May and Trump since his interview in the British tabloid in which he slammed her Brexit plans and endorsed her rival as a great potential prime minister.
Trump has insisted that the relationship between the U.K. and the U.S. is still "very strong."
"I think we probably never developed a better relationship than last night… It was really something," Trump said.
Read: Trump Scrambles To Undo Awkward Comments On Theresa May Hours After Slamming Brexit Deal
07:28 a.m. During their brief appearance before the media at Chequers, both May and Trump could be seen showing their distain after being asked about the president's interview with the Sun.
The British prime minister was spotted subtlety rolling her eyes after Trump was asked whether he regretted the interview, which seems set to overshadow the entire visit.
You can read Newsweek's report and watch the video of the eye roll here.
07:14 a.m. Anthony Gardner, who was the U.S. ambassador to the EU under the Obama administration, has condemned Trump following the president's extraordinary interview with The Sun.
Gardner tweeted: "Trump's latest attack, this time against May, is totally unacceptable. Unprecedented to attack ally during state visit.
"He is out of control and an embarrassment. He is one man wrecking machine. Anyone working for him voluntarily in high office is an accomplice and collaborator."
06:51 a.m. Prior to the president's visit, one of the most talked about planned protests was the flying of a massive inflatable "Trump Baby" over central London's Parliament Square.
"What they are good at is drawing attention to an issue and allowing you to articulate it and that's what I think we have managed to achieve here. Trump Baby is really just a mascot for a much wider movement that is ready to resist," Leo Murray, activist and brainchild behind the stunt, previously told Newsweek.
The baby has now been taken down and deflated, as it was only allowed n the air for a specific amount of time in order to comply with Greater London Authority rules.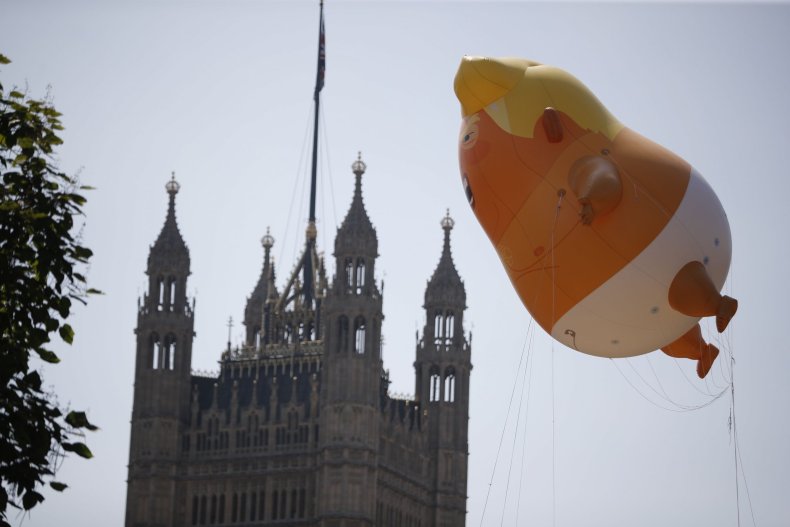 06:40 a.m. The first lady has arrived at a hospital to meet with the Chelsea Pensioners, a group of British War veterans known for their distinctive red military style jackets who reside at a nursing home in southwest London.
Footage of Melania Trump has since emerged of her playing bowls on the lawn of the Royal Hospital Chelsea.
06:31 a.m. Trump has arrived in Chequers to meet with May after the Sun newspaper published an interview in which her attacks her Brexit policy and hailed Boris Johnson as a future PM.
In a short appearance in front of the media, Trump said he and May will mainly be talking about foreign policy, adding his relationship with the PM is "very, very strong."
Another press conference is expected to take place in a couple of hours.
05:57 a.m. The second day of Trump's visit begins with another meeting with May at the Royal Military Academy in Sandhurst, Berkshire, around 33 miles south-west of central London, to watch a U.K. military exercise.
Trump and May are then travelling to Chequers—the Prime Minister's country residence in Buckinghamshire—for further talks before he goes to meet the Queen in Windsor Castle later on Friday afternoon.
Trump and the First Lady will then fly up to Scotland, where they are expected to stay at Trump's Turnberry golf resort. The president's time in Scotland, which is sure to include a round of golf, is not listed as part of his working visit.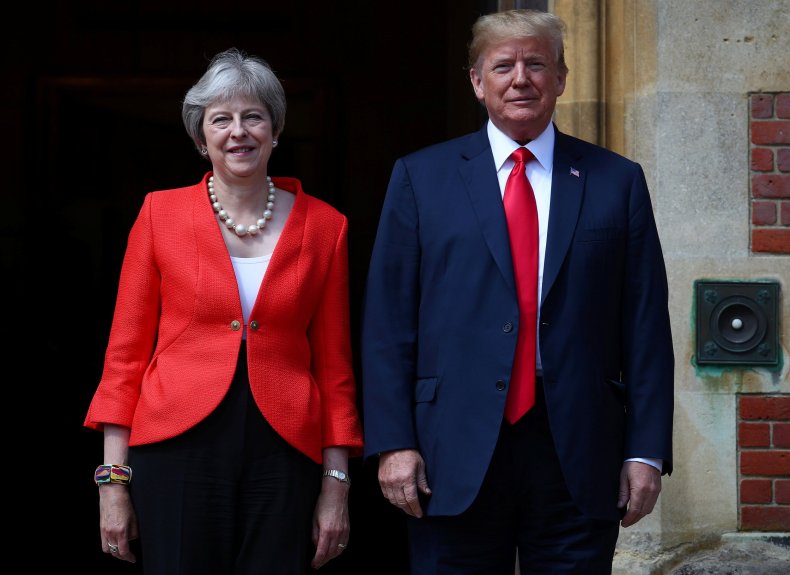 05:42 a.m. Trump also once again attacked London Mayor Sadiq Kahn in the interview, saying he has "done a very bad job on terrorism" in the wake of four attacks in the city last year.
"I think he has done a bad job on crime, if you look, all of the horrible things going on there, with all of the crime that is being brought in."
05:30 a.m. Elsewhere in the same interview, Trump hailed former British Foreign Secretary Boris Johnson as a "very talented guy" while tipping him as a potential future prime minister of Britain. "I think he's got what it takes," he added.
Johnson, perenially tipped as a future leader of the ruling Conservative Party and one of the key figures of the Brexit campaign, quit May's government last week in protest at her Brexit policy.
05:23 a.m. Before Trump even set off for the second day od his U.K. visit he managed to cause controversy following the publication of an interview he did with the Sun newspaper.
In an exclusive interview, Trump said that May's plans for a soft Brexit will kill off any hope of a U.K.-U.S. trade deal.
He told the paper: "If they do a deal like that, we would be dealing with the European Union instead of dealing with the U.K., so it will probably kill the deal...I would say that that would probably end a major trade relationship with the United States."
A proposed deal with the U.S. was seen as vital as it would have proven the U.K can thrive with new trade arrangements even leave the EU next year.