Trump Refused to Visit U.K. Unless Theresa May Promised Warm Welcome, and He Complained About British Press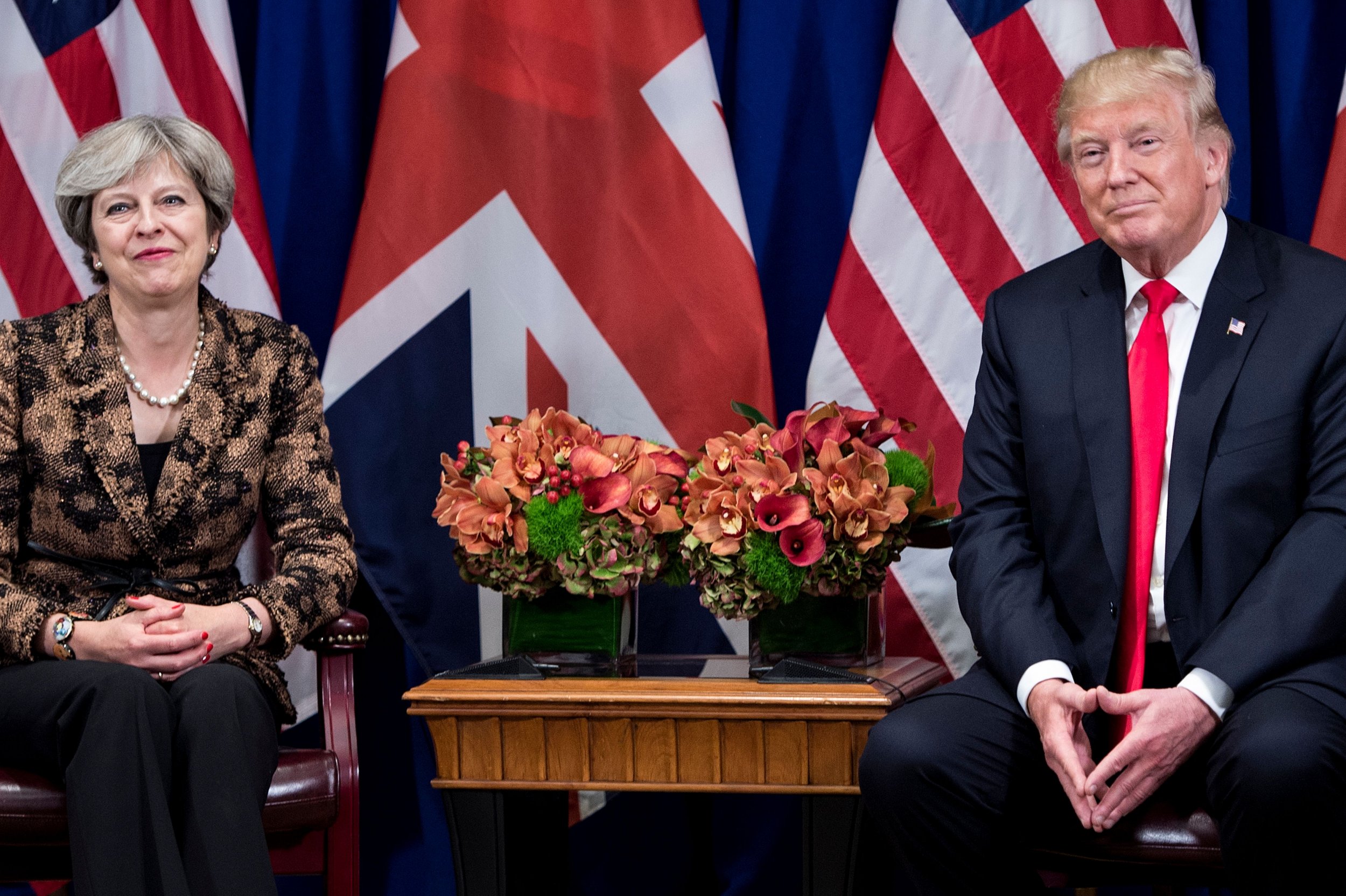 President Donald Trump reportedly told British Prime Minister Theresa May last year that he would not be visiting the United Kingdom unless she could "promise" a "warm welcome," according to a Bloomberg report on Wednesday morning.
He also complained about how he is covered by British media outlets.
The report details the difficulties May has encountered in working with Trump, including how the president often interrupts the Conservative Party leader and speaks in monologues that allow her to talk only for "five or 10 seconds," one person familiar with the conversations said.
May reportedly told Trump she could not do much about his poor press coverage, and her aides listened to the conversation in "astonishment," according to the report. The president also has repeatedly criticized American media outlets over negative coverage, decrying them as "fake news."
While visiting the White House a year ago, May invited Trump for an official state visit. But Trump has yet to cross the pond to a country where he is wildly unpopular. In the days after May issued her invitation, protests erupted in the U.K., and more than 1.5 million people signed a petition to stop Trump's visit, partially in response to the travel ban he placed on several Muslim-majority countries.
May cited the "special relationship" between the two countries as a reason to stand by the invitation to Trump. Indeed, the U.S. and the U.K. have long been tightly knit allies, and it's seen to be in May's interest to keep that relationship strong.
"The relationship has taken some knocks," a former British ambassador to the U.S., Peter Westmacott, told Bloomberg. "But there is so much substance to the relationship—commercial, defense, intelligence, foreign policy, cyber, culture, language and shared values—that we all have an interest in ensuring that it remains strong."
Still, Trump canceled a scheduled trip to London that was meant to celebrate the opening of a new U.S. embassy. The president complained that the Obama administration made a "bad deal" in selling the previous embassy, though the decision was made in 2006, during President George W. Bush's second term, according to the State Department.
"Reason I canceled my trip to London is that I am not a big fan of the Obama Administration having sold perhaps the best located and finest embassy in London for 'peanuts,' only to build a new one in an off location for 1.2 billion dollars. Bad deal. Wanted me to cut ribbon—NO!" Trump tweeted January 11.
Reports earlier this month indicated that Trump had actually nixed the trip over fears of protests against his visit. London Mayor Sadiq Khan, who has clashed with Trump over Twitter, claimed the president "got the message."
"It appears that President Trump got the message from the many Londoners who love and admire America and Americans but find his policies and actions the polar opposite of our city's values of inclusion, diversity and tolerance," Khan said. "His visit next month would without doubt have been met by mass peaceful protests. This just reinforces what a mistake it was for Theresa May to rush and extend an invitation of a state visit in the first place."