Trump U.K. Visit Will Cost U.S. Taxpayer $3.5 Million, Includes Stays at Hotel Linked to Qatar's Emir
The accommodation and transport bill for President Donald Trump's U.K. state visit will hit $3.5 million, it has been reported.
Purchase and delivery orders examined by The Scotsman show how much the U.S. taxpayer will spend on the visit. Those accompanying the president are staying in some of London's most exclusive hotels during the three-day trip.
The paper reported how the U.S. State Department had placed contracts worth $1,223,230 (£965,921) on VIP accommodation at the InterContinental hotel on Park Lane in Mayfair, which is linked to the Qatari royal family.
The Qatari sovereign wealth fund bought the hotel in 2013. It is controlled by Constellation Hotels, owned by Qatar Holding, as the paper pointed out.
Last April, Trump welcomed Sheikh Tamim bin Hamad Al Thani, the Qatari emir, to the White House. Trump praised the emir's financing of anti-terrorism efforts.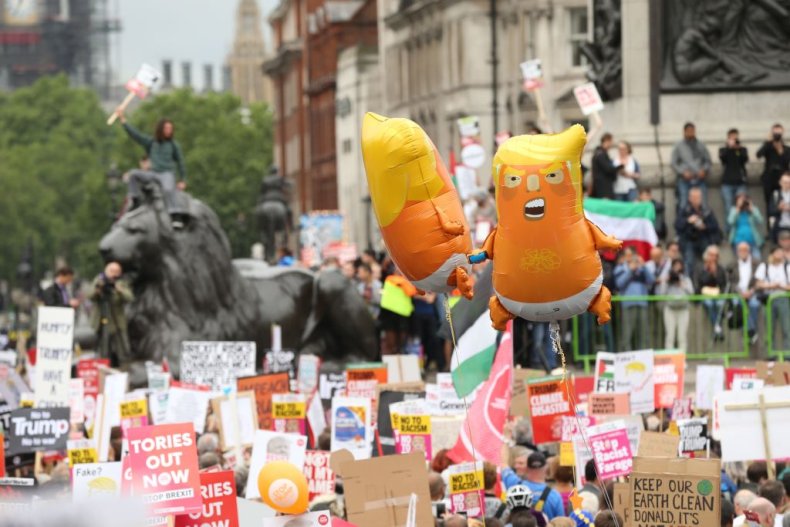 The order at the Intercontinental was placed on 20 May, while a further $122,059 (£95,529) was spent on 15 May.
Eight days later, $13,299 (£10,517) went towards a "generator in support of a VIP of visit," with $10,438 (£8,254) for voice and data cabling at the hotel on 20 May.
In addition, $339,386 (£267,994) was spent on rooms at the Hilton on Park Lane as well on "passenger car rental."
Figures also reveal that $92.000 was spent at the Cumberland Hotel in Cumberland Place and $37,000 at the Hyatt Regency Churchill hotel.
Getting to the U.K also comes at a hefty price tag. The estimated cost of flying Air Force One, the president's Boeing 747, is $142,380 per hour, making the seven and a half hour flight to London cost around $1 million, according to Quartz.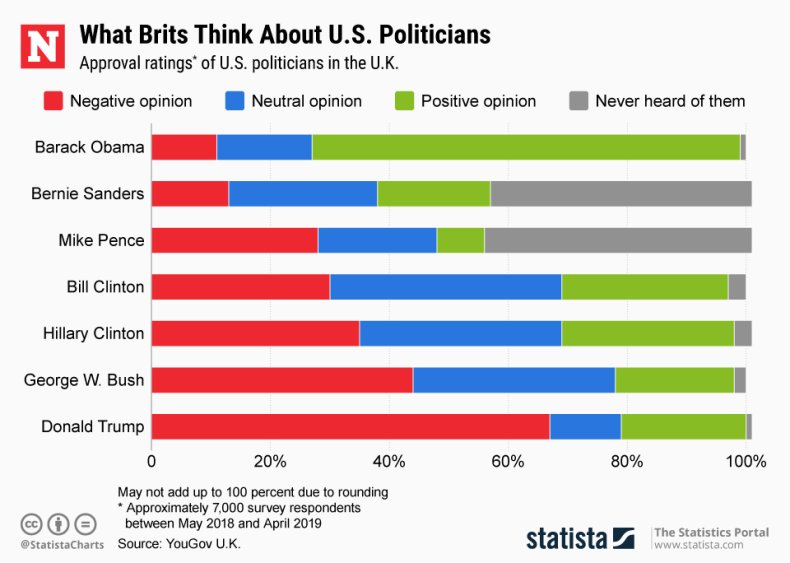 The biggest cost of Trump's visit will be borne by the British taxpayer. The three-day visit will cost the U.K an estimated $50 million in security costs, The Mirror reported.
Trump has brought all four of his adult children, Donald Jr, Eric, Ivanka and Tiffany, significantly adding to security costs.
The bill includes protecting Trump's 1,000-strong entourage people as well as policing the estimated 250,000 protesters taking to the streets to protest the visit, the paper said.
Meanwhile, after leaving the U.K., Trump's short single-night visit to Ireland will include Trump meeting the country's Prime Minister Leo Varadkar in Shannon.
The Irish Independent reported that even this short-stay will cost around $11.25m, much of which will be spent on a "ring of steel" around Trump. He is not expected to venture far from his five-star Doonbeg hotel in County Clare, where his Trump International Golf Links and Hotel is located.