Trump Says Ukraine Should Have Done Deal With Putin
Donald Trump suggested that Ukraine should have done a deal with President Vladimir Putin to prevent Russia invading the country.
During an appearance on the The Clay Travis & Buck Sexton Show podcast, the former president suggested that Ukraine could have "given up" the territory of Crimea, which was annexed by Russia in 2014, or agreed not to join NATO.
The remarks came after Trump was asked for his opinion of the photoshoot Ukraine President Volodymyr Zelensky and his wife, Olena, did for Vogue magazine, which has come under scrutiny given it took place while the country was at war.
"Probably not the greatest thing," Trump said, before adding his much repeated stance that the Russia invasion would have "never happened" if he was still president.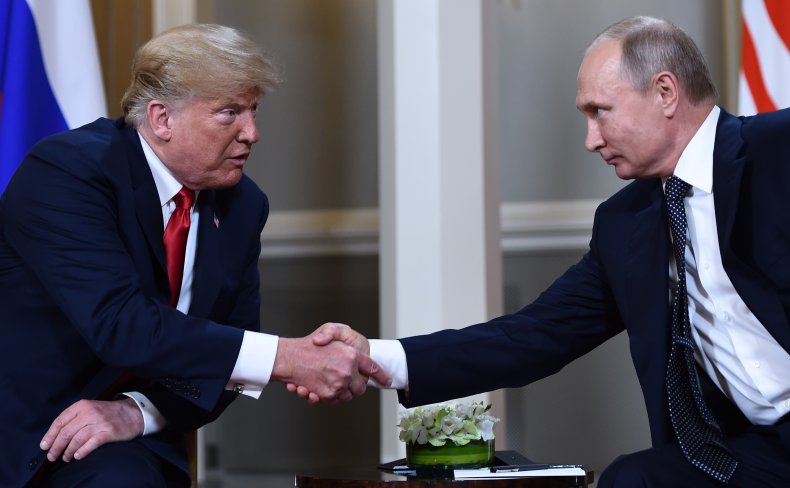 "He [Putin] wouldn't have done it with me. He wouldn't have done it. At a minimum, they should have made a deal," Trump said.
"They could have given up Crimea. They could have done something with NATO, 'Okay, we're not gonna join NATO,' and you'd have a country, because I believe Putin wanted to make a deal," Trump said.
"And now I don't think he wants to make a deal. I think it's much tougher to make a deal. He's blowing up the whole place. I mean, he'll take over the whole place. And it's very, very sad to watch what happened with Ukraine. Very, very sad."
Trump said that he does not believe Putin "ever intended" to start a war with Ukraine but will now "rather have the whole country, now that he started."
Trump added that the Russian president sending hundreds of thousands of troops and a large amount of military equipment along the two countries' border prior to the invasion was a "great negotiation" tactic.
"And you have hundreds of thousands of people—you may have millions of people, but you have hundreds—when you have buildings like that that are blown up, those are big apartment houses," Trump said.
"And when you look at those buildings totally burned out, those people are all dead. You lost a lot of people. That's a deal that could have been settled. Should have never happened. But if it was going to happen, it could have been settled. And he moved 200,000 troops to the border to negotiate, and he couldn't make a deal — and now I'm not sure you can make a deal very easily."
Trump was previously criticized for comments he made on the The Clay Travis & Buck Sexton Show before Russia's invasion.
In February, Trump described Putin's tactic of recognizing two self-proclaimed republics in eastern Ukraine and sending Russian troops to the regions under the guise of "peacekeeping operations" as "genius" and "very savvy."
Trump later doubled down on his praise of the Russian president following the backlash, telling a crowd at his Mar-a-Lago resort in Florida that Putin was "pretty smart" as he had "taken over a country for $2 worth of sanctions" just as the invasion was underway.
The Ministry of Foreign Affairs of Ukraine has been contacted for comment.