Trump Is the Ultimate Corrupt Washington Politician | Opinion
In President Donald Trump's final debate with former Vice President Joe Biden, he tried to conjure up one of his core arguments from 2016: that he is an outsider, while Biden is a "corrupt politician." The argument rested on conspiracy theories about Biden's family that were barely comprehensible.
But after almost four years of Trump's presidency, we don't need elaborate fever dreams to know that he has become the ultimate corrupt Washington politician.
Trump promised to "drain the swamp" in 2016 and rid the system of lobbyist and big money influence. Yet his administration hired more than 280 ex-lobbyists, filling one out of every 14 political appointments, in its first three years, and Trump has appointed at least 10 ex-lobbyists to his Cabinet—double the amount Obama did in two terms.
A coal lobbyist oversees our clean air and water at the Environmental Protection Agency. An oil lobbyist oversees our majestic public lands at the Department of Interior. A Big Pharma executive and lobbyist oversees drug prices at the Department of Health and Human Services. An auto lobbyist oversees our Department of Energy. A defense contractor lobbyist oversees the Department of Defense. And two corporate lobbyists oversee the Department of Labor.
In addition, former lobbyists run the U.S. Trade Representative office and Department of Homeland Security, and Trump's former director of national intelligence was also a lobbyist.
Trump's Cabinet regularly attends high-dollar fundraisers and looks to make high-dollar donor demands become reality, whether it's a railroad permit in Alaska, a casino in Japan or drilling rights on protected land.
In terms of outright criminality, since Trump became president, eight of his associates have been arrested or convicted of crimes. The president and his attorney general, Bill Barr, have used their positions to minimize the consequences for individuals deemed "loyal" and ensure that the president himself is above the law.
Days after Barr protected Trump from the Mueller report, the president was on the phone asking Ukraine to "do us a favor" and manufacture dirt on Biden, an offense that resulted in his impeachment. Between 1998 and 2018, the Department of Justice convicted over 14,405 public officials—from mayors to members of Congress—on public corruption charges, many for quid pro quo bribery schemes. No so for Trump.
A corrupt Washington politician will say anything, lie to your face, to get re-elected. Trump has been caught lying thousands of times. His lies are then repeated on Fox News and social media.
These aren't small lies. They are matters of life and death. As journalist Bob Woodward revealed, Trump deliberately misled the public about the deadly consequences of the coronavirus since the beginning of the pandemic. Even after his own COVID-19 diagnosis, the president continued to downplay the virus, prioritizing his re-election over the lives of the American people. And although he tells Americans he'll protect their health care, he is supporting a lawsuit in the Supreme Court that would repeal the Affordable Care Act in the middle of a pandemic, despite the fact that he has no replacement plan.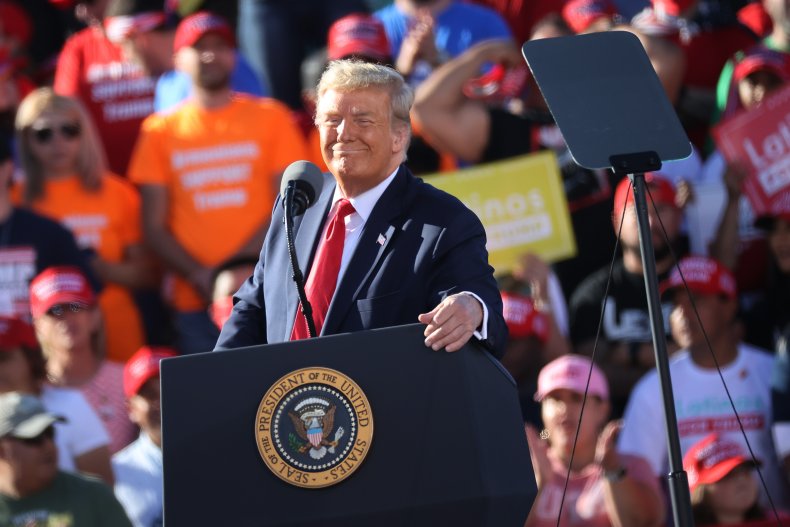 If there's a singular calling card of the corrupt Washington politician, it's milking the perks for all they're worth. Since 2015, when Trump began his run for president, over $22 million from political committees has been spent at Trump properties, and during the first three and half years in office, close to $900,000 of taxpayer funding has been spent there.
We've seen the vice president divert his entire travel schedule to stay at a Trump property in Doonbeg, Ireland. We've seen the president attempt to host the G7 at his Trump National Doral property near Miami. We've seen reports of rooms booked but left empty, as well as visits from at least 150 foreign government officials to properties the president owns and profits from, including Saudi Arabia propping up one of his struggling hotels.
Americans have good reason to be skeptical of Washington politicians. Too often, they will lie to get re-elected and maintain power, they will harness the corruption of lobbyists and big corporations for their own gain at the expense of the American people, they will put themselves above the rules that everybody else lives by, and they will use their power to line their own pockets. Not every politician embodies these qualities, but none in modern history has embodied them more than Trump.
Will Ragland is the research director and Jesse Lee is senior adviser for communications at the Center for American Progress.
The views expressed in this article are the authors' own.