All the Ways Trump Has Undone Obama's Legacy After Iran Nuclear Deal Withdrawal
President Donald Trump's decision to withdraw the United States from the Iran nuclear deal on Tuesday was just the latest example of his efforts to undo his predecessor Barack Obama's legacy, as he promised on the campaign trail.
Related: Trump Boasts His Approval Rating Is 'Above Obama' Based on Poll That Consistently Favors Him
During his speech announcing the move, Trump called Obama's signature foreign policy accomplishment aimed at keeping Iran's nuclear development program at bay, "a horrible one-sided deal that should have never, ever been made," adding, that "It didn't bring calm, it didn't bring peace, and it never will."
Many in the political realm saw the bigger picture of Trump's move.
"Everything President Obama has done, this president wants to undo," Democratic Senator Dianne Feinstein of California tweeted Tuesday afternoon. "An agreement that prevents Iran from acquiring a nuclear weapon is one thing that should never be undone just to satisfy a campaign promise."
Here are other major Obama-era policies that Trump has reversed:
Trans-Pacific Partnership
Trump hit the ground running to undo Obama's work, signing an executive order a few days after his inauguration to pull the U.S. out of the Trans-Pacific Partnership, a 12-nation deal that Obama negotiated to slash tariffs for American imports and exports with the participating countries.
"We're going to stop the ridiculous trade deals that have taken everybody out of our country and taken companies out of our country, and it's going to be reversed," Trump said.
Paris Climate Accord
Trump last June withdrew the U.S. from the Paris Climate Accord, which provided a framework for countries to phase out fossil fuels and adopt clean energy practices, and was the cornerstone of Obama's environmental legacy.
"In short, the agreement doesn't eliminate coal jobs, it just transfers those jobs out of America and the United States, and ships them to foreign countries," Trump announced. "This agreement is less about the climate and more about other countries gaining a financial advantage over the United States."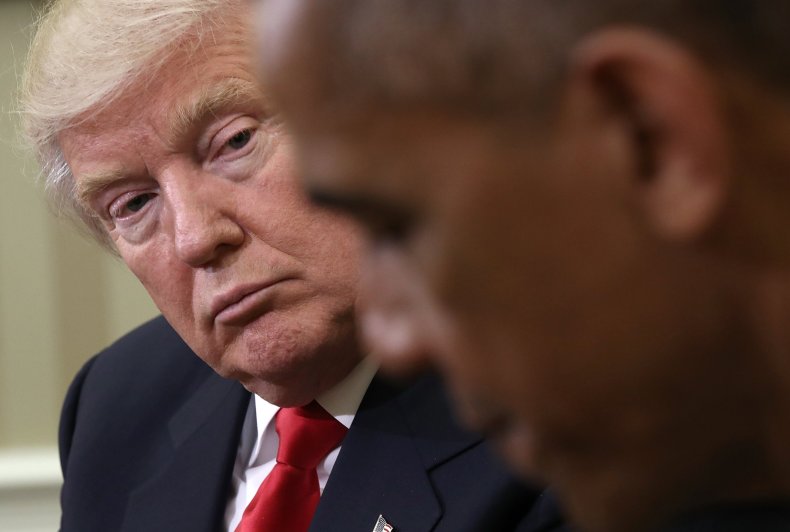 Deferred Action for Childhood Arrivals
Trump last September ended Obama's landmark immigration policy, DACA, which allowed undocumented immigrants who were brought into the U.S. under the age of 16 to apply for protection from deportation and obtain renewable two-year work permits. The program protected nearly 800,000 young immigrants from deportation in the five years before Trump repealed it.
In a statement, Trump blamed Obama for his executive order creating DACA and asked for a legislative solution. "It is now time for Congress to act!" Trump said.
Obamacare individual mandate
Though Trump and Republicans failed to repeal and replace many parts of the Affordable Care Act, known as Obamacare, the GOP tax bill that Congress passed in December did away with the individual mandate that required Americans to have health insurance or face a fine.
"We repealed the core of disastrous Obamacare—the individual mandate is now gone," Trump boasted during his State of the Union address in January.
Environmental Regulations
Trump also signed an executive order to override Obama's Clean Power Plan and end the U.S.'s "war on coal."
"One by one, we are keeping the promises I made to the American people during my campaign for president," Trump said in his Paris Climate Accord speech, "Whether it's cutting job-killing regulations, appointing and confirming a tremendous Supreme Court justice, putting in place tough new ethics rules, achieving a record reduction in illegal immigration on our southern border, or bringing jobs, plants, and factories back into the United States at numbers which no one until this point thought even possible."
"And believe me, we've just begun," he continued. "The fruits of our labor will be seen very shortly even more so."