Professors Quit After Former Trump Aide Is Hired at University of Virginia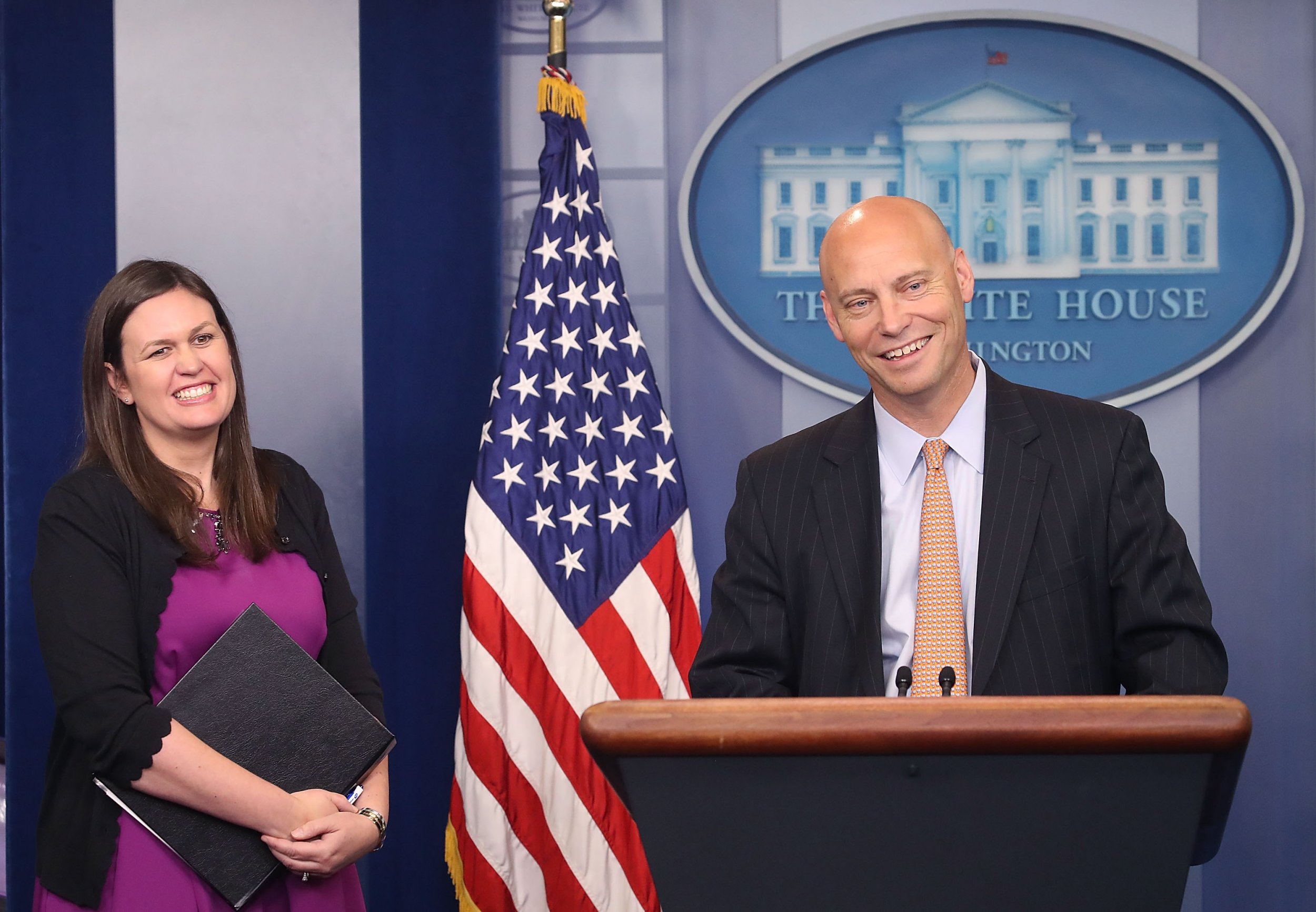 The University of Virginia's decision to hire former Trump aide Marc Short has prompted two noted history professors to resign from a public policy center in protest.
The professors, William I. Hitchcock and Melvyn P. Leffler, said Monday that Short, President Donald Trump's former legislative director, was "complicit in the erosion of our civic discourse," and that they did not feel comfortable working with him.
The pair took particular offense at Short's response to last year's white supremacist march in Charlottesville, and the subsequent riots. "By not speaking out at the time, by not emphasizing the threats to human decency posed by the public display of Nazi symbols and racist diatribes in our own neighborhood, Mr. Short was complicit in the erosion of our civic discourse and showed an appalling indifference to the civility of our own city and university," they wrote in their joint resignation letter.
After the events of Charlottesville last August, President Trump initially refused to condemn the white supremacists who marched the Virginia town, instead placing the blame on "both sides," claiming it wasn't just the alt-right causing chaos. "What about the alt-left that came charging at the, as you say, the alt-right? Do they have any semblance of guilt?" he asked.
Short's appointment to a one-year fellowship at the university has been met with resistance from students and academics alike. An online petition has garnered more than 2,400 signatures calling for Short's offer of employment to be revoked.
"The university should not serve as a waystation for high-level members of an administration that has directly harmed our community and to this day attacks the institutions vital to a free society—the very thing that the University of Virginia, as an institution of higher education, is meant to protect," UVA staff members wrote in the petition's description.
Despite leaving the public policy institute, called the Miller Center, Hitchcock and Leffler will remain tenured members of the UVA history department. "Short has been a partisan activist during his entire professional career," they wrote in their resignation letter. "He has associated himself with people and institutions who disregard, circumvent and even violate the norms and laws that are fundamental to civil discourse and democratic politics."
A number of former Trump administration officials have left the White House in search of campus greens. Sean Spicer, who served as Trump's press secretary and interim director of communications, served as a visiting fellow at Harvard University's Kennedy School. Campaign chair Corey Lewandowski also spent some time at the Kennedy School.
UVA's Miller Center, meanwhile, defended its decision to hire Short.
"This appointment...speaks to a greater challenge for all of us: welcoming someone back into our community to begin a robust and hard conversation about the future of our democracy, and doing so in an environment that prioritizes rational and respectful discourse," wrote William J. Antholis, the center's director, in a statement. "Marc brings a missing critical voice—one that represents members of Congress and the Republican Party who continue to support the president in large numbers."