Trump Unloads in Montana: President Mocks #MeToo, 'Low IQ' Maxine Waters and Elizabeth 'Pocahontas' Warren
President Donald Trump excoriated Democratic Senator Elizabeth Warren during his Montana rally with supporters Thursday night, referring to her again as "Pocahontas" and suggesting she should take a DNA test to stand up her claim to Native American heritage.
After an introduction by his eldest son Donald Trump Jr., Trump spoke for about an hour and ten minutes at the Four Seasons Arena in Great Falls, Montana, often drifting off-script to mock his critics and launch crowd-pleasing tirades against NATO, trade with Europe, and the Democrats.
"She of the great tribal heritage," Trump said, referring to Warren, a Massachusetts senator often touted as a potential presidential candidate, with whom he has frequently clashed. "What tribe is it? 'Er, let me think about that one.'"
"Pocahontas. They always want me to apologize for saying it," Trump continued. "I want to apologize. I'll use tonight. Pocahontas, I apologize to you. I apologize. To you, I apologize," he said. "To the fake Pocahontas, I won't apologize."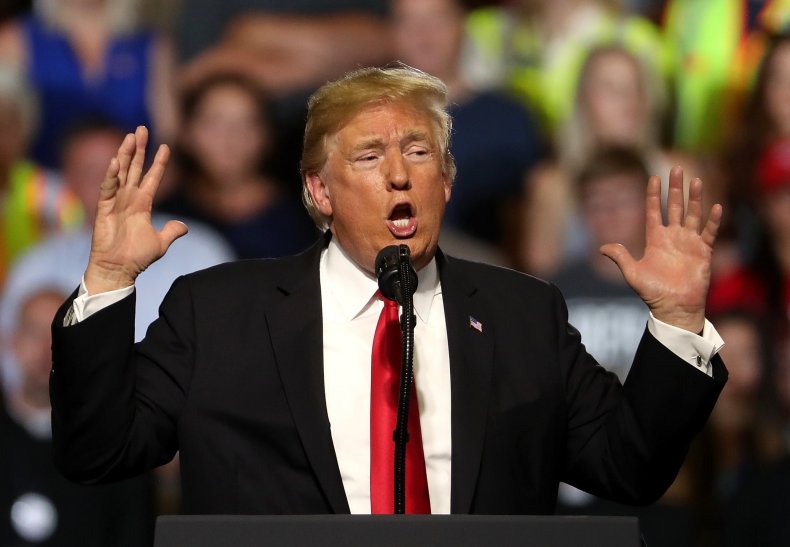 He said that nickname is "causing her problems. Now even the liberals are saying take a test, take a test!"
"Let's say I'm debating Pocahontas, right. I promise you I'll do this," Trump said as he riffed against Warren while the crowd cheered and jeered, before making light of the #MeToo movement against the sexual harassment and exploitation of women.
"You know, I'll take those little kits they sell on television for $2. Learn your heritage! Guy says I was born in Scotland. Turns out he was born in Puerto Rico. And that's OK. That's good.
"I'm gonna get one of those kits. And in the middle of the debate, when she proclaims that she's of Indian heritage, because her mother said she has high cheek bones—that's her only evidence, that her mother said she had high cheek bones—we will take that little kit and we will say, but we have to do it gently, because we're in the #MeToo generation so we have to be very gentle, and we will very gently take that kit and we will slowly toss it, hoping it doesn't hit her and injure her arm, even though it only weighs probably two ounces."
"And we will say 'I will give you a million dollars to your favorite charity, paid for by Trump, if you take the test and it shows you're an Indian.' And let's see what she does. I have a feeling she will say no. But we'll hold out for the debates."
After the rally, Warren addressed Trump in a tweet, raising the recent treatment by his administration of undocumented children crossing the southern border, who were separated from their families and detained alone in cages. After Trump reversed his own policy on immigration which led to a dramatic increase in the separation of families, the administration is now having to figure out how to reunite those split up—including the use of DNA tests.
"Hey, @realDonaldTrump: While you obsess over my genes, your Admin is conducting DNA tests on little kids because you ripped them from their mamas & you are too incompetent to reunite them in time to meet a court order," Warren tweeted. "Maybe you should focus on fixing the lives you're destroying."
But it wasn't just Warren Trump took aim at. He also called Democratic Representative Maxine Waters stupid. Waters and Trump have frequently clashed. The California Congresswoman is campaigning for Trump's impeachment. She recently called Trump "an immoral, indecent & inhumane thug" and accused him of being "willing to sacrifice children."
"Democrats want anarchy," Trump said during his Montana rally. "They really do. And they don't know who they're playing with, folks," Trump said. "I said it the other day, yes, she is a low-IQ individual, Maxine Waters. I said it the other day. I mean, honestly she is somewhere in the mid-60s. I believe that."
Waters and Warren did not respond to a request for comment.
At a previous rally in Minnesota, Trump mocked a protestor who had long hair.
The protester appeared in the crowd holding up a photo of Trump with his former friend Jeffrey Epstein, the disgraced billionaire financier and convicted pedophile. On the picture of the two men was the caption: "Who is Jeffrey Epstein?"
"Get 'em outta here. Go home to your mom, darling. Go home," Trump said as security made their way to the man, who was near to Trump at the front of the crowd.
Trump supporters booed as the man was escorted through the rally, still holding up the photo of Trump and Epstein, and chanted "USA!"
"Was that a man or a woman because he needs a haircut more than I do?" Trump said as his fans cheered. "Couldn't tell, couldn't tell. I couldn't tell. Needs a haircut."