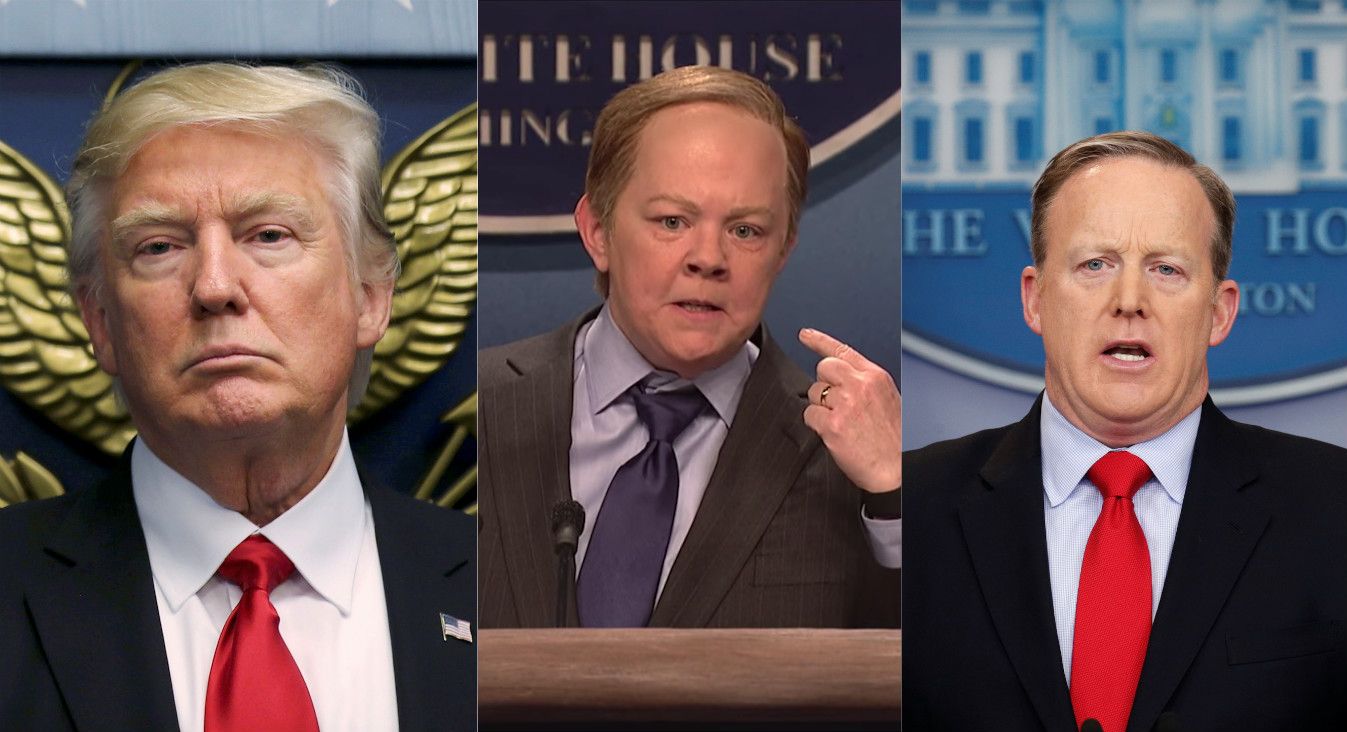 It's no secret that Donald Trump's relationship with Saturday Night Live has soured since he hosted the show in November of 2015, just as his presidential campaign was starting to gain momentum. He has particularly taken issue how Alec Baldwin has portrayed him, tweeting about the "not funny," "biased," and "unwatchable" show several times.
Though Baldwin made an appearance as Trump in the show's latest episode, the president was instead "rattled" by its portrayal of press secretary Sean Spicer, according to a report by Politico.
Related: Sean Spicer responds to Melissa McCarthy's 'SNL' impression
Many have called Melissa McCarthy's eight-minute-long turn as Spicer one of the best SNL sketches in years. The actress mocked Spicer's aggression toward the media, his tendency to stumble over his own words, his questionable logic when attempting to rationalize Trump's behavior and his habit of chewing gum. But what irked Trump the most, according to "sources close to him," was the fact that Spicer was played by a woman. "Trump doesn't like his people to look weak," a top Trump donor told Politico.
Spicer himself has moved between lighthearted acknowledgment of the sketch to frustration over being asked about it repeatedly. On Sunday, he told Fox & Friends that it was "cute" and "funny" but that he'd rather be talking about other issues. The same day, he told Extra that while it was funny, McCarthy's impression could have been "dial[ed] back a bit." On Monday, he made it clear that he'd like to move on. "I would much rather have the focus be on the president's agenda and the success he's having," he told Politico. "That's all I'm saying on it."
The news that Trump didn't take to his official mouthpiece getting sent up by a woman has caused the internet to call for Saturday Night Live to have a woman play Trump himself.
Alec Baldwin has been superb as Trump, though, and there's no real reason to replace him. Instead, many have suggested that a woman, particularly Rosie O'Donnell, could play Trump adviser Steve Bannon, who on Saturday was portrayed by a grim reaper. O'Donnell, who has been in a long-running, well-publicized feud with Trump, says she is up for it.
Saturday Night Live isn't likely to install O'Donnell as Bannon, but the show has to be happy to know that even though Trump hasn't tweeted about it since before he was inaugurated, he's still watching.
Read more from Newsweek.com:
- Watch Melissa McCarthy threaten the press as Sean Spicer on 'SNL'
- Aziz Ansari hits 'lower-case KKK' backing Trump on 'SNL'
- 'SNL' suspends writer for tweeting joke about Barron Trump