Trump Urged To Resign Before Impeachment Vote: 'It Would Be The Most Shared Tweet Of All Time'
As President Donald Trump faces impeachment in a historic vote likely to take place on Wednesday, Democrats are reminding the U.S. leader that there is still another way forward: resigning.
While the circumstances are significantly different from those of 1974, if Trump did offer his resignation ahead of the looming impeachment vote, he would not be the first to do so.
Former President Richard Nixon became the first and only U.S. leader to resign from office in August 1974, when he stepped down before facing almost certain impeachment over the Watergate scandal.
In the hours after it came to light that the House would be voting on Trump's impeachment on Wednesday, some of the U.S. leader's detractors urged the president to follow Nixon's lead.
"You can still stop your impeachment from happening, Democratic Coalition co-founder Scott Dworkin tweeted. "All you have to do is resign."
"And I bet if you tweeted out your resignation, it would be the most shared tweet of all time," Dworkin goaded. "Wouldn't that be worth it? Think of all the retweets and likes. Do it," he said.
Speaking with Newsweek on Wednesday morning, Dworkin said he believes that resigning would be "the smartest move" for Trump to make "for his family, his future and his name."
"[The smartest move] would be to resign and bow out," said Dworkin, who also played a significant role in helping shine a light on what has come to be known as the Trump-Russia scandal.
However, the Democratic Coalition co-founder said he did not believe that a resignation from the U.S. leader would be likely.
"He's just got so much control over the situation right now," he said. If Trump were to resign, "he loses control and every power he has...I don't see him giving that up."
For Dworkin, the wait for Trump's impeachment has been more than 1,000 days "in the making."
"We started the first impeachment campaign on election night once he, quote-unquote, won," he said. "It's been a long road."
However, the Democratic Coalition co-founder said, "I'm glad we're here...I'm glad there's something that we can do to hold him accountable for the crimes he's committed."
Dworkin was not alone in calling for Trump's resignation. U.S. Actor and activist George Takei also suggested that Trump step down in a tweet mocking the U.S. leader over a scathing letter he sent to House Speaker Nancy Pelosi deriding the decision to move ahead with the impeachment vote.
"I write to express my strongest and most powerful protest against the partisan impeachment crusade being pursued by the Democrats in the House of Representatives," the letter states. "This impeachment represents an unprecedented and unconstitutional abuse of power by Democrat Lawmakers, unequaled in nearly two and a half centuries of American legislative history."
Accusing the House Judiciary Committee of introducing Articles of Impeachment that "are not recognizable under any standard of Constitutional theory, interpretation or jurisprudence," Trump accused Pelosi of having "cheapened the importance of the very ugly word, impeachment!"
"By proceeding with your invalid impeachment, you are violating your oaths of office, you are breaking your allegiance to the Constitution, and you are declaring open war on American Democracy," the president says.
In Takei's tweet, the former Star Trek actor-turned-activist shared a letter of his own, addressed to Trump.
"I wrote Trump a letter. It was not six pages, but six words long," Takei wrote.
"Donald, You should just resign. George," his letter said.
On Wednesday, the House is expected to debate the two articles of impeachment approved by the House Judiciary Committee last week charging the U.S. leader of abusing his power and obstructing Congress.
Both charges revolve around Trump's role in asking Ukrainian President Volodymyr Zelenskiy to investigate his Democratic rival Joe Biden and his son Hunter Biden.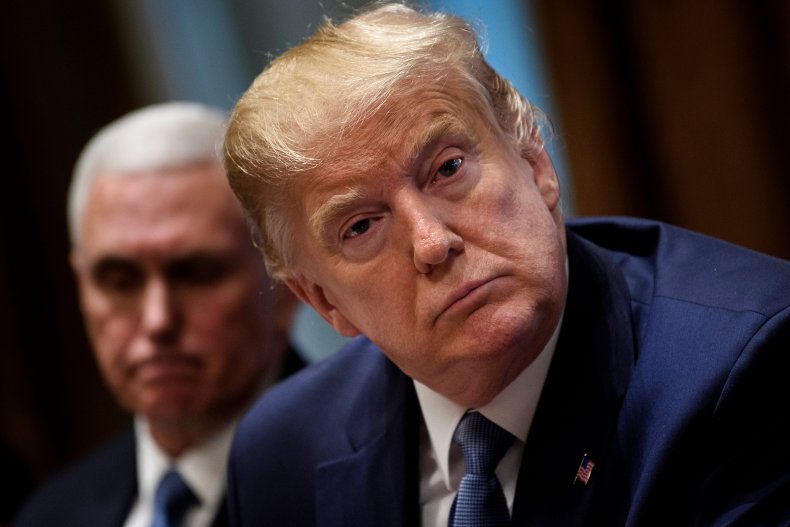 The House is then likely to vote on whether or not Trump should be impeached.
While the U.S. leader is widely expected to be impeached by the Democrat-controlled Congress, it is unlikely that he would be removed from office by the Republican-led Senate.
In order for the U.S. leader to be removed, Senate would have to convict him with a two-thirds majority, which is not likely to happen. If it did, however, Trump would be the first president to be removed from office through the impeachment process.
Correction: This article was corrected to reflect the fact President Richard Nixon resigned in August 1974, not September as originally stated.
This article has also been updated with statements from Scott Dworkin, the co-founder of the Democratic Coalition.