Trump Urges Children to Never Drink Alcohol, Use Drugs, or Smoke During White House Take Your Kids to Work Day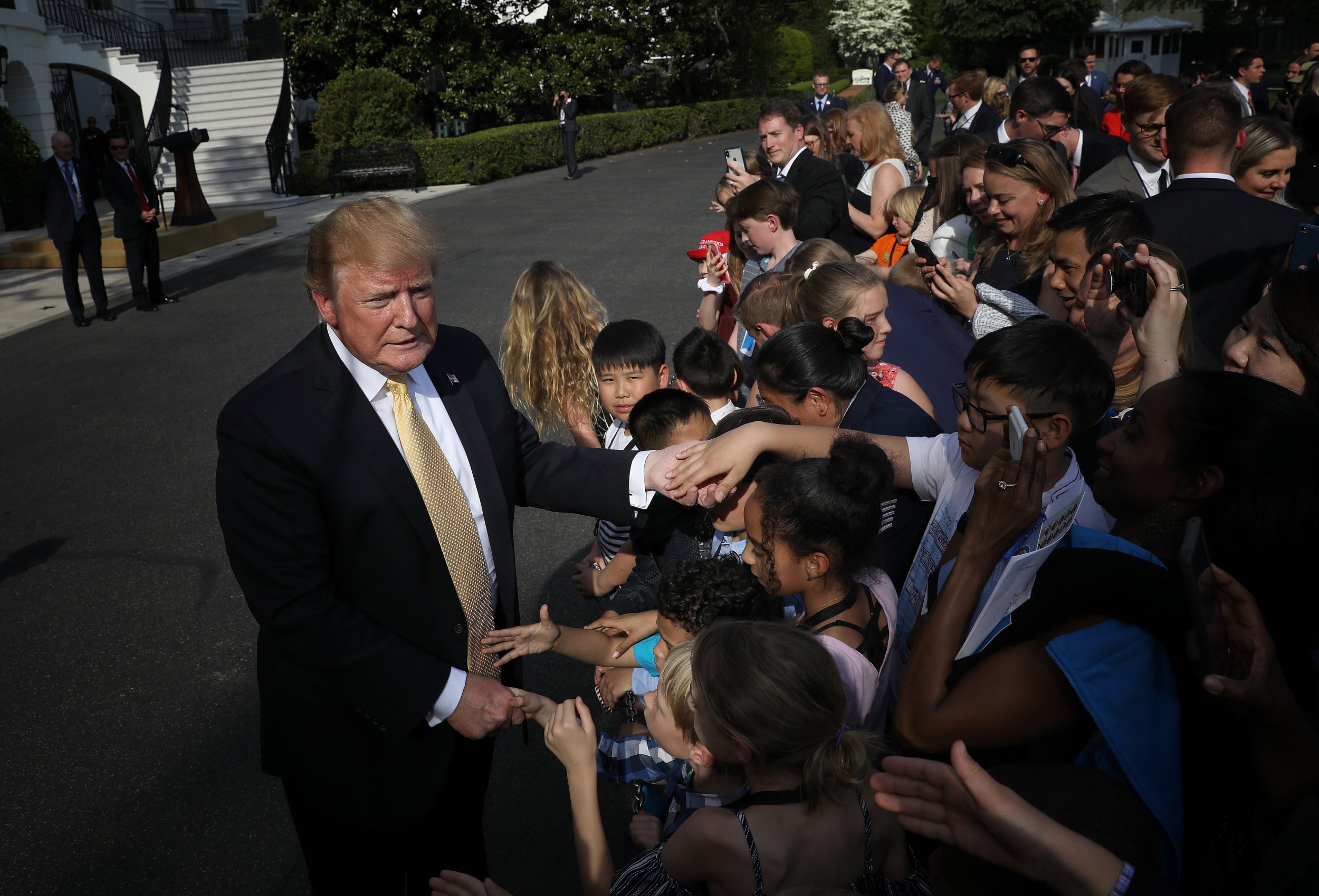 As the children of White House staffers and some members of the press corps gathered Thursday to meet President Donald Trump as part of the Take Our Daughters and Sons to Work Day in Washington, the president gave them some life advice.
"Never take drugs, don't drink alcohol, don't smoke. Enjoy your life. OK?" Trump told the dozens of children on the South Lawn, adding that he had imparted the same wisdom on his own five children: Ivanka, Donald Jr., Tiffany, Barron and Eric. Trump has previously stated that he doesn't drink alcohol, smoke or use drugs.
The president then joked that he had given the advice to Ivanka Trump so many times throughout the years that she asked him to stop.
Trump repeated the advice again before telling the youth they should "keep learning, you keep trying, and you keep dreaming, one day you might be standing exactly right here where I'm standing.
"It's not that easy," he added in jest. "It's a very special day, officially called Take Our Daughters and Our Sons to Work Day, right? That's the politically correct term, and we always have to be politically correct, right?"
Trump went on to acknowledge the parents standing behind their children, who included White House employees and members of the press corps. The president's unusual praise, especially to press corps staffers, followed more than two years of near-constant attacks on the press. Since taking office in 2017, the president has repeatedly called the mainstream media "fake news" and "the enemy of the people." Several recent insider accounts from the White House also detailed Trump's combative relationship with many of his Oval Office staffers, whom he allegedly yells at frequently over to what he considers to be displays of poor performance or lack of loyalty.
The president refrained from his usual criticisms on Thursday, although he joked that he sometimes wished photojournalists could make him "look a little bit better."
"Sometimes I think they do it on purpose, actually. Always my chin is pulled in, I look terrible, but that's OK," Trump said to the children.
"They report. They let you know how we're doing. And oftentimes they report correctly," the president continued. "Actually, most of the time. Your parents, all the time."
"All the time, or most of the time?" Trump asked, to which the children replied: "All the time!"
"For purposes of this speech, I agree," the president said. "But they are. And they are protecting all of your families and they're getting the word out, and they want to get the word out fairly and honestly. Your parents are serving our entire nation, and I'm sure you will agree with me they're doing to make a better future for you."
For the daylong event, the Trump administration organized tours for the children and allowed them to engage in a mock press briefing with White House press secretary Sarah Sanders and Vice President Mike Pence in the James S. Brady Press Briefing Room. Sanders tweeted a video of the event shortly afterward, writing: "Take your kids to work day @WhiteHouse - so fun to have my kids and other WH and press staff kids here today!"
Watch Trump speak on Take Our Daughters and Sons to Work Day below:
Trump Urges Children to Never Drink Alcohol, Use Drugs, or Smoke During White House Take Your Kids to Work Day | U.S.