Trump Urges Colleges to Play Football After Big Ten, Pac-12 Cancel In 2020
President Donald Trump has been extremely vocal this week about his support for football games being played this fall. He said on a radio show Tuesday morning it would be a "tragic mistake" if football is canceled this fall.
A few hours later in the day, two major football conferences canceled football for this fall.
The Big Ten announced Tuesday afternoon it would try to play its football season in the spring, citing concerns of safety while the COVID-19 pandemic continues working its way around the country. An hour later, the Pac-12 said it will not play football this fall.
That leaves three major conferences—the ACC, Big 12 and SEC—that have continued to look forward and try to play their schedules this fall and perhaps compete for a national championship and all the individual accolades, like the Heisman Trophy.
Trump said during his Tuesday press conference that he wants to see college football games played this fall.
"We want to get football in colleges. These are young, strong people. They won't have a big problem with the China virus," Trump said. "They're going to be out there playing football and they'll be able to fight it off. Hopefully it won't bother them one bit. Most of them will never get it, statistically."
On Monday, the president tweeted "The student-athletes have been working too hard for their season to be cancelled. #WeWantToPlay." And later in the day he wrote, "Play College Football!"
The president attended three football games last fall: LSU at Alabama, Army vs. Navy and the national championship between Clemson and LSU.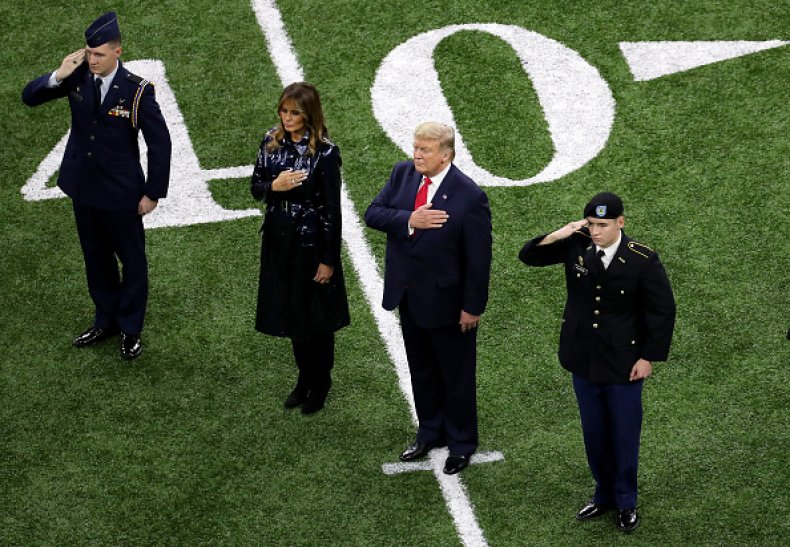 Trump was a guest on the radio show Outkick on Tuesday morning, and he told host Clay Travis that college athletes are in phenomenal shape and can fight off the coronavirus more easily than many people.
"The other thing is, somebody was explaining to me, one of the great doctors, he said that these people are so powerful and so strong, not lots of body fat – perhaps you can take some offensive lineman and dispute that – but not a lot of body fat and maybe none in some cases and they're very healthy people," Trump said. "People don't realize this but a tiny percentage of people that get sick ... they're old. It just attacks old people, especially old people with bad hearts, diabetes or some kind of a physical problem."
The president said it's likely that players will catch coronavirus while being around so many other athletes and coaches, but that "You're not gonna see people dying."
"This attacks older people very viciously by the way. It can be if it's the wrong person," the president said. "These football players are very young, strong people physically. Physically, they're in extraordinary shape. So they're not gonna have a problem."
In addition to the Big Ten and Pac 12, two other Bowl Subdivision conferences—the Mid-Atlantic Conference and the Mountain West—have canceled football and all other fall sports this fall. They have also declared they will try to play their fall sports in Spring 2020.
Trump did not mention any conferences that canceled their season, but he did acknowledge there will be more positive cases that spring up around teams.
"We know we'll see more cases at some point, and we will some point develop sufficient immunity in addition to everything else that we're doing.
"So college football, get out there and play football. People want to see it."
Trump also urged those who are at the games to "stand for the flag" and also stand for the national anthem.