Trump Urges Governors to 'Seriously Consider' Reopening Schools After Some States Shut for Rest of Academic Year
President Donald Trump on Monday reportedly urged U.S. governors to "seriously consider" reopening their public schools after some states announced their decision to keep schools shut for the rest of the academic year.
"Some of you might start to think about school openings," Trump said on a conference call today with the nation's governors and Vice President Mike Pence, according to audio obtained by The New York Times. "I think it's something, Mike, they can seriously consider and maybe get going on it."
"The young children have done very well in this disaster that we've all gone through, so a lot of people are thinking about the school openings," the president added. No governor voiced support for or against Trump's suggestion in the audio, according to the Times.
Trump later referenced the call at the White House Coronavirus Task Force briefing. "We had a fantastic call with the governors today," he said. "There may be governors who are not ready to open their states but they're ready to open up their school system."
The call came after 43 states, including Delaware, North Carolina and New York, recently ordered or recommended schools to be closed for the rest of the academic year, according to Education Week. Even America's five territories, Guam, Northern Mariana Islands, U.S. Virgin Islands, American Samoa and Puerto Rico, have indicated they will shut schools until the end of the academic year.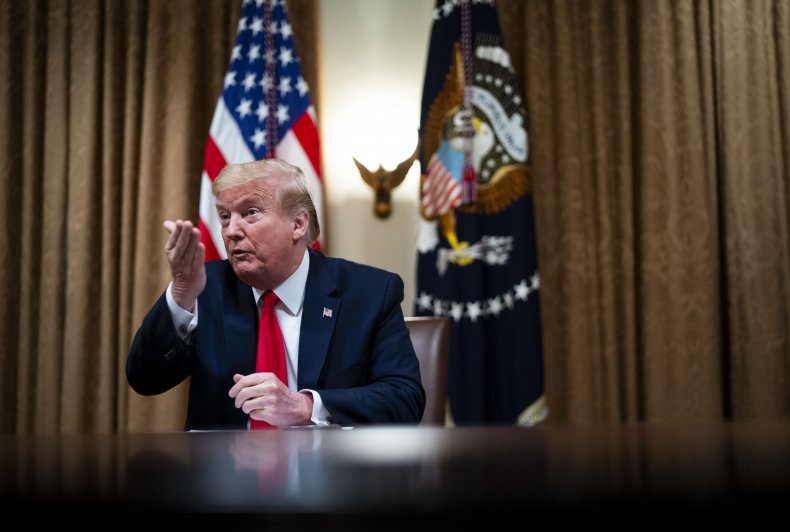 "There's obviously no replacement for in person instruction in classrooms in terms of the relationships and the services," Delaware Governor John Carney said. "But obviously doing what we can between now and the end of what would have been the school year—we want to get as much benefit for our students as possible."
North Carolina Governor Roy Cooper announced that his state will keep public schools closed for the remainder of the academic year on Friday. "This decision is not made lightly," he said, adding that his decision was made after discussions with state health experts. "This decision is made with the high hopes that we could go in and finish the school year like any regular school year."
New York City Mayor Bill de Blasio made a similar announcement on April 11. "Lord knows, having to tell you that we cannot bring our schools back for the remainder of this school year is painful," de Blasio said during a news conference. "But I can also tell you, it's the right thing to do." But New York Governor Andrew Cuomo said on Friday that he will decide this week whether to keep schools closed. Schools in the state are currently shut until May 15.
Other states, including California, Idaho, Kentucky, Maine, South Dakota and Tennessee, have recommended officials continue to teach students through distance learning.
Newsweek reached out to the White House for comment.