Former President Donald Trump has urged football legend Herschel Walker to run for a seat in the U.S. Senate representing Georgia.
Walker became a household name in the early 1980s while running over the SEC as a college football player at the University of Georgia. The 1982 Heisman Trophy winner has become known as a staunch conservative and friend of the former president.
As a groundswell of support for him to run for Senate in his home state gains momentum, he got a nod of approval from Trump himself on Wednesday. Trump issued a statement through his super PAC.
"Wouldn't it be fantastic if the legendary Herschel Walker ran for the United States Senate in Georgia?" Trump said. "He would be unstoppable, just like when he played for the Georgia Bulldogs, and in the NFL. He is also a GREAT person. Run Herschel, run!"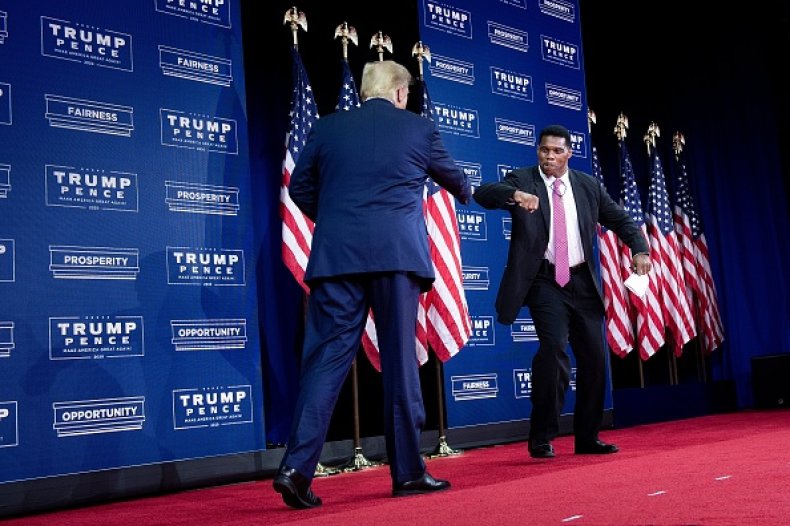 Trump is urging Walker to run against Democratic Sen. Raphael Warnock, who won a hotly-contested special election over Kelly Loeffler last fall. Both Senate races in Georgia went to runoffs last fall, ultimately winning Democrats both seats and control of the Senate. Jon Ossoff won the other Senate seat, which expires in 2027.
Warnock's term ends in 2023, which means he will be up for election next year. Republicans in Georgia have hinted at a Loeffler-Warnock rematch, but Trump's encouragement of Walker to run could bring more GOP energy to a Walker-Warnock race.
Trump and Walker have been friends ever since Walker was drafted in 1983 by the New Jersey Generals in the short-lived United States Football League (USFL). Trump became owner of the Generals after the draft. Although the USFL dissolved rather quickly, the friendship between Trump and Walker grew over the last 38 years.
During the presidential campaign of 2020, Walker said he was "insulted" when people called Trump a racist.
"I have known Donald Trump for 37 years. And I don't mean we just casually ran into each other from time to time. I'm talking about a deep personal friendship," Walker said.
Walker said he recognized other characterizations of Trump that stuck with him.
"I watched him treat the janitors, security guards and waiters the same way he would treat a VIP. He made them feel special because he knew they were. He understands that they are the people who make this country run. They clean. They cook. They build. They drive. They deliver. He told me, 'Herschel, make an effort to get to know people. Remember their names,'" Walker said.
Last October as the general election neared, Walker said Trump was "the best guy right now to run this country."
"He's the best guy to be the leader for this country, and I wanted people to know the truth. I'm not getting paid, and I'm not getting anything from it, I just love America and want America to know the truth," Walker said.
Walker was a guest speaker at the Republican National Convention last year, speaking for far-right conservatives and supporting Trump. Walker also supported Loeffler in last year's Senate race.
Newsweek reached out to Walker for comment.
As for Warnock, he's taking an approach of being ready for whichever candidate opposes him in 2022.
"I am prepared to defeat whatever Republican they come up with," Warnock said in the Atlanta Journal-Constitution.
Walker is considered by many to be one of the greatest college football players of all time. He helped lead Georgia to the 1980 national championship and was a three-time all-American. He was inducted into the College Football Hall of Fame in 1999.
He also competed on the U.S. Olympic bobsled team at the 1992 Winter Games in Albertville, France, and he had a brief mixed martial arts career lasting two fights, both wins by technical knockout.
Uncommon Knowledge
Newsweek is committed to challenging conventional wisdom and finding connections in the search for common ground.
Newsweek is committed to challenging conventional wisdom and finding connections in the search for common ground.
About the writer
Scott McDonald is a Newsweek deputy night editor based in Cape Coral, Florida. His focus is assigning and writing stories across all topics, from news to politics, business, weather, sports and international news. Scott joined Newsweek in 2018 after a lengthy career of print journalism in Texas, including The Dallas Morning News, where he was a sportswriter, and he's a voter for the Heisman Trophy. He has been a newspaper editor-in-chief and also a newspaper publisher. He is a graduate of The University of Texas at Austin. You can get in touch with Scott by emailing s.mcdonald@newsweek.com. Languages: English