Trump Urges Rallygoers to 'Crush the Communists at the Ballot Box'
Former President Donald Trump is racing to the finish line in support of Republican candidates for key races ahead of this week's midterm election. On a rare afternoon stop, he rallied before a heavily-populated Latino crowd that started with sunshine and ended with a typical Florida downpour. A rain that didn't seem to wash away any enthusiasm.
"This is the best rally we've ever had," Trump shouted from the stage as rain flew in sideways during the Miami event to support Republican Senator Marco Rubio, Governor Ron DeSantis and a slew of GOP candidates on hand hoping the former president's Hail Mary works.
Trump hit all of his usual talking points during the rally like: the 2020 election, which he says was still a sham; the border wall; the Russia-Ukraine war; gas prices; inflation; the price of Thanksgiving turkeys; Nancy Pelosi; Joe Biden; Hillary Clinton; COVID; China; illegal immigration; impeachments; and most notably, Democrats, who he said are "radicals" and hard left-leaning "socialists" who are after guns, free speech rights, power and votes.
"Democrats want to turn America into communist Cuba or socialist Venezuela," Trump said about 25 minutes into his speech. "In the Republican Party. We are determined that America will never be a socialist country and America. Sure as hell, we can't let this happen to be a communist country."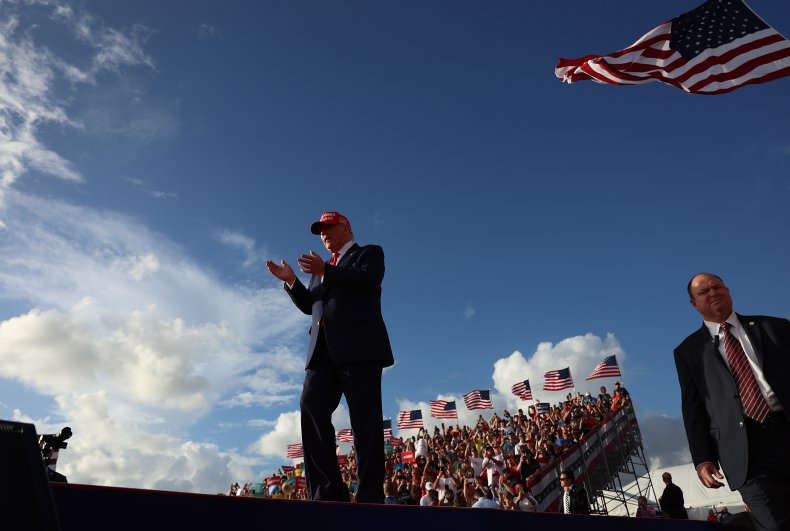 Trump said America "needs to understand the time to stand up to this growing left-wing tyranny" and that Republican voters should "stand up right now" for rights and liberties,
"You have to start by handling a humiliating rebuke to the radical left maniacs that are running in this election," Trump said. "You better believe that this Tuesday, you have to crush the communists in the ballot box. I don't say socialist. Socialist communist and Marxist direction of the radical Democrat Party is one of the biggest reasons that Hispanic Americans are joining our movement by the millions and millions and millions."
Trump has been on a barnstorming tour this year, stumping for candidates in states from Florida to Alaska. On Saturday night he was in Pennsylvania, and he'll be back in Ohio on Monday night for one last hoorah.
While in Florida, he was greeted by folks holding signs that read "Latinos for Trump" and even a woman standing behind him who had a t-shirt that read "Cuban 4 Trump."
"You have no idea how many Hispanic Americans have their roots in nations that have been destroyed, absolutely destroyed by these vile ideologies," Trump said. "And they don't want to see it happen here. And it can happen. When I was campaigning originally in 2016. And in 2020, where we did much better than we did in 2016. But these are minor details. We used to talk about it and I would constantly talk that the Hispanics, you know, when I talked about the border you know, the biggest fans of that will be Hispanics, Latinos, they knew more about the border than anybody. They knew more about it. Everybody said oh, he's gonna hurt himself with Hispanics."
The midterm election for Senate and House seats is Tuesday. Early voting in some states has already ended while others continue through Monday afternoon.