Trump Urges Reopening Economy Amid Pandemic, Acknowledges Decision Will Affect Some People 'Badly'
President Donald Trump continued to urge states to push forward in reopening the economy on Tuesday, while acknowledging that easing restrictions could go "badly" for some and result in additional deaths from COVID-19.
Trump made the comments during a visit to a Honeywell factory in Phoenix, Arizona. The president indicated that he hoped to reopen the economy quickly regardless of advice from medical experts and despite the potential consequences not being "perfect."
"Will some people be affected? Yes," Trump told reporters. "Will some people be affected badly? Yes. But we have to get our country open and we have to get it open soon."
The president echoed the sentiment during a later interview with ABC's David Muir. Trump was asked about recent comments from Dr. Anthony Fauci, who warned that rushing to reopen the economy would involve accepting additional deaths caused by the virus.
"It's possible there will be some," Trump said. "Because you won't be locked into an apartment, or a house or whatever it is. But at the same time we're going to practice social distancing, we're going to be washing hands, we're going to be doing a lot of the things that we've learned to do over the last period of time and we have to get our country back, you know."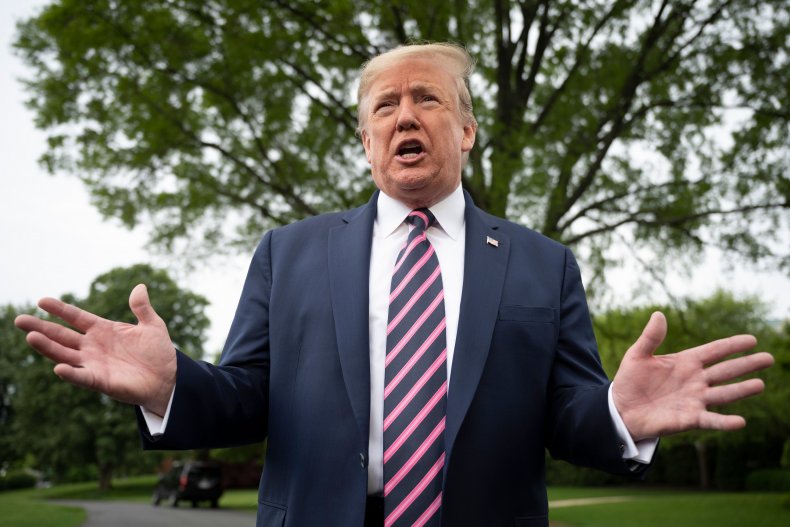 Trump also noted that people will be dying from causes other than the coronavirus, while speculating that deaths caused by people abusing drugs or committing suicide due to the economic stress of keeping nonessential businesses closed could be comparable to those directly caused by the virus.
"People are dying the other way too," said Trump. "When you look at what's happened with drugs, it goes up. When you look at suicides, I mean take a look at what's going on. People are losing their jobs. We have to bring it back and that's what we're doing."
When asked what he would say to family members of the more than 70,000 people who have died from the virus in the U.S., the president insisted that his plan to revitalize the economy would result in "something that they're going to be very proud of."
"I want to say I love you. I want to say that we're doing everything we can," Trump said. "To the people who have lost someone, there is nobody... there is nobody that's taken it harder than me. But at the same time, I have to get this enemy defeated. And that's what we're doing."
Along with concerns that reopening the economy and easing restrictions could be coming too soon, some have also questioned the emerging news that the White House plans to disband its coronavirus task force by the end of May. Experts believe the health crisis is far from over, with projections from the government and others predicting a massive increase in U.S. COVID-19 cases and deaths by June 1.
Muir asked Trump about New York Governor Andrew Cuomo's idea of using a "circuit breaker" when reopening the economy, allowing for the possibility of closing again if key indicators like hospitalization and death rates rise. Trump did not seem to agree with the idea but said he would have to see Cuomo's "full statement."
"You have people who are not going to stand for this, and I understand them very well," Trump said. "We are going to put out little embers and little fires, but we are still going to have to go back to work."
Newsweek reached out to the White House for additional comment. This article will be updated with any response.