Trump Urges Senate to Expedite Amy Coney Barrett Confirmation, Shift to Stimulus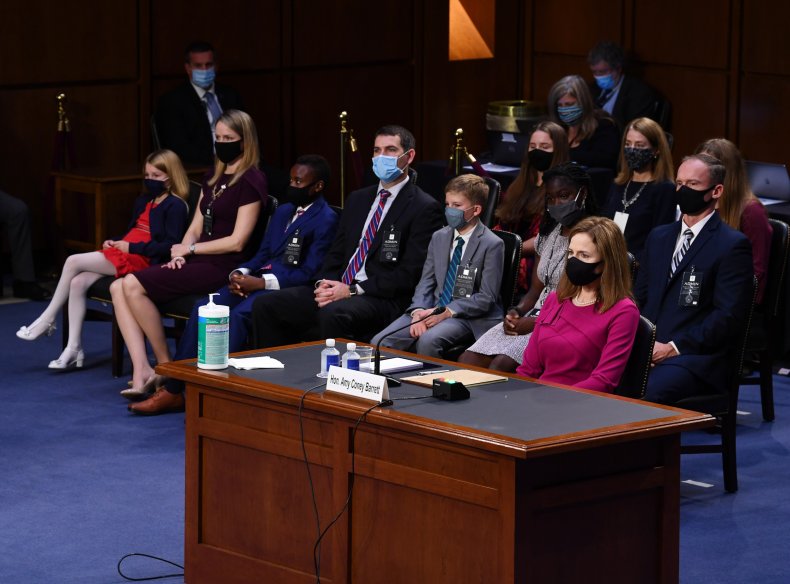 President Donald Trump is urging the U.S. Senate to expedite the confirmation of Supreme Court nominee Amy Coney Barrett and shift its focus to another coronavirus relief package.
On Monday, as the Senate Judiciary Committee began opening statements in the first day of reviewing Barrett's nomination, Trump tweeted that Republicans were giving Democrats too much time to speak.
"Personally, I would pull back, approve, and go for STIMULUS for the people!!!" Trump wrote about an hour into the hearing.
Stimulus negotiations have stretched for several months, with the White House, Senate Republicans and Democratic leaders largely arguing over the size of the next coronavirus relief package. Senate Republicans indicated last week that they oppose the White House's latest $1.8 trillion offer.
Less than a week ago, Trump tweeted that he was halting stimulus negotiations until after the November 3 election so that the Senate could "focus full time" on confirming Barrett to the High Court. Two days later, Trump appeared to resume talks when he indicated on Twitter that negotiations were "moving along" and urged lawmakers to "Go Big!"
Senate Majority Leader Mitch McConnell on Friday, told a campaign crowd at an event in Kentucky that prospects of another stimulus appeared "unlikely in the next three weeks."
"We do need another rescue package," he said. "But the proximity to the election and the differences of opinion about what is needed at this particular juncture are pretty vast."
A poll released last week found 74% of voters surveyed said they believe the Senate should prioritize coronavirus relief over Barrett's confirmation.
U.S. Sen. Amy Klobuchar, a Minnesota Democrat, cited the Hill-HarrisX poll during her remarks at the opening of Barrett's hearing.
Trump has spent much of Monday morning tweeting about his campaign for re-election and criticism of states with Democratic leaders. He also retweeted several tweets in support of Barrett's confirmation.
The Judiciary Committee has given each member 10 minutes to speak at the start of Monday's hearing. Barrett is expected to have an opportunity to speak sometime after 2 p.m. ET.
Barrett, if confirmed in the GOP-controlled U.S. Senate, would become the third Trump-appointed justice on the Supreme Court, replacing Justice Ruth Bader Ginsburg, a Clinton-appointed, staunch liberal who died last month. Trump has urged the Senate to confirm Barrett before Election Day, giving her a say if any election challenges end up in the courts.
Barrett, 48, is currently a judge on the U.S. Court of Appeals Seventh Circuit. The Senate confirmed her for that position in 2017 on a 55-43 vote, with three Democrats joining the Republican majority in support.