Trump Urges Supporters to Vote for Georgia GOP Senators Despite Election Being 'Total Scam' as Some Consider Boycott
With control of the Senate on the line, President Donald Trump is urging his supporters to make their voices heard in the Georgia runoff elections despite their anger over the presidential election.
Trump has yet to concede the election to former Vice President Joe Biden, who is moving forward with plans for his taking office on January 20. While Trump remains hopeful that results will be overturned in his favor, the president has set his sights on the Georgia runoff elections and plans to drum up support for Senators David Perdue and Kelly Loeffler on Saturday, December 5.
He posted on Twitter Friday morning that he would be in Georgia on Saturday and despite the 2020 election being a "total scam," he encouraged people to "get out and help" Perdue and Loeffler.
"Two GREAT people," Trump posted on Twitter. "Otherwise we are playing right into the hands of some very sick people."
Purdue received 49.7 percent of the vote in the November election, 1.8 points more than his Democratic challenger Jon Ossoff. However, since the Republican had less than the 50 percent threshold needed to be declared a winner, it forced Purdue and Ossoff to face off again in a runoff election on January 5.
Loeffler, who Governor Brian Kemp nominated to fill Senator Johnny Isakson's seat when he retired, fared worse than her Republican colleague in the November election. She received only 25.9 percent of the vote, according to the Associated Press, and her Democratic challenger had 32.9 percent. Since no candidate received 50 percent of the vote in this Senate race either, it went to a runoff election as well.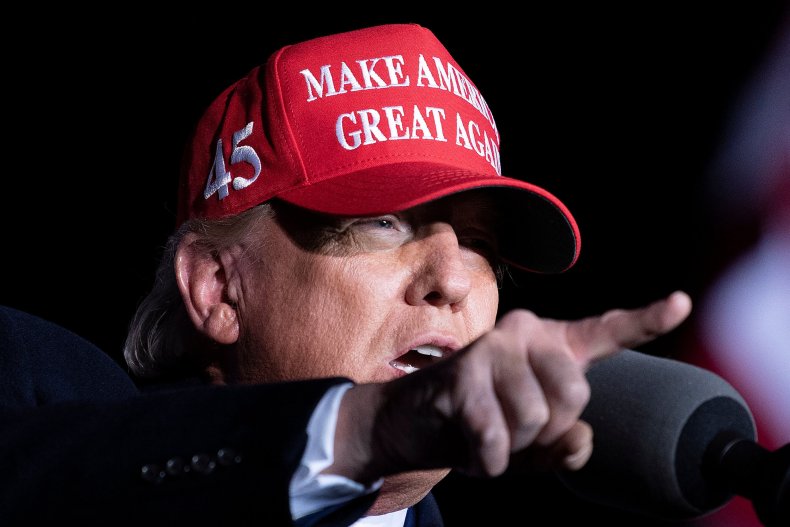 This time around though it will be a competition between only the top two candidates—Loeffler and Warnock—a situation that could bode well from the Republican incumbent. In the November election, a second Republican, Representative Doug Collins, received potentially election-altering support when he got 20 percent of the vote. Without him on the ballot, Loeffler may see a spike in votes, putting her in an advantageous position over Warnock.
If Perdue or Loeffler succeed in either of their bids to keep their seats, Republicans will maintain control of the Senate when the new Congress takes over in January. However, if Democrats are able to oust both the GOP senators from office, it will create a 50-50 split in the Senate, effectively giving Democrats control since Vice President-elect Kamala Harris will have the job of casting the tie-breaking vote.
Potentially working against the GOP incumbents in Georgia is a boycott of the election, though. Last week, "#WriteInTrump" trended on Twitter when people advocated for voters to write in President Trump when voting in the runoff elections.
Lin Wood, a Georgia attorney who filed a suit to overturn the state's results, told his followers on Twitter that they should threaten to withhold their votes and money if Perdue and Loeffler didn't "demand that action must be taken to fix steal of the 11/3 GA election." He later added that voters should tell the GOP senators if they "ever want your vote in any race in the future" they need to publicly demand a recount to determine the validity of the ballots.
The president's eldest son, Donald Trump Jr., posted on Twitter that he was seeing "a lot of talk from people that are supposed to be on our side" telling voters to not cast ballots for Loeffler and Perdue. He called it "nonsense" and told voters to "ignore those people" because "we need all of our people coming out to vote for Kelly and David."
Trump lost Georgia, a state he won in 2016, by a slim margin of 12,670 votes, according to the Associated Press. But, the president is planning on returning to the Peach State on December 5 for a rally with a "tremendous crowd." He told reporters on Thursday that his team was looking for the "right site" and that he would love "one of the big stadiums" but acknowledged that wasn't feasible because of the pandemic.
Both Loeffler and Perdue posted on Twitter that they were looking forward to welcoming Trump back to Georgia. As the president visits the state, officials will be in the middle of a recount that was conducted at the request of Trump's re-election team. A recount turning the tide in favor of Trump won't be enough to push him over the 270 electoral vote threshold needed to win, but it's possible his presence in the state could help secure victories for Loeffler and Perdue.
This article has been updated to clarify that the president will visit Georgia on Saturday, December 5. Deputy press secretary Judd Deere made the clarification to reporters.