Trump Uses COVID Vaccine Summit to Pressure Republicans Over Election Outcome
While appearing at an event touting the push for COVID vaccines to fight the coronavirus pandemic, President Donald Trump repeatedly implored for someone to have the "courage" to help him overturn the election results and give him a second term in office.
"All of the things we've done and we were rewarded with a victory, so let's see whether or not somebody has the courage—whether it's a legislator or legislatures, or whether it's a justice of the Supreme Court—let's see if they have the courage to do what everybody in this country knows is right," Trump told attendees at the executive office building adjacent to the White House, repeating baseless claims that he won the November 3 election. "If somebody has the courage, I know who the next administration will be, and I'll tell you what, life will be much easier for this country."
Trump has refused to concede the election even as former Vice President Joe Biden continues to build out the top levels of his incoming administration. As Trump spoke at the vaccine summit, Biden was unveiling a slate of top health-care appointees that will be tasked with leading the coronavirus fight after January 20. None of Biden's health advisers attended the official White House event Tuesday, as Trump has resisted interactions with Biden's team.
"We'll have to see who the next administration is—because we won in those swing states, and there was terrible things that went on," Trump said, again without evidence. "Hopefully the next administration will be the Trump administration because you can't steal hundreds of thousands of votes. You can't have fraud and deception and all of the things that they did and then slightly win a swing state."
Trump has continued to repeat debunked claims and conspiracy theories about a rigged election—even attacking Georgia's Republican governor, lieutenant governor and secretary of state over the outcome there. His Twitter feed since the election has primarily been dedicated to questioning the election outcome and spreading rumors that are quickly flagged as misleading or false.
While some members of the Trump administration have already departed since Biden was projected the winner, and several allies have quietly acknowledged his loss, Trump's personal legal team, led by former New York Mayor Rudy Giuliani, has been fighting against certified results in key battleground states.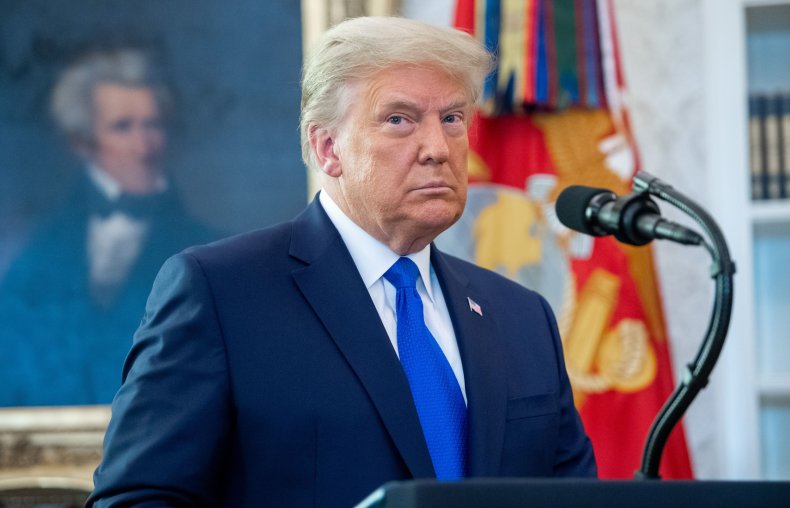 Trump's team has lost or dropped more than two dozen legal battles, producing no credible evidence of fraud or vote tampering. Trump's own Department of Justice also has found no evidence of widespread voter fraud that would impact the election's outcome. But his legal team has been pressing on state lawmakers to override election outcomes when the Electoral College meets next week to finalize the election.
"You can't win an election like that, so hopefully the next administration will be the Trump administration—a continuation," Trump said.
Many of Trump's most loyal Republican allies, including members of Congress, have refused to acknowledge Biden's win. Ken Paxton, the Republican attorney general of Texas, on Tuesday filed a challenge in the U.S. Supreme Court to Georgia, Michigan, Pennsylvania and Wisconsin's election results, drawing praise from Trump online and backlash from legal experts and officials in those states who rejected the merits of the lawsuit.