Trump Uses CPAC Pulpit to Rip GOP and Dem Foes, Makes Case For Peace
Former President Donald Trump approached the stage at Saturday night's Conservative Political Action Conference (CPAC) in the manner his crowds have grown to expect.
Various rock songs got the crowd into a festive mood. That led up to Lee Greenwood's "God Bless the USA," which then blared from speakers, signaling the 45th president's impending appearance and speech. Throngs of conservative politicians and eager MAGA fans then stood and awaited for his rock star-type arrival.
Trump walked onto the stage Saturday night just after the first few notes of the song, and he stood there stoically while soaking in the atmosphere—a more refined approach than at the typical Trump rally.
There was no hand shaking or tossing red "Make America Great Again" ballcaps into the crowd.
He waved to the audience, acknowledged some by pointing at them and also stood solemnly as Greenwood's song played. He's done this routine countless times through multiple cities across the country over the years. He's done it as president, a president going for reelection in 2020, a former president still revving up a GOP base and now a former president who's making another run at the White House.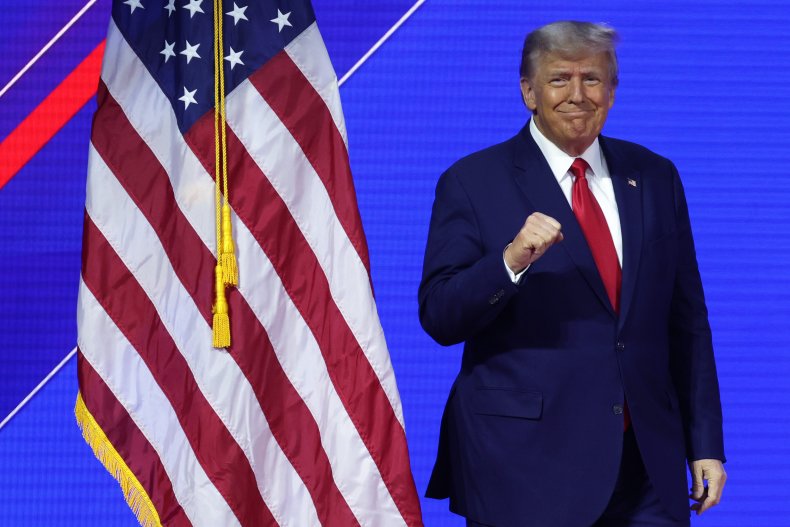 Some things in his approach were slightly different. Some things weren't though, like how he boasted about his achievements during his time in the White House, how he defeated Hillary Clinton in 2016, how the United States began no new wars during his four years and how he focused on building a better military and stronger Southern border.
Trump also used Saturday's night keynote address to CPAC as a way to attack President Joe Biden, Vice President Kamala Harris and a slew of other Democrats. He also used the podium to take jabs at certain GOP rivals or potential rivals, from the likes of Mitt Romney all the way to fellow Floridian Ron DeSantis, the governor who is second placed in opinion polls to win the 2024 Republican presidential nomination.
Although Trump did not mention DeSantis by name, he took a shadow boxing-like swipe at him by bringing up something from DeSantis' past as a Congressman. In 2012 when Rep. Paul Ryan was Speaker of the House and soon on the ticket as VP candidate for GOP presidential nominee Mitt Romney, Ryan had introduced a Medicare plan that Republicans called "premium support" whereas Democrats called it a "voucher" plan.
The plan would partially subsidize seniors if they had private plans or traditional Medicare plans. DeSantis at the time said he supported it.
"I would embrace proposals like [Rep.] Paul Ryan offered, and other people have offered, that are going to provide some market forces in there, more consumer choice, and make it so that it's not just basically a system that's just going to be bankrupt when you have new people coming into it," DeSantis said at the time, according to the St. Augustine Record. DeSantis went on to say he would take it further.
"Social Security, I would do the same thing," DeSantis said.
Trump said Saturday night he would not take the U.S. back into a world of Paul Ryans or other certain Republicans.
"We are never going back to the party of Paul Ryan, Karl Rove and Jeb Bush," Trump said.
Trump railed hard against Biden, saying an eviction would be coming soon if Trump were reelected as the 47th president.
"We will evict Joe Biden from the White House and we will liberate America from these villains and scoundrels once and for all," Trump said.
"The Biden administration is the most corrupt administration in American history," Trump continued. "Hunter Biden is a criminal and nothing happened to him. Nothing happened. Joe Biden is a criminal and nothing ever seems to happen to him. Because, you know, say what you want but the Democrats stick together."
Trump said he leads all polls against top Democrats and Republicans, although the polling numbers do not bear that out. He continued to say that no matter what, the prosecutors get "crazier" in attempts to frame him on something.
"First of all, we're leading every Republican by massive numbers and very importantly, perhaps more importantly, we're leading Biden by a lot. And we lead Kamala by a lot. And every time the polls go up higher and higher, the prosecutors get crazier and crazier," Trump said.
Just before Trump was introduced to speak, the CPAC announced the results of its straw poll, in which attendees at the conference chose Trump as their preferred GOP nominee with 62 percent of the vote. DeSantis was next with 20 percent. No other person received double-digits.
Trump also noted that no major war started under his leadership, and that he ended wars. He also said he holds an olive branch that can end potential skirmishes in the future.
"I want to go through some of our big plans that I will do as the 47th President of the United States," he said. "At the top of my list will be stopping the slide into costly and never ending wars. It's gonna stop and we can't keep spending hundreds of billions of dollars protecting people that don't even like us."
Trump said Russia never invaded any countries during his presidency, but that Vladimir Putin invaded Georgia during George W. Bush's presidency, then Crimea during 2014 while Obama was in the White House, and then Ukraine last year during Biden's second year in office.
"I was the only president in decades that didn't have a war, but I completed wars that were already started," Trump said. "Including defeating 100 percent of the ISIS caliphate. I was also the only president where Russia didn't take over a country during Russia took over and up because I got along with Vladimir Putin very well. I said "Vladimir, don't take over any countries because, you know, Moscow will be hit very hard." So I told him. He probably didn't believe it. But you know what? He believed it."
Trump said he had similar conversations with Chinese leader Xi Jinping.
Newsweek reached out to the office of DeSantis, the White House and Trump's campaign for further comment.
Updated 03/05/23 at 6.24 a.m. ET with edits to text