Trump Uses Disney Movie 'Frozen' to Defend Tweet That Was Called 'Anti-Semitic'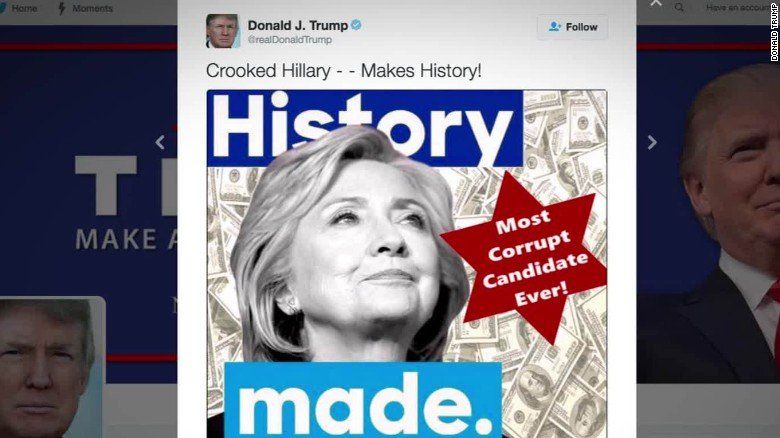 U.S. presidential hopeful Donald Trump on Wednesday defended a controversial image he posted on Twitter mocking his political rival Hillary Clinton. The image featured Clinton against a backdrop of hundred dollar bills and a red six-pointed star, most commonly known as the Jewish Star of David symbol. The text on the star read: "Most corrupt candidate ever!"
Trump categorically denied that the tweet was in any way anti-Semitic on Wednesday evening.
"So the star, which is a star, not the Star of David," Trump said to a crowd in Cincinnati, Ohio, in his first public comments relating to the controversy. "When they told me the Star of David, I said: 'You have got to be kidding.' How sick are they? They're the one with the bad tendencies when they can think that way."
"Y'know they took the star down," Trump added. "I said: 'Too bad, you should have left it up.'"
However, it later emerged that the photograph attracted attention on a neo-Nazi internet forum.
The billionaire businessman subsequently tweeted a photo from the popular Disney movie Frozen, featuring a star, accusing the "dishonest media" of working against him. "Where is the outrage for this Disney book? Is this the 'Star of David' also?" The post has been retweeted 16,000 times.
Jonathan Greenblatt, national director of the Anti-Defamation League, a U.S.-based organization fighting anti-Semitism and all forms of bigotry, said that Trump's comparison with the Disney movie was ill-judged and inappropriate.
"Just so we're clear, the image [the star] originated with a white supremacist—not with Disney animators in Burbank," he said.
Eric Schiffer, the best-selling American author, who has interviewed the presidential hopeful on a number of occasions agrees that Trump was fully aware that in the context, using the symbol of the star in his tweet had anti-Jewish connotations.
"I don't buy into the argument that Trump is lacking in savvy marketing skills. He is tapping into some core, deep beliefs that some American people have. He is trying to say: 'hey I see what you see,' and that includes conspiracy theories surrounding Jewish wealth. That doesn't mean Trump believes it himself, but he wants to represent those who do," he tells Newsweek.
"He is targeting white working class voters and this [the tweet] resonates with them, in the sense that they think the American system is biased. When the economy is bad and people are out of work, scapegoats are used."
Hillary Clinton was undoubtedly unimpressed with her rival's distasteful conduct, tweeting back a reference to a song from the movie: "Do you want to build a strawman?"
This is by no means the first controversial comment made by Trump. Some of the presumptive Republican nominee's most inappropriate remarks include calling Mexicans "rapists," advocating a ban on all Muslims entering the U.S. and saying that the authoritarian North Korean leader Kim Jong-un deserved "credit."
This article has been updated to include a comment from best-selling American author and entrepreneur Eric Schiffer